I love planning. I love lists and schedules and notes, both mental and physical. I love knowing what I'm doing next. Safe to say, impulsive behaviour isn't something I'm too familiar with 🙂
On this blog, most posts are planned at least a week ahead. I know the ingredients I need to buy, the props I want to shoot with and usually, who I'll end up feeding what I make.
On Saturday though, productivity wasn't very high on my agenda. And I know from experience that cooking or baking when not in the mood is a half-hearted, half-baked (hee hee) exercise that no one should be subjected to, least of all the person doing the cooking or baking.
So when the non-productive mood wore off faster than I expected, I suddenly realised I didn't know what I wanted to make. Peanut butter and Nutella had been taken out of the fridge and put back. Bananas had been coaxed into ripening but refused to comply. What to make, what to make.
What I'd forgotten was seeing this beauty on Instagram. Enter, frozen coconut sitting pretty. Coconut bread could happen! But I have a fabulous coconut cake already. This one needed something more, a pop of colour and flavour.
Strawberries! I had strawberries! There was no further thinking required. The butter didn't even need to be softened, it just needed to be melted. Everything was ready. No lists. Sigh.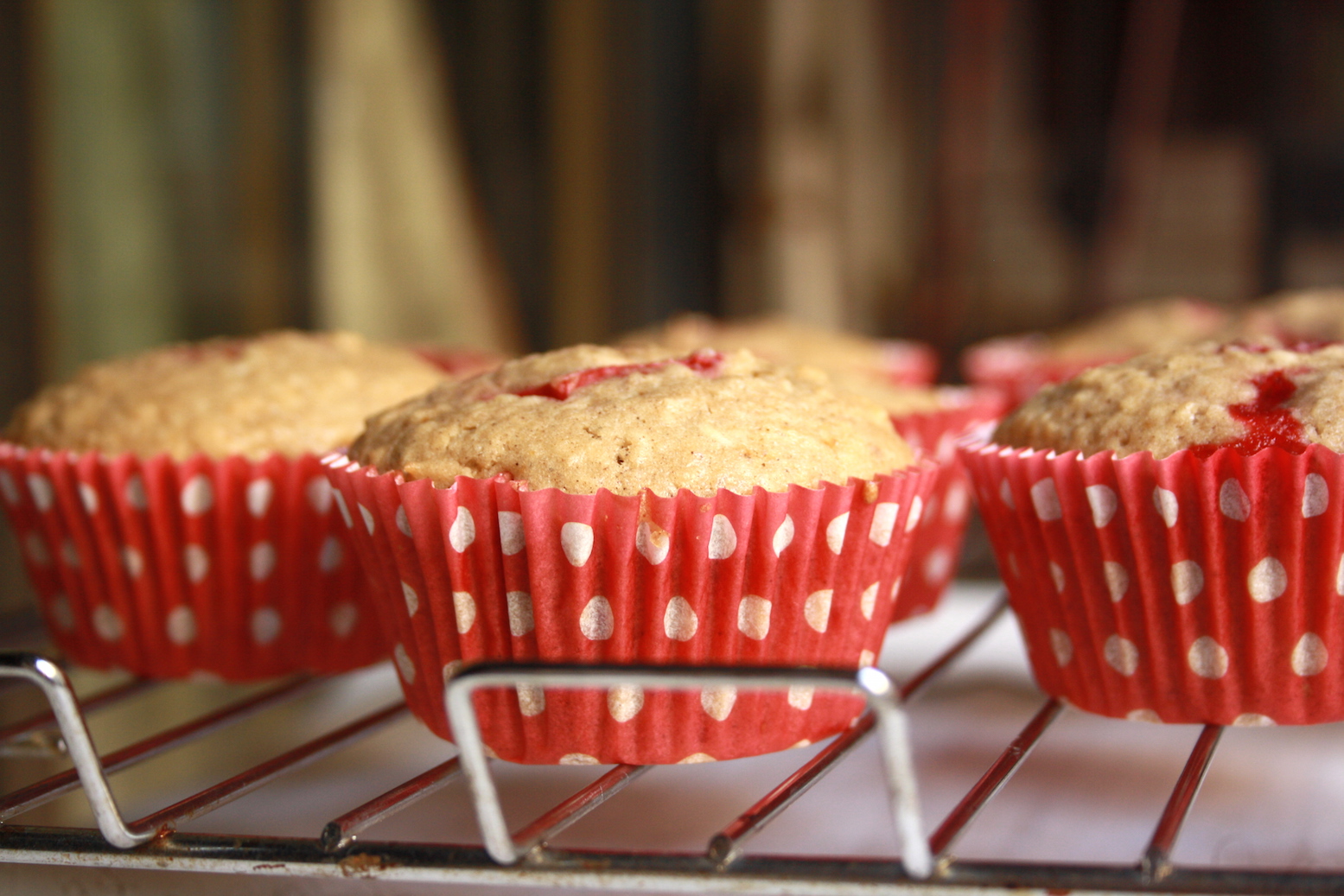 A little more coconut, a little more butter. Chopped juicy strawberries. And in twenty minutes, these muffins were in the oven and I was in such a rush to shoot them (the sunlight in our house isn't great after 4 PM), I didn't let them cool enough and possibly massacred one. Oops.
But, they are soft, moist, tropical enough to make you think of a summer by the beach and fruity enough to make you feel healthy. It's all good. The strawberry juices ooze out a little, the coconut is left just crunchy enough to make its presence felt. And in general, these muffins are worth the impulsiveness they brought on. So much so, I might just not make a list for the next three days at least.
I halved the original recipe to make 10 muffins. They baked faster than a loaf cake would which is always a bonus. I also used frozen, unsweetened shredded coconut which I thawed for about 20 minutes at room temperature. I don't think there is any need for sweetened coconut and while I haven't tried using desiccated coconut, it should work the same way.
What you'll need:
1 and 1/4 cups flour
1/4 tsp salt if using unsalted butter
1 tsp baking powder
1/2 tsp cinnamon powder
1/2 cup caster sugar
100 gms unsweetened shredded coconut
1 egg
3/4 cup milk
1 tsp vanilla extract
50 gms butter, melted
5 to 6 strawberries, chopped into small pieces
What to do:
1. Sift the flour, baking powder, cinnamon and salt, if using. Add the sugar and coconut, mix well and set aside.
2. Preheat the oven to 175 C and grease or line 10 muffin moulds. If you want larger muffins, use 9 muffin moulds.
3. In a large bowl, beat the egg with a fork, add the milk and vanilla and mix well. Fold in the dry ingredients gently.
4. Add the melted butter and fold again, making sure not to over-mix. Finally fold in the strawberries. I think the butter could also be mixed in with the other wet ingredients at step 3.
5. Divide the batter into the moulds equally and bake for 25 to 30 minutes until a toothpick poked into the muffins comes out clean and the tops are lightly browned.
Allow to cool before digging in 😀