Old post, new scones! I've loved these strawberry scones for a long, long time but they needed a revamp. Fresh photos and an updated recipe just in time to catch the last of the strawberries this season!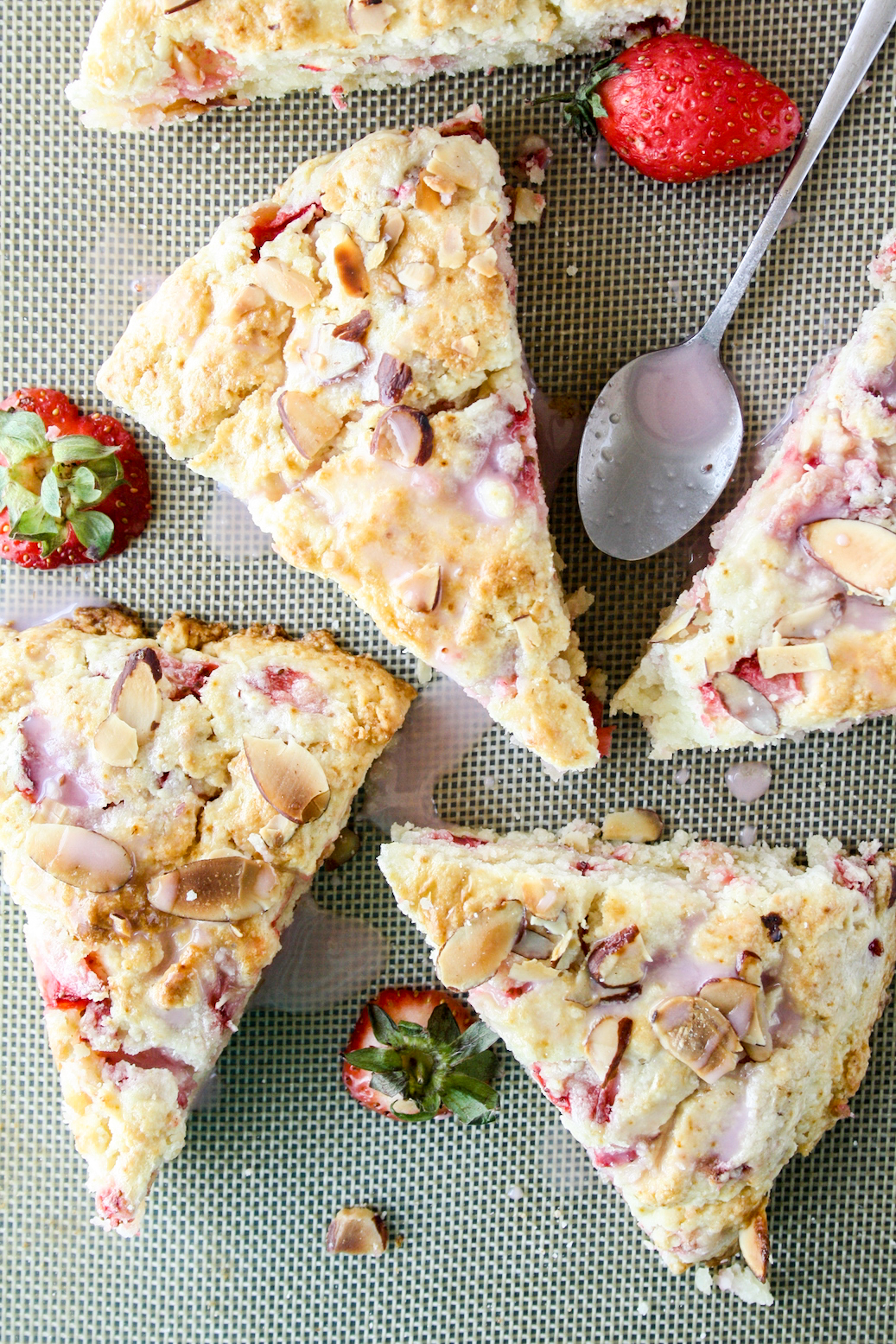 The recipe is from the Smitten Kitchen, and though I had initially cut these into smaller square scones, I chose to leave them as big triangular wedges like here and here. They do take longer to bake this way, but cut down the time you spend fiddling with dough. Overworked dough leads to tough scones and we do not want that!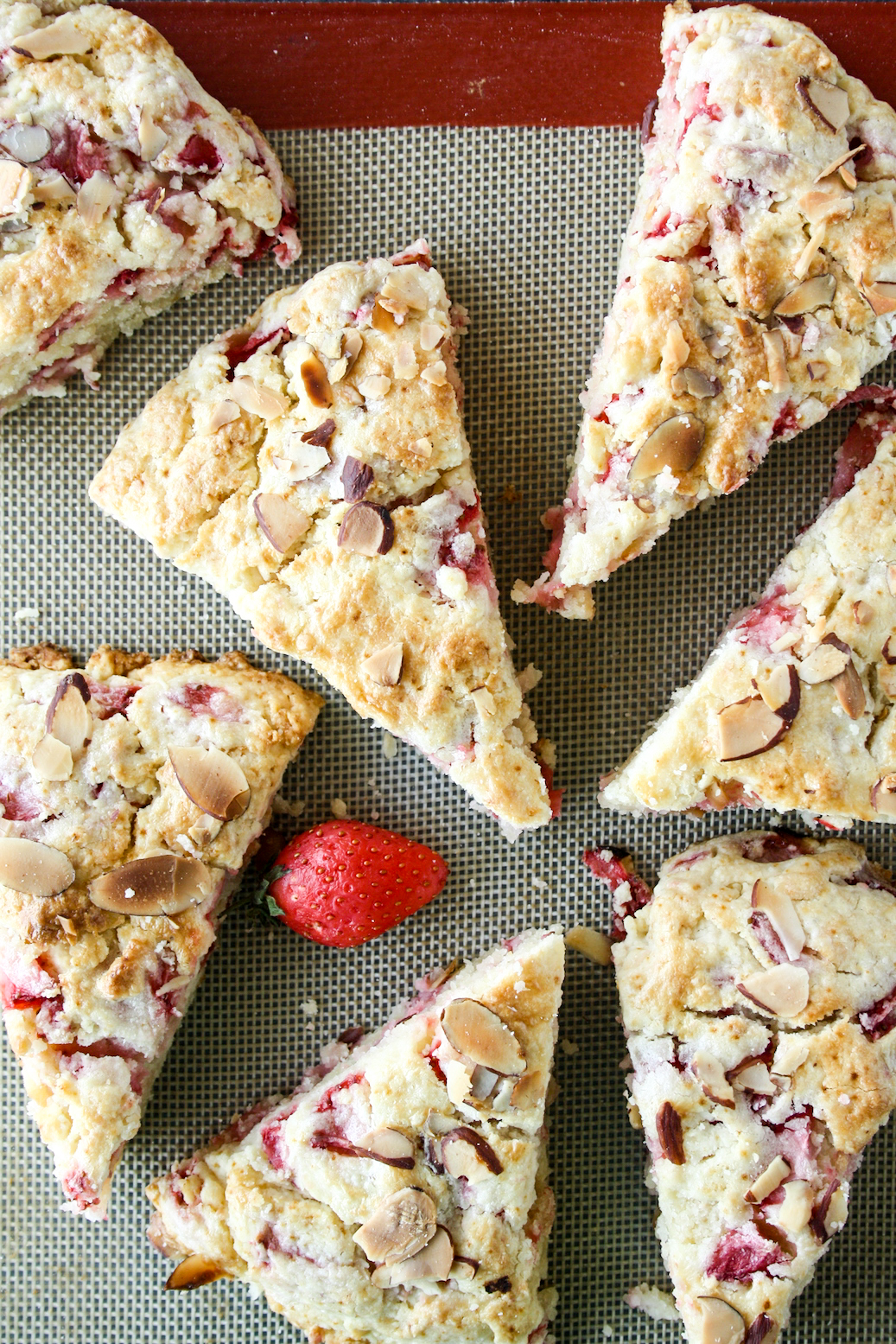 They are buttery, super tender and rich, with the addition of cream. Fresh strawberries pretty them up and their juices help flavour the dough even more. I added almonds to the top for crunch and an optional, quick glaze made with crushed strawberries, milk and sugar.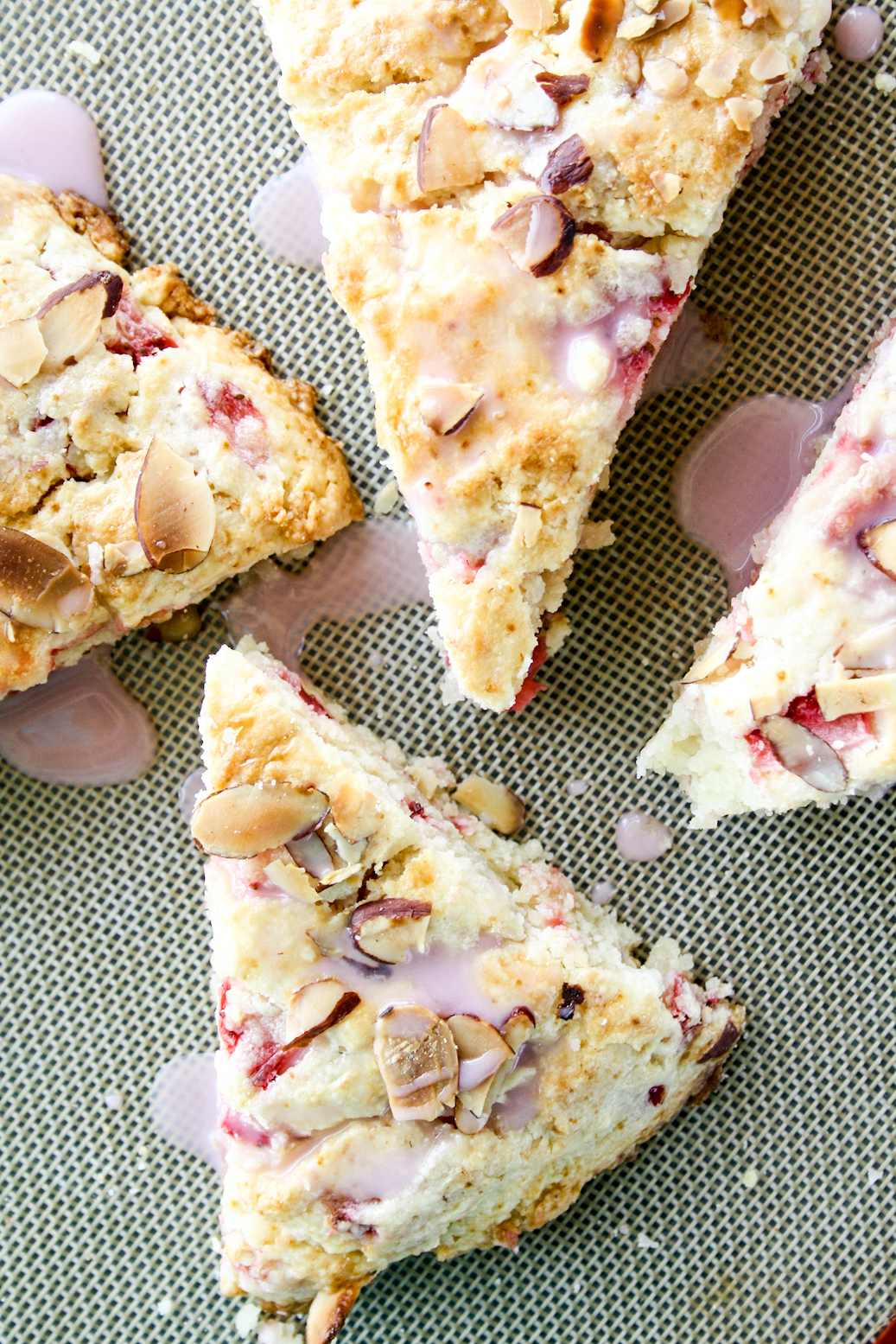 The strawberries add a little moisture so I found these scones taking much longer to bake than any that I've baked previously. No harm done, but if this concerns you, feel free to cut them into smaller pieces so speed up the baking time. Let's make scones!

Strawberries and Cream Scones
Tender, buttery scones made with strawberries and cream
Author:
The Desserted Girl
Ingredients
2 and ¼ cups flour
1 tbsp baking powder
⅓ cup caster sugar (1/2 cup if your strawberries aren't very sweet)
½ tsp salt, if using unsalted butter
85 gms cold butter, cut into cubes
10 to 12 chilled strawberries, diced
1 cup chilled cream (whipping or regular)
To brush on top: 1 tbsp cream + 2 tsps water; 2 tbsps sliced almonds

For the glaze
3 strawberries, finely chopped
2 tbsps powdered sugar
2 tsps milk
Instructions
Preheat the oven to 220 C and line a baking tray with a silicone mat.

Sift the flour, baking powder, sugar and salt (if using), in a large bowl.

To this, add the cold butter cubes and rub them in with your fingers for about 2 to 3 minutes till you have a coarse, breadcrumb-like mixture with a few larger bits of butter scattered around.

Gently fold in the chopped strawberry pieces till they are coated in the flour mixture, then fold in the cream. Take care not to overmix the dough at any point, or the scones will end up tough and chewy. If the dough is a little unevenly mixed, that's all right.

Slowly bring the dough together into one roughly-shaped mass, kneading it once or twice at the most.

Tip the dough onto a lightly floured surface and shape into a ¾ inch high disc. Cut into 8 equal wedges and transfer to the baking tray. Place them at least an inch apart. Mix the 1 tbsp cream with the water, and brush on top of each scone. Top with the sliced almonds. Normally, I would just bake the whole disc of dough as is after cutting it, but this time, I found the scones taking much longer to get done, so placing them separately on the tray helps and the sides brown better too. See notes for more.

Bake for 35 to 40 minutes until golden brown and and cooked through. Start checking for doneness at 30 minutes.

Allow to cool on a wire rack while you make the glaze.

Combine the chopped strawberries and 2 tsps of the powdered sugar in a small bowl. Set aside for 5 minutes to let the juices release, then mash the fruit properly to break it down.

Pass this mixture through a sieve to get as much of the juice as you can, then add the remaining powdered sugar and milk. Stir to create a thin glaze, though you can thicken it by adding more sugar.

Drizzle the glaze over the scones just before serving, otherwise they may go soggy.

Unglazed scones can be kept at room temperature for 2 days in an airtight tin, and after that in the refrigerator for a week or freezer for a month. Happy baking!
Notes
*Cutting the dough into wedges saves time but makes large scones that take longer to bake. If you prefer, cut the dough into smaller circles or squares so that scones bake quicker, about 20 minutes. You may need to bake in batches in this case, so keep the unbaked scones in the fridge so that they remain cold and bake up tender.
Shop this recipe!
This post contains affiliate links.