My mixing bowl got a real workout this weekend. So did the oven, spatula and kitchen counter. I think I heard a few sighs. Four amazing recipes, tested and shot. The whole house smelled like Christmas, there was orange peel all over the place and I looked like a spice jar by the end of it.
I'm so glad December is just ONE DAY AWAY because there are too many wondrous things to share with you.
But first, we must get some bananas, oats, wholewheat flour and antioxidants into our system. So that we can justify the aforementioned wondrousness.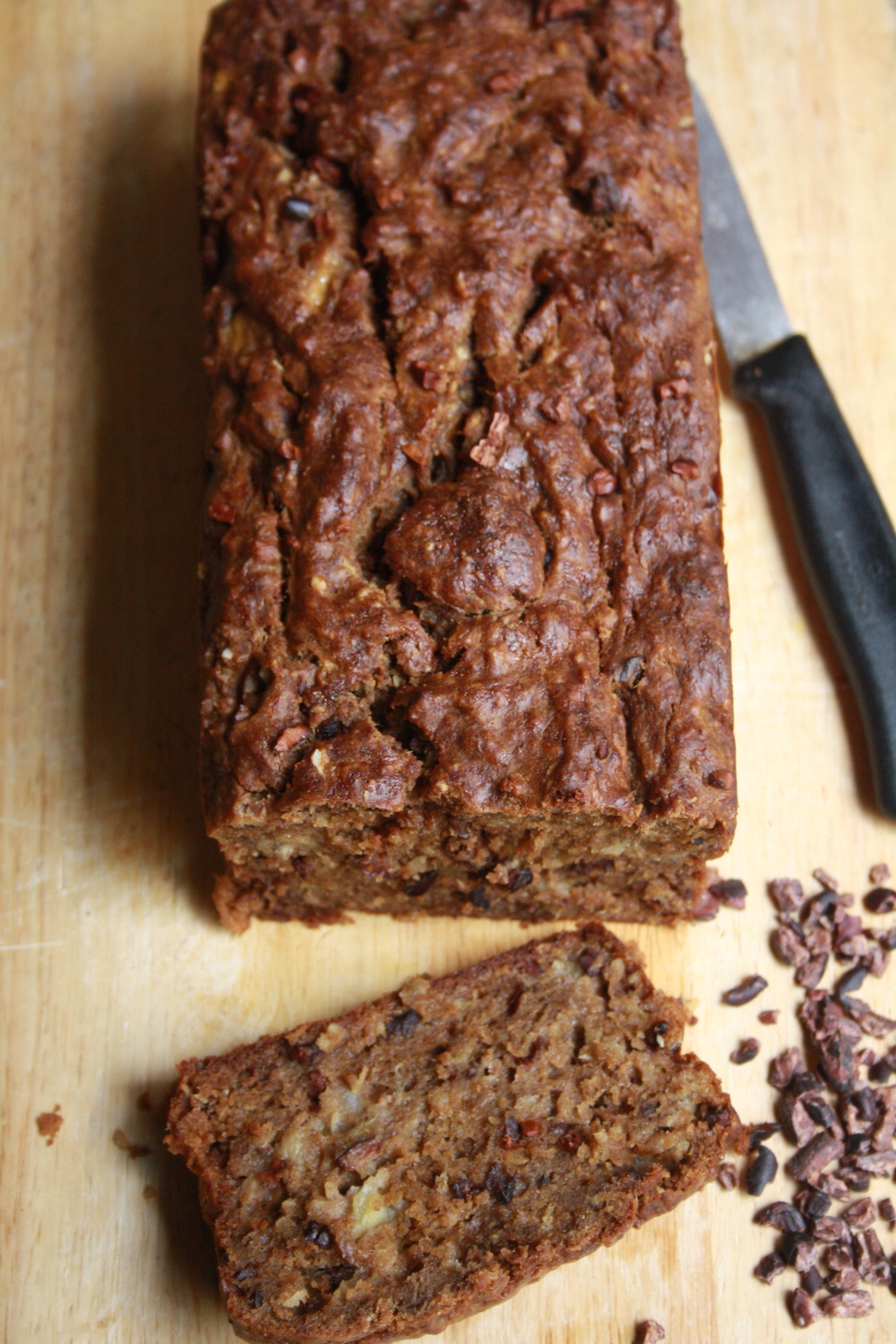 This ultra-moist, super flavourful banana bread is filled with all the good stuff and some sugar. Which can be forgiven because did you know when you add cacao nibs to a cake, you not only get all kinds of awesome nutrients, but also the happy feels thanks to Serotonin?
As if we needed another reason to eat cake.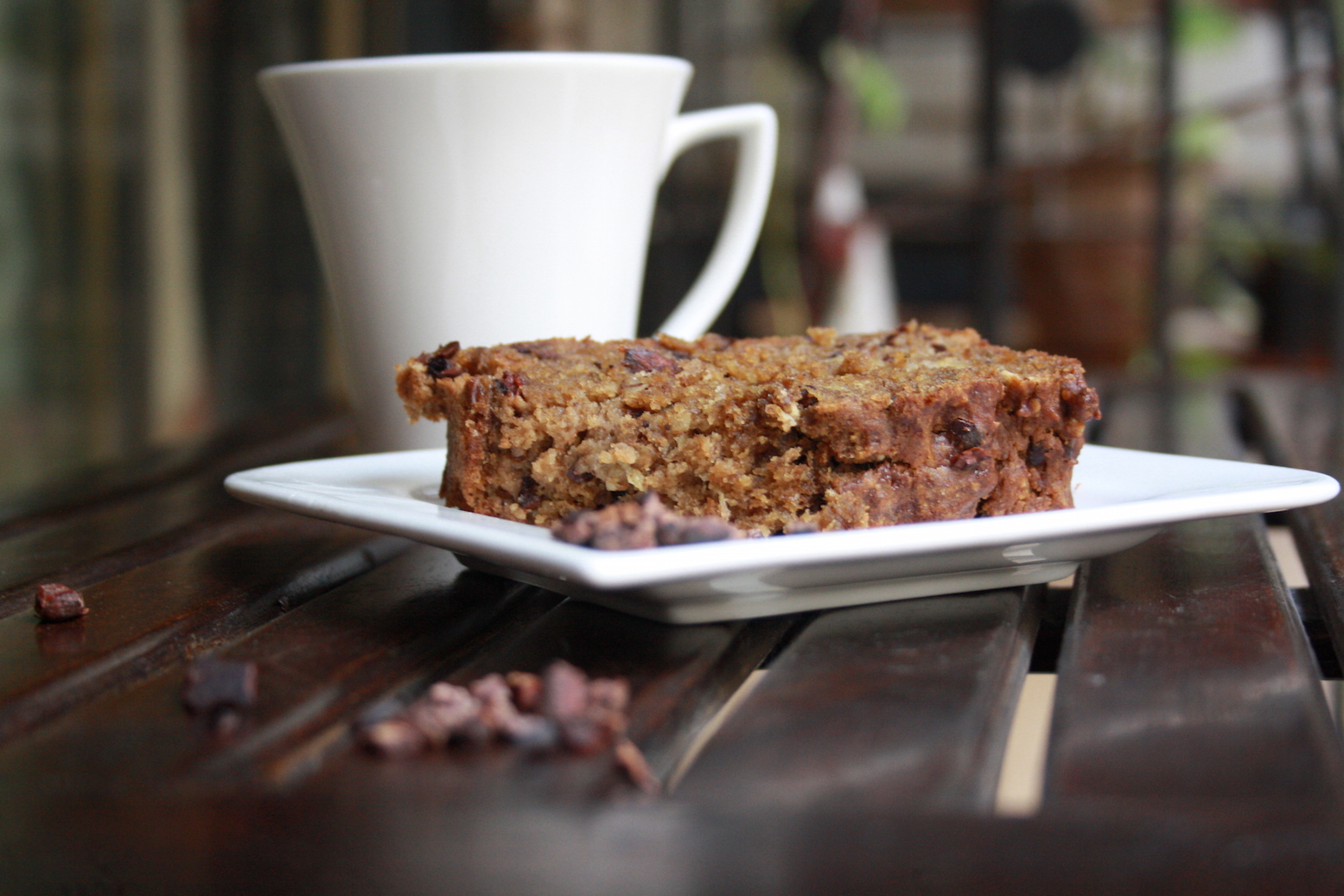 Earth Loaf sent me these delicious cacao nibs, which are basically broken cacao beans with the husks removed. The way chocolate makes you feel all smiley and chirpy? Same thing, just you know, not as bad for the heart 🙂
When eaten as is, they definitely have the chocolatey flavour you crave, but need a little bed to absorb the bitterness. Enter banana bed. I mean bread.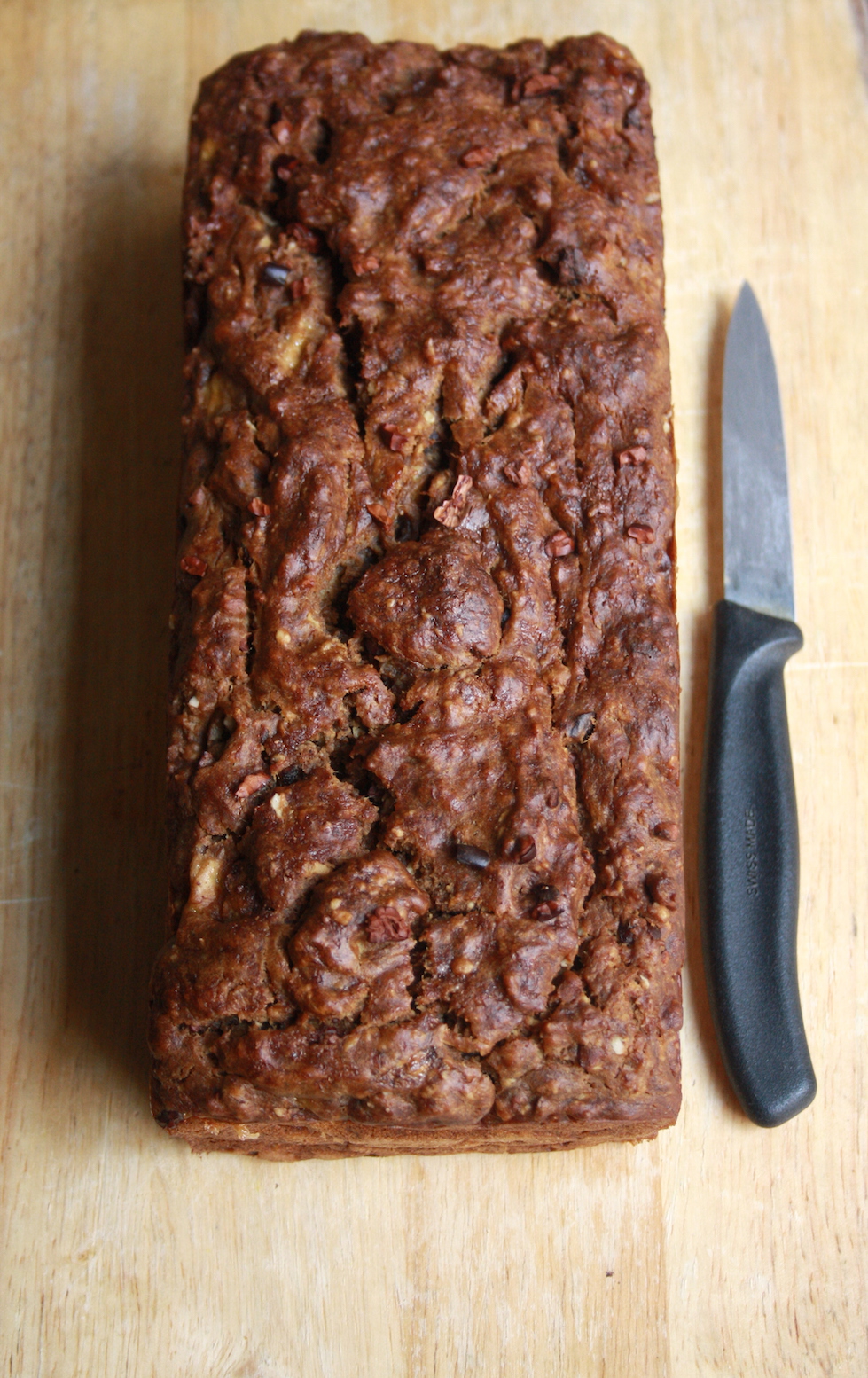 When baked, the cacoa nibs soften, and turn into these amazing little bites of nutty flavour. With a moist banana batter all around them, this is a match made in oven. (I'm sorry, really).
Did I mention there's also coffee in here? Coffee and chocolate all in one. I wonder where we've seen that before.
The recipe is adapted from The Vanilla Bean Blog which uses regular flour but seeing as how there were all kinds of moist-makers in here, I took a chance with wholewheat flour and it turned out just perfect. I would advise upping the sugar to 3/4 cup if the bananas you're using aren't overripe. I used just ripened bananas and found the bread mildly under-sweetened. Bake them as muffins, or a round cake, or a loaf cake, it's got antioxidants and you can't go wrong!
Also more banana goodness here and here and here and ooooo peanut butter!
What you'll need:
2 cups wholewheat flour
1/2 cup oats (the instant kind is fine)
1 tsp baking soda
1 tsp baking powder
1/2 teaspoon salt
1/4 teaspoon cinnamon powder
3/4 cup buttermilk (or 3/4 cup milk with a squeeze of lemon juice, allowed to stand for a few minutes)
1/2 cup strong coffee, cold
3/4 cup olive oil or regular vegetable oil
1 egg, lightly beaten
2 tsps vanilla extract
1/2 cup dark brown sugar (increase to 3/4 cup if the bananas aren't overripe)
2 overripe bananas, mashed with a few chunks
1/2 cup cacao nibs
What to do:
1. Combine flour, oats, baking powder, baking soda, salt and cinnamon in a large bowl. Preheat the oven to 175 C and grease a 9″x5″ loaf tin.
2. In another bowl, mix the buttermilk, coffee, oil, egg, vanilla and sugar. Mix well till combined.
3. Add the wet ingredients to the dry and fold gently. Add the mashed bananas and cacoa nibs and fold to combine. Avoid over-mixing.
4. Tip the batter into the prepared tin, smoothen out and sprinkle with more cacao nibs and brown sugar if you like.
5. Bake for 40 to 45 minutes or until a toothpick poked into the center comes out with only a few moist crumbs, no wet batter. The top will look dark because of the wholewheat flour so make sure you check that the cake is cooked from the inside.
Allow to cool for at least 30 minutes before cutting, because it is a really soft cake and falls apart in the face of impatience 🙂 Happy eating!