I'm sorry for doing this to you. Except I'm not.
One should never apologize for cheesecake. Especially not for this cheesecake. Because this one here, is a pre-Christmas miracle.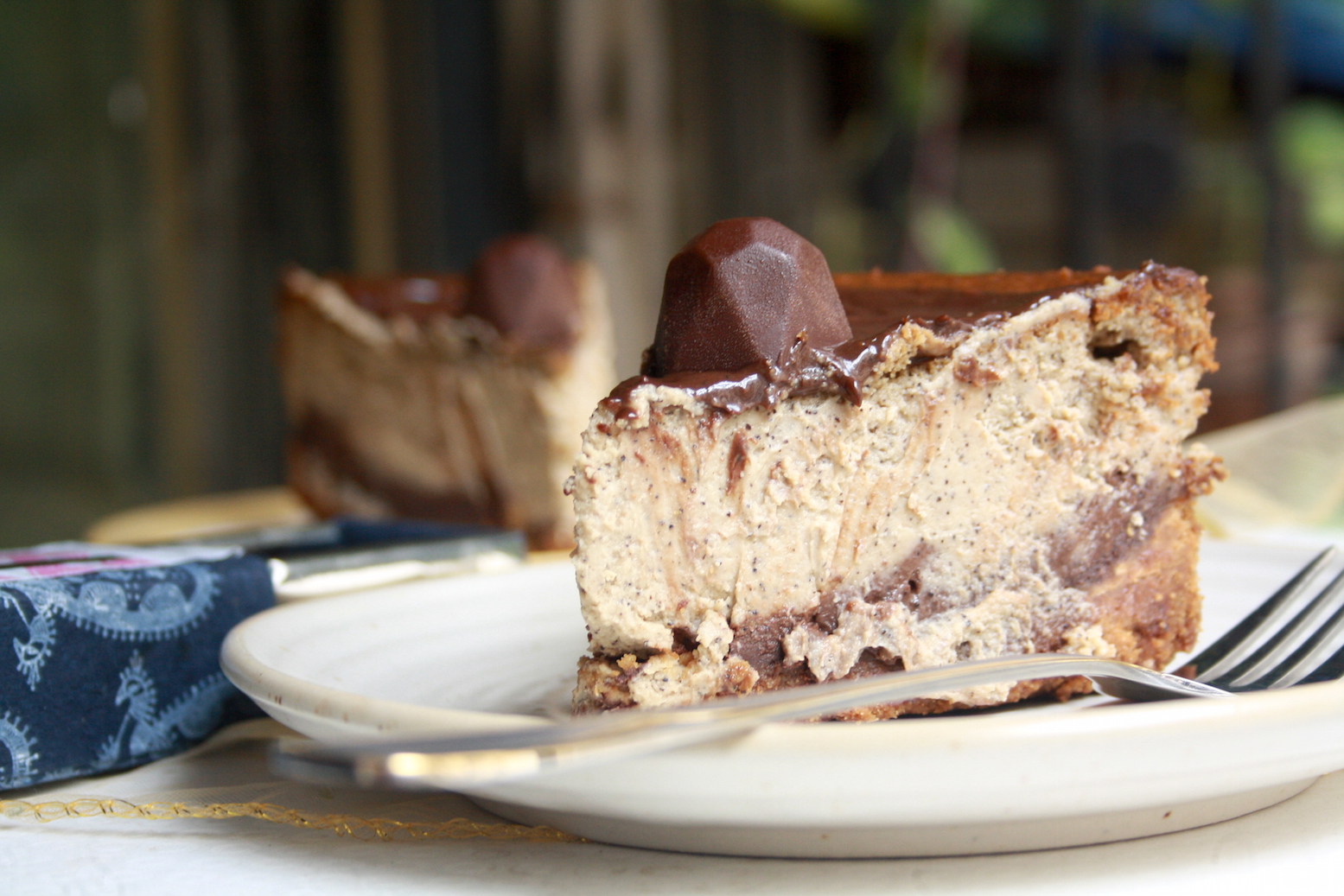 There is coffee, a lot of it, chocolate, a lot of it, cream cheese, a lot of it, and then because there's always room for improvement, there are Tiramisu Bon Bons from Earth Loaf, a lot of them.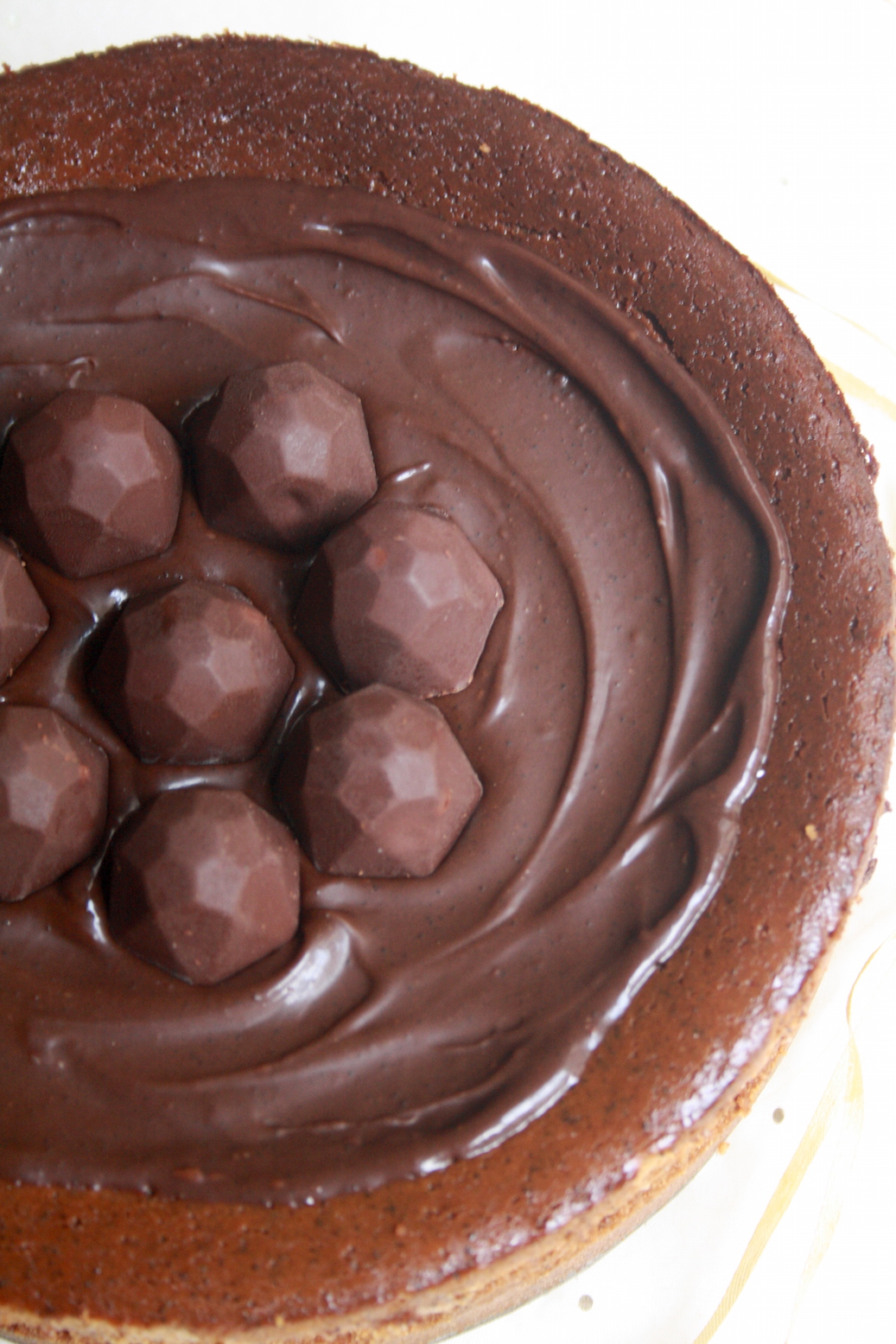 This is not something you get into without being extremely prepared. Skip at least two meals, wear pants at least two sizes too big, and nap for at least two hours after.
Let's begin 😀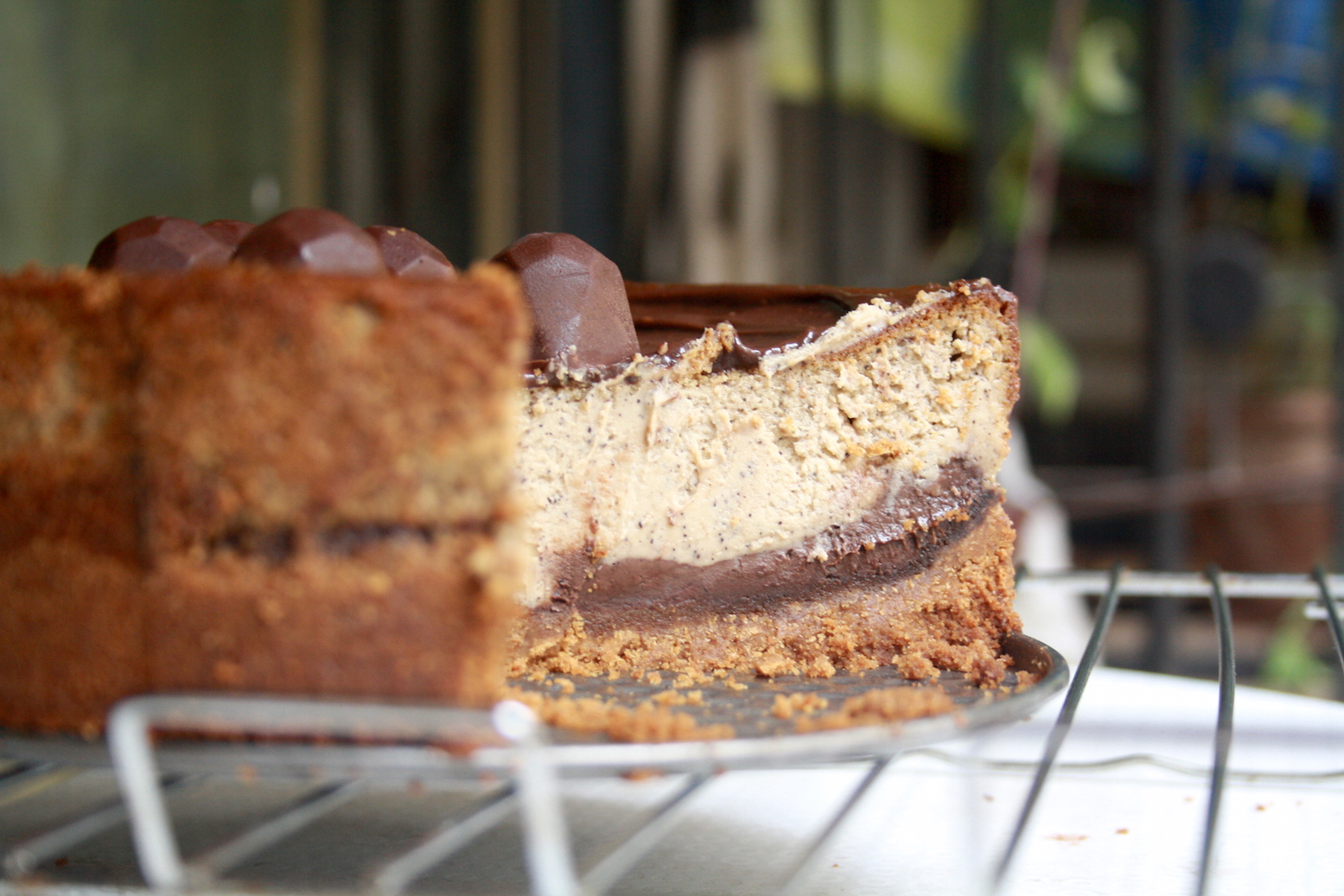 When I first saw this recipe, I didn't have the guts or the ingredients to go through with it. Then, like the good way to solve any problem, I broke it down.
No chocolate wafers to make the crust? Digestive biscuits it is. Food processor can't handle big chunks of chocolate? Leave them out. Short of cream cheese by a 100 gms? Use plain yoghurt instead. No sour cream? Leave it. No coffee liqueur? Simply use more ground coffee.
After all that, if this could still turn out the stunner that it did, I don't think it's anything short of a miracle. Rich, creamy, tangy, with a profound coffee kick, this is all we should be waking up to.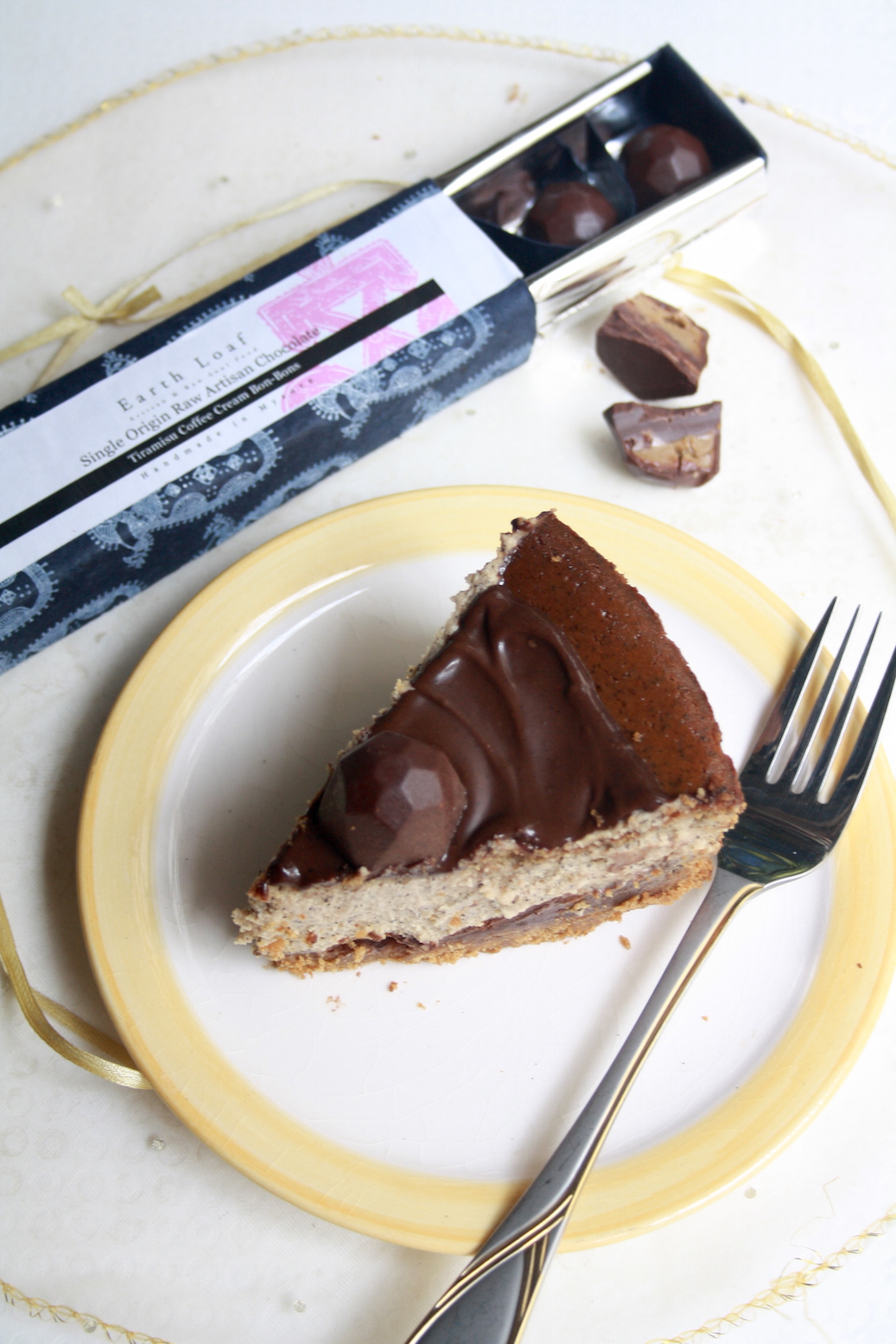 Ok, troubleshooting. I left the crust a bit thicker than I normally would because it had to hold a runny chocolate ganache and a big, big cream cheese filling, so big that I had to discard about 1/2 a cup and my heart still hurts. Use either a large springform pan or press the crust down thinner to avoid my kind of pain.
It also took an eternity to cook with the result that the top browned far too quickly and the sides cracked far too much. If this happens to you, don't worry about the wobbliness in the center. Take the cake out of the oven, let it cool and firm up, then chill it overnight. I promise it'll be perfect.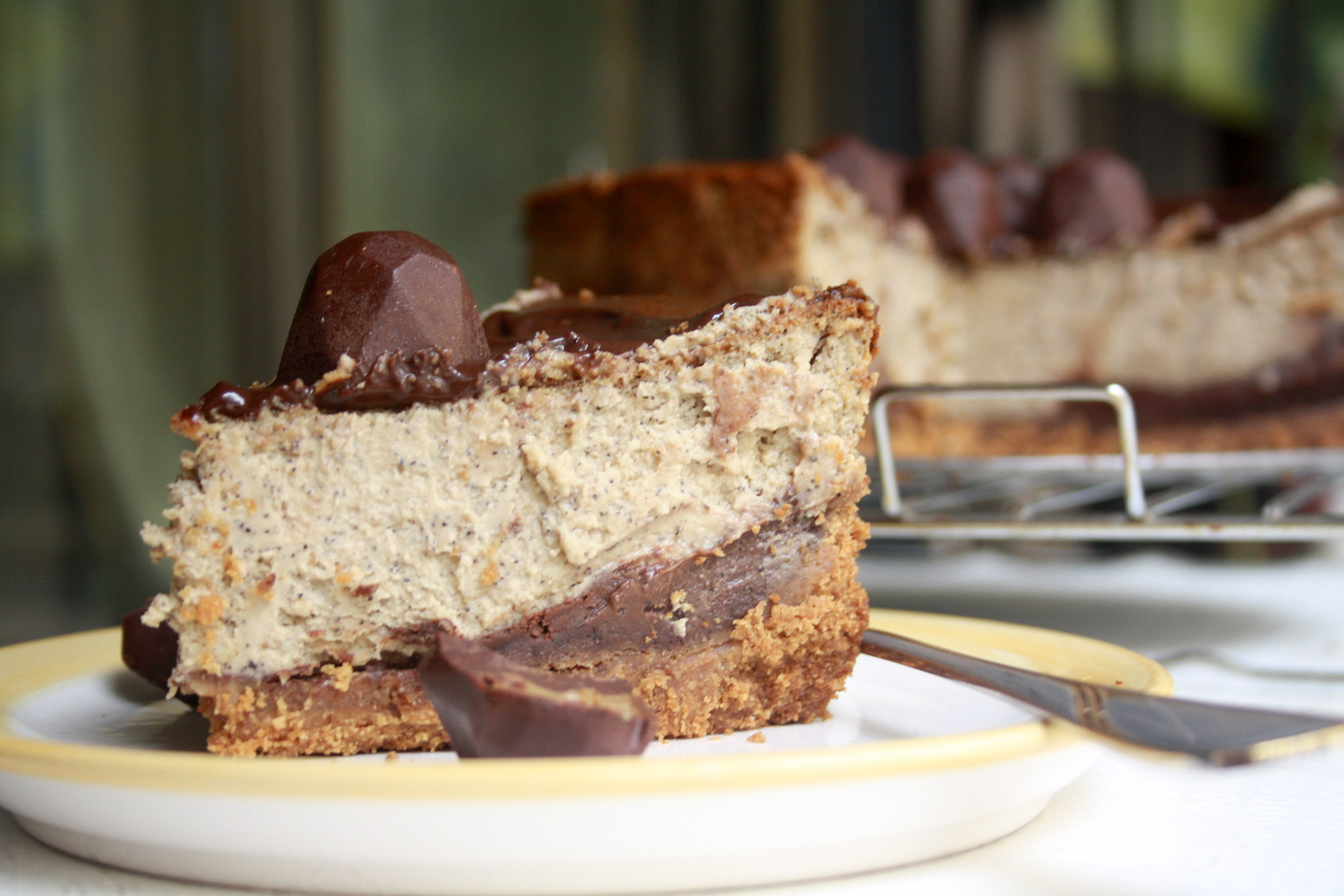 A little of the chocolate ganache is smeared on top of the cheesecake, to hold the bon bons together. Tiramisu flavoured chocolates seemed like the natural choice to top a coffee cheesecake and I don't think you should consider anything else. Mainly because they're dark and bitter and awesome. They're filled with cashew cream and are potent enough to give you your caffeine kick for the day. In short, you can't ignore them.
By the way, the little black specks in the cheesecake? Fabulous ground coffee from Kala Ghoda Cafe. Strong and just perfect. With that buttery crust and rich chocolate ganache, coffee is what we need.
There's been too much talking and not enough eating. Let's fix that.
P.S. This cake takes a while to make and another while to chill enough that all the flavours really sing and dance. If making it for an occasion, make it the previous day for sure! Allow to sit at room temperature for 10 minutes before slicing.
What you'll need:
For the crust
250 gms digestive biscuits
100 gms melted butter, salted is fine
For the ganache
200 ml cream, regular or whipping cream
400 gms dark cooking chocolate, chopped (I used a mix of bar and chips)
1/4 cup strong black coffee
1 tbsp coffee powder, optional
For the cheesecake filling
540 gms cream cheese at room temp (3 packs of Britannia cream cheese)
100 gms plain yoghurt
1 cup caster sugar
1 and 1/2 tbsps flour
1 and 1/2 tbsps rum, optional
2 to 3 tbsps coffee powder, depending on how strong a flavour you like
2 tsps vanilla extract
1 and 1/2 tbsp honey or light molasses
3 eggs
What to do:
1. Grease a 9″ springform tin and set aside. (I used 8″ and found it too small)
2. Make the crust by blitzing the biscuits in the food processor till they form a coarse, sand-like mixture. Add the melted butter and blitz again till the mixture clumps together. Tip into the prepared pan, press evenly on the bottom and up the sides, as far as you can go. Try not to keep the bottom too thick or you'll have trouble fitting the batter in. Now chill the crust while you make the ganache.
3. For the ganache, bring the cream to a boil in a small saucepan on medium heat. Turn off the heat, add the chopped chocolate and coffee. Stir till combined through. If required, reheat to get a smooth ganache. Allow to cool for 5 minutes. Set aside 3 tbsps of ganache to use later.
4. Pour the remaining ganache onto the chilled crust, and freeze for 1 hour. The original recipe says freeze for 30 minutes but in our temperatures, I found the center of the ganache still liquidy so 1 hour is recommended.
5. After the crust and ganache have been in the freezer for about 45 minutes, preheat the oven to 175 C and get started on the filling.
6. To make the cheesecake filling, use a food processor or hand mixer to beat the cream cheese and yoghurt for a few seconds till smooth. Add the sugar and beat again. Add the flour, beat again.
7. In a small bowl, mix the rum, coffee powder, vanilla and honey till coffee dissolves almost completely if not completely. If you're using a coarser blend of coffee, don't worry if some grains are visible.That's all the pretty black specks 🙂
8. Add the rum and coffee mixture to the cream cheese mixture and beat till combined.
9. Lightly beat each egg in a small bowl and add to the filling one at a time. Beat well after each addition. Taste to see if you want to add more vanilla or coffee.
10. Pour the filling onto the frozen crust and bake for 1 to 1/2 hours till the edges have browned but the center is still wobbly. If you find the top browning too fast, cover the top with aluminium foil and keep baking. If you find more than just the center remaining wobbly but the edges done, remove the cake from the oven, allow to cool and firm up on its own.
11. Refrigerate the cheesecake overnight. When ready to serve, remove the sides of the springform pan, spread the reserved ganache over the top and decorate with chocolates, even whipped cream. Yum.
Happy baking and eating!