Sometimes the things that sound most intimidating are actually the things we could be doing in our sleep. Calculus does not count (pun unintended, I swear). But this ratatouille which is easier than watching the movie Ratatouille, definitely counts.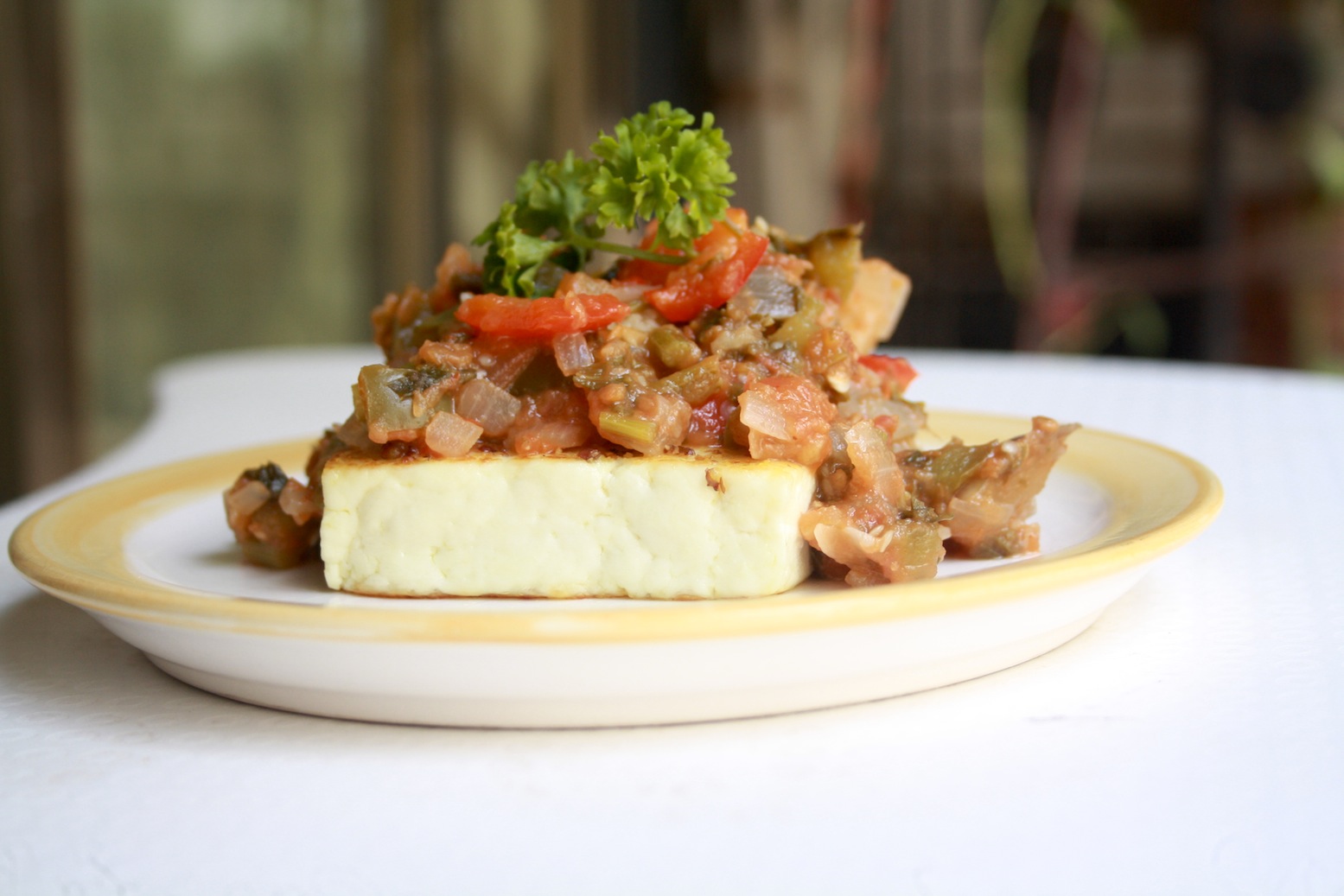 Chop veggies, add to a pan, cover the pan. Eat. I tried to make it sound complicated, I promise, but I couldn't. The best meals requires very little panic and very little additional flavouring. I learnt this in Italy, where the ingredients are the hero of every meal. Not that I don't love masala filled tikkas, but this ratatouille is exactly what comforting, basic food is all about. No wonder they made a movie on it.
What is originally a hearty but simple French stew, is also the easiest, tastiest way to get your daily serving of veggies. I found it was pretty flexible. Not all the recommended veggies will be sitting in your fridge at the moment, so make do with what you have. You'll be amazed at how much flavour they'll still pack in.
We ate this ratatouille spooned over golden-brown slabs of paneer or cottage cheese. In my world, paneer grows on trees and is therefore a vegetable. That's my only justification for eating the copious amounts of it that I do. On the side was an equally quick and delicious potato salad with parsley. There was also sparkling wine just because.
There is no better weekend lunch 🙂
This ratatouille was so good, I didn't even realise I was eating pieces of brinjal. The one vegetable I truly detest in its traditional cooked forms. But not this way. Chopped up and lightly sautéed, with so much other freshness, I inhaled the lot.
It goes great with the soft, pan-grilled paneer. My vegetarian version of a steak, probably doesn't sound like a thing but it is!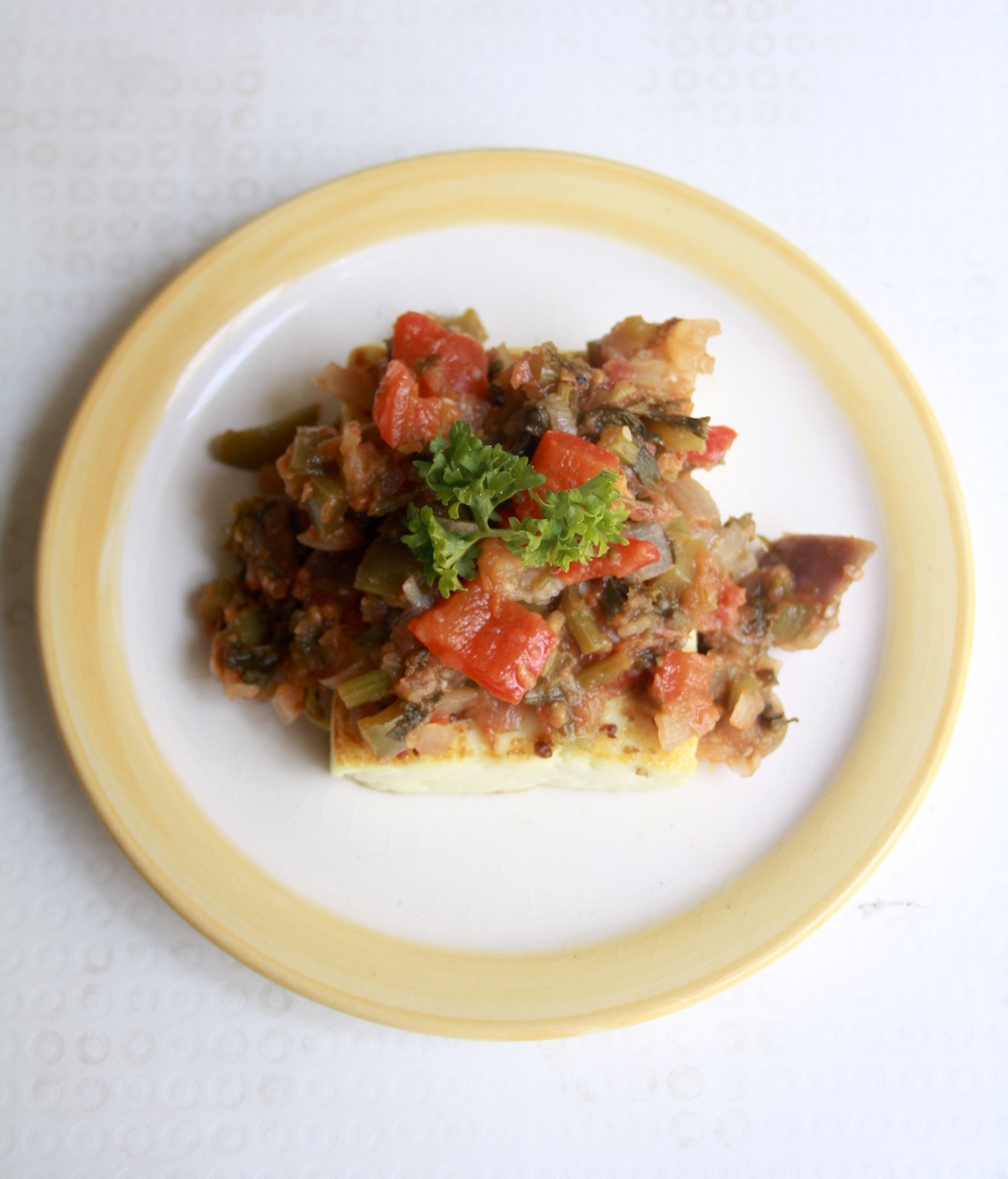 Fresh, light, filling. You can taste every vegetable and it's not boring in the least. Basically, this is too good not to make.
The proportions below serve two generously.
What you'll need:
For the ratatouille
2 tbsps olive oil
2 cloves of garlic, finely chopped
1 onion, chopped
2 small brinjals/1 medium brinjal, chopped
1 red bell pepper
1 green bell pepper (If you have zucchini on hand, use that instead of the additional bell pepper)
3 ripe tomatoes, roughly chopped and blended into a chunky puree
A small fistful of fresh parsley, chopped
Salt and pepper, to taste
Chilli flakes, optional
For the grilled paneer
250 gms fresh paneer, cut into two slabs
2 tsps olive oil
2 tsps whole grain mustard
What to do:
1. Heat the oil on medium heat and fry the garlic till golden brown. Add the onions and fry till soft and lightly browned.
2. Next, add the chopped brinjal with a sprinkle of salt to help it release its water and cook for a minute. Add the peppers and continue to cook for about 2 minutes.
3. Add the pureed tomatoes, more salt, pepper and the parsley. Stir well and cover. Cook for about 10 minutes or till the mixture has thickened and the vegetables are cooked through. Ratatouille done!
4. Prepare the paneer in a separate pan by browning it on both sides in olive oil on medium heat.
5. To serve, top each piece of paneer with 1 tsp of mustard, then the ratatouille and more parsley to garnish. Serve hot!