It's about time.
It's about time we got some chocolate on our clothes and some butter in our veins. It's about time we put aside the salads and the healthy pizza. I mean, delicious as all of that is, a girl's gotta get some chocolate. Especially if the girl is me.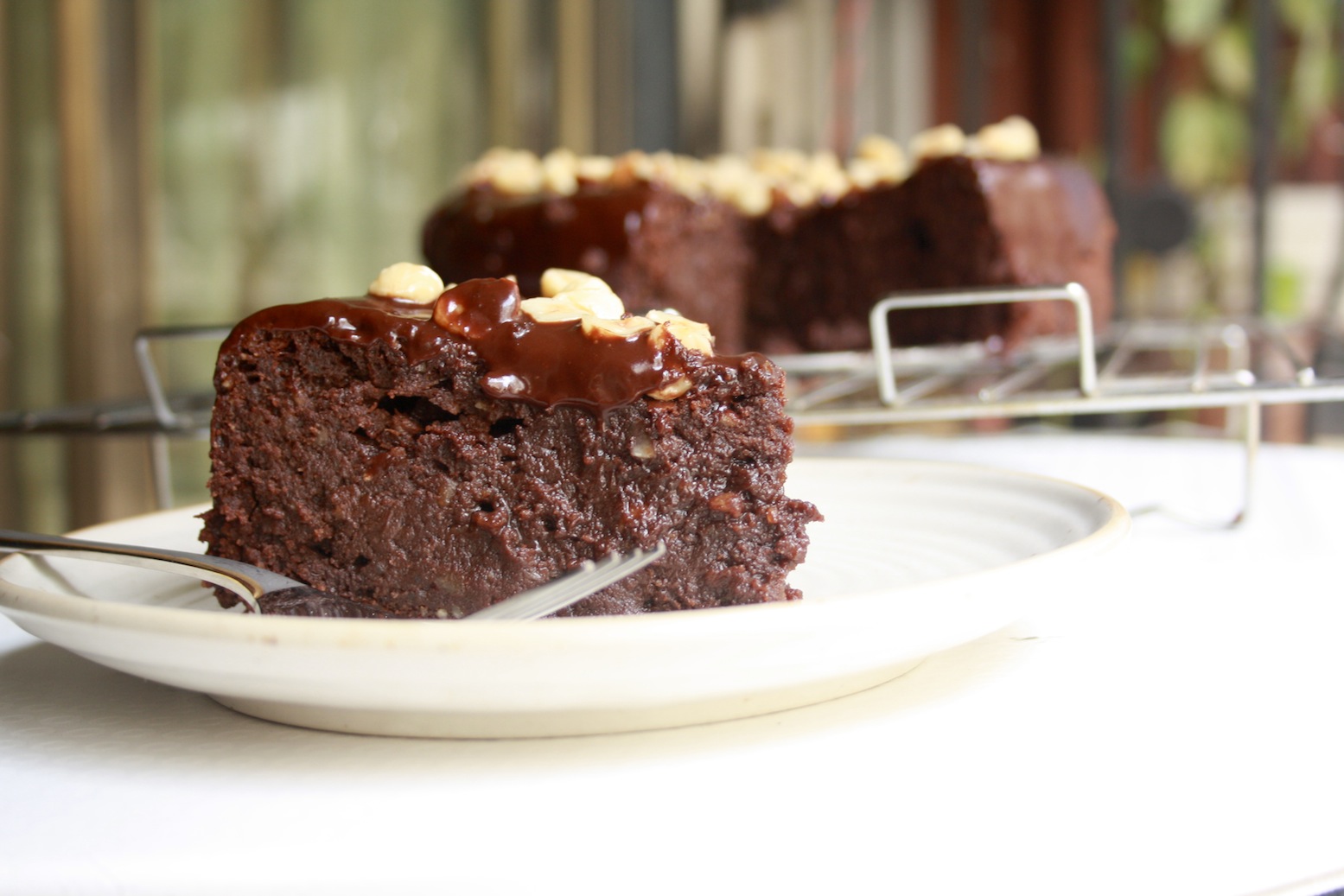 I needed chocolate so badly I decided this cake must have no flour. Chocolate through and through. Unholy amounts of butter, half a dozen eggs and many hazelnuts later, here we are.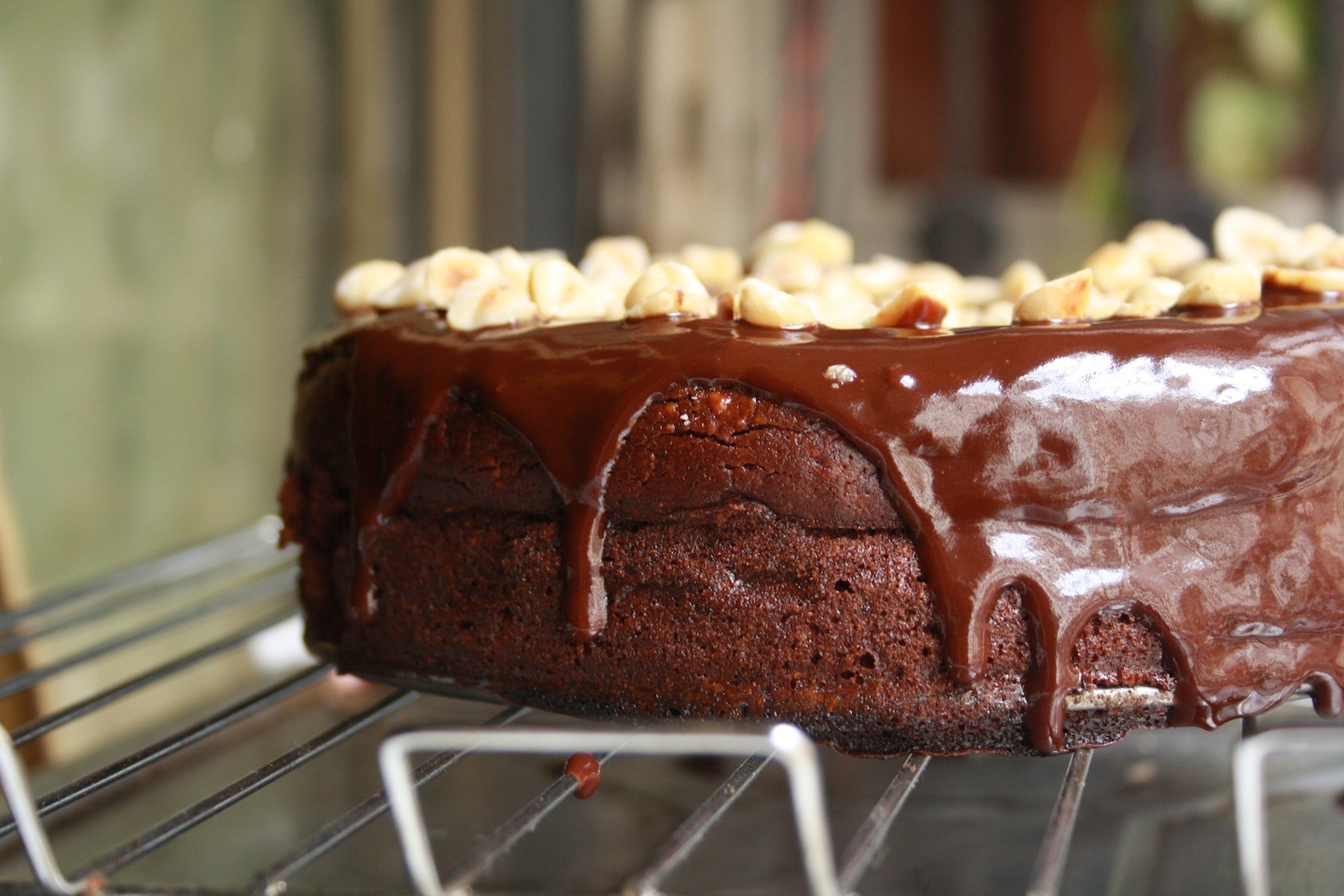 Topped with chocolate sauce because that's always a good idea. Served in large, unapologetic chunks. Rich, gooey and leaves no hazelnut to the imagination. Grab a fork.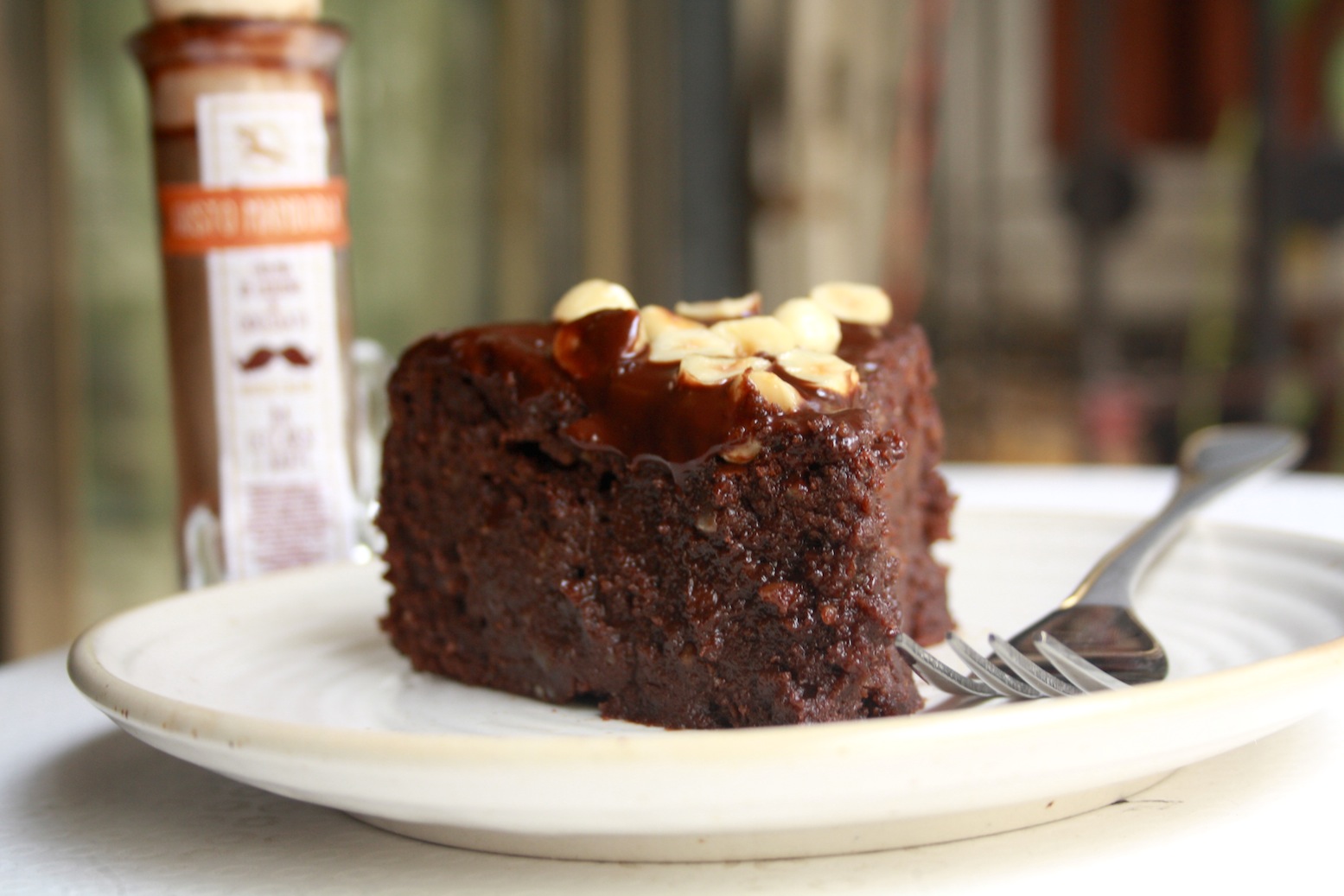 The cherry on the top is the little bottle you see in the background. An Italian chocolate liqueur made with cherry (see what I did there?) and almonds. Not my all time favourite flavour combination but tastes stupendous amidst all the hazelnut.
Use any liqueur you like, it will never taste bad 🙂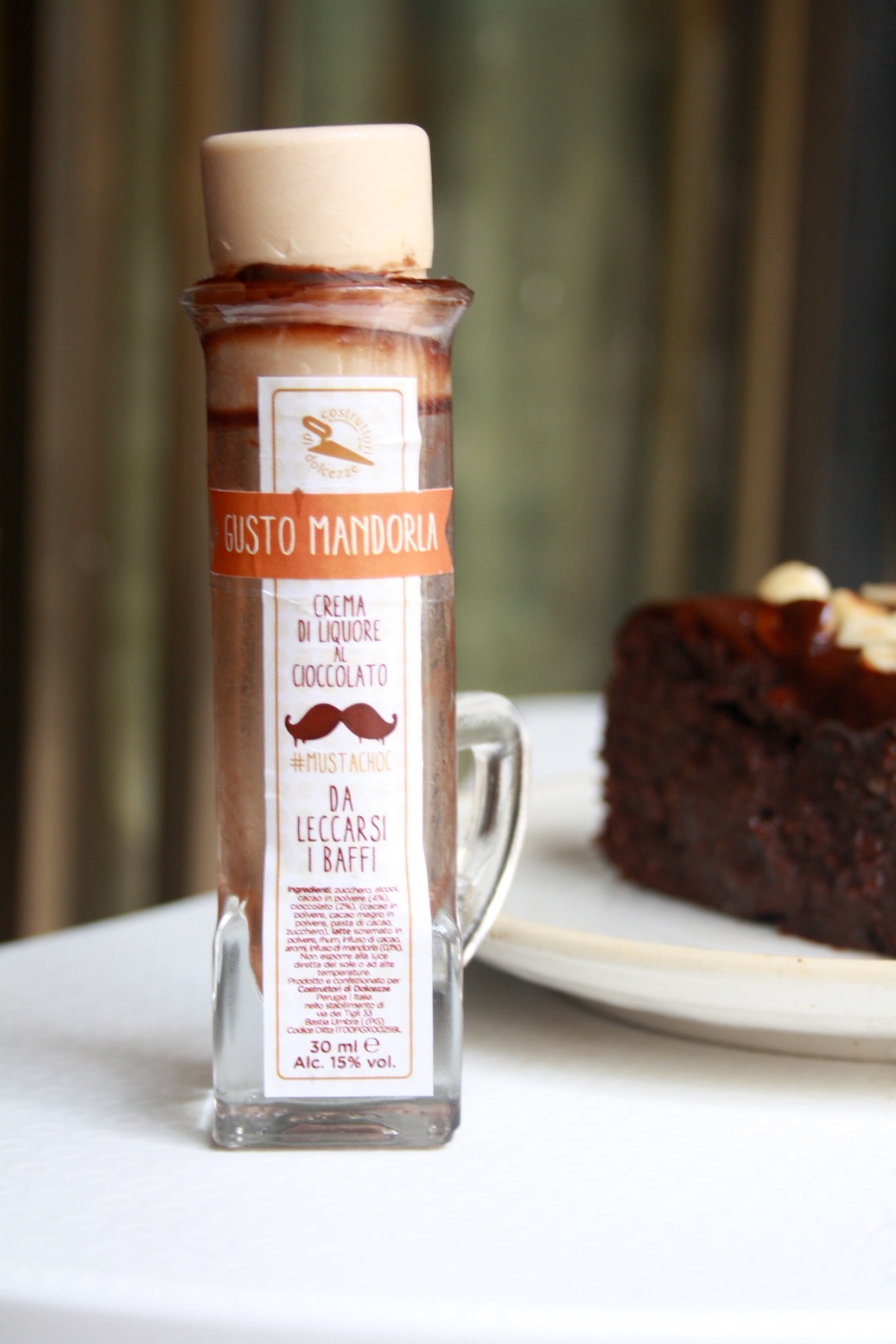 The original recipe instructs you to bake the cake for an hour, up to an hour and a half. My oven in the past has burnt things in its excitement, so I pulled this cake out just before an hour was up, with the top looking perfect. The toothpick taste revealed just a few wet crumbs. Flourless cakes are generally gooey, and mine was a perhaps just a tad gooier than usual but I only realized that after cutting it. So there I was letting it cool and then chilling it for an hour when it should have been chilled for three hours. But the monsoon clouds were approaching and my window of sunlight was disappearing. Pulled it out, sliced it and shot it sooner than I should have. A few hours more of chilling was all it needed to firm up so my advice would be to keep plenty of time on hand for this cake. It will taste great no matter what but will save you a nervous breakdown 😀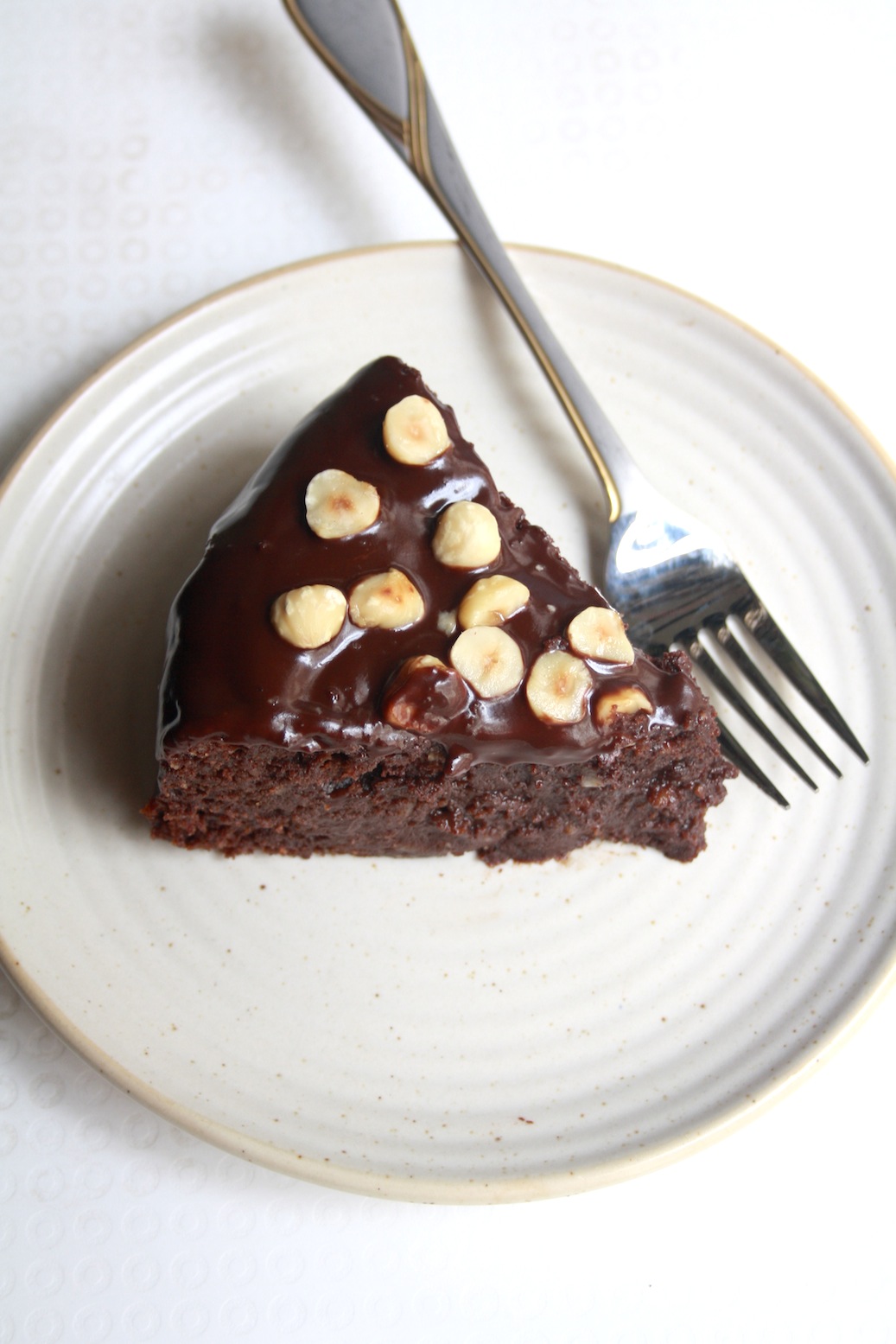 A couple of bites will make you want to come up for air. That's just how rich this cake is. But we have baked falafel to balance it all out. The only time consuming part comes after the batter is actually ready. Like I said, don't be impatient and you'll be fine. Happy eating!
What you'll need:
340 gms room temperature dark cooking chocolate, chopped
170 gms softened butter, cubed
6 eggs
3/4 cup brown sugar
1/4 cup hazelnut liqueur or 1 tbsp of any other liqueur (because you don't want to overpower the hazelnut with a different flavour)
140 gms hazelnuts
1 tsp salt if using unsalted butter
What to do:
1. In a pan on low heat, toast the hazelnuts for 2 to 3 minutes until lightly browned and fragrant. Set aside to cool.
2. In a double boiler, melt the chocolate and butter until smooth and glossy. Set aside to cool.
3. While that happens, grind the hazelnuts into a fine powder, taking care not to overdo this or you will wind up with hazelnut paste. Preheat the oven to 175 C.
4. In a large bowl, add the eggs and beat lightly, add the sugar, liqueur and mix well.
5. Add the cooled chocolate mixture, then the ground hazelnuts and salt, if using. Fold gently. The batter will be slightly grainy.
6. Pour into a greased 8″ springform pan or cake dish and bake for 1 hour, covering the top with foil after the first 40 minutes. Check to see that a toothpick comes out with just a few wet crumbs. If there is still wet batter on it, bake the cake for another 30 minutes. Remove from the oven and allow to cool.
7. Chill the cake for at least 3 hours before slicing.
8. If you want to (and I think you should), melt 8 to 10 square of dark chocolate with a knob of butter and 1 tbsp liqueur. Pour this hot sauce over the cooled cake and top with more toasted hazelnuts.
You're welcome 😀