Hello! I'm back from the hiatus, sweltering in the Indian summer, ready to make more cookies and stay far far far away from icing and dough until winter is here.
But first, Europe. !!!!!!!!!!!!!! Visiting Europe has been something I've dreamed of for many, many years. We managed to fit in Paris, Amsterdam and a few parts of Italy in our two-week trip and I've come back with mental, unforgettable images of some of the most beautiful places I've ever seen. We stayed at the cutest AirBnb rooms, loving the non-cliched, non-touristy prices and decor.
A big part of the trip, however, was food. Mainly because it's a big part of my life 🙂 I'm a vegetarian so that made my food journey a bit harder and a bit more adventurous. Oh, and the cheese. So. Much. Cheese.
Over the last couple of weeks, as and when I got wi-fi access, I shared where I was going and what I was eating on my Facebook page. The response was phenomenal. Thank you 🙂
I took these photos on our mobile phones, nothing fancy, and very little attention to aesthetics and camera angle simply because the food was always so incredible to look at! And I was always so hungry. Did I mention we literally walked all over the continent? So much walking!
By the way, the title of this post was to be: Everything I Ate I Ate Everything in Europe.
I couldn't unfortunately do that in the actual title box. Formatting woes.
I won't ever forget this trip for a lot of reasons. Like being inside the Colosseum. Or watching the turquoise sea at the Cinque Terre. Or sitting in front of the Midnight in Paris steps (more on that next week!). Or sipping Prosecco in a piazza in Florence. But mainly, the food I ate at all of those moments 🙂
Paris
Paris was COLD. Wet, rainy and mercilessly windy. Enter all forms of hot drinks and mulled wine. And a LOT of cheese and baguettes. So many baguettes! It's amazing how that meal didn't get boring. Maybe because there was wine involved? So, these are apricot and dark chocolate crepes at the Tuileries Garden outside the Louvre. We felt so fancy.
These are French Fries (hee hee) with mayo we had on a thankfully sunny Sunday sitting at the Luxembourg Gardens. In front of the Palace. With mushroom and onion pizzas and wine. The fancy just never ends.
Somewhere around the beautiful Quartier Latin, we came across a bakery with a queue. Of course, we stopped. These fresh chocolate chip brioches called out to us. And we munched it all the way back to our room.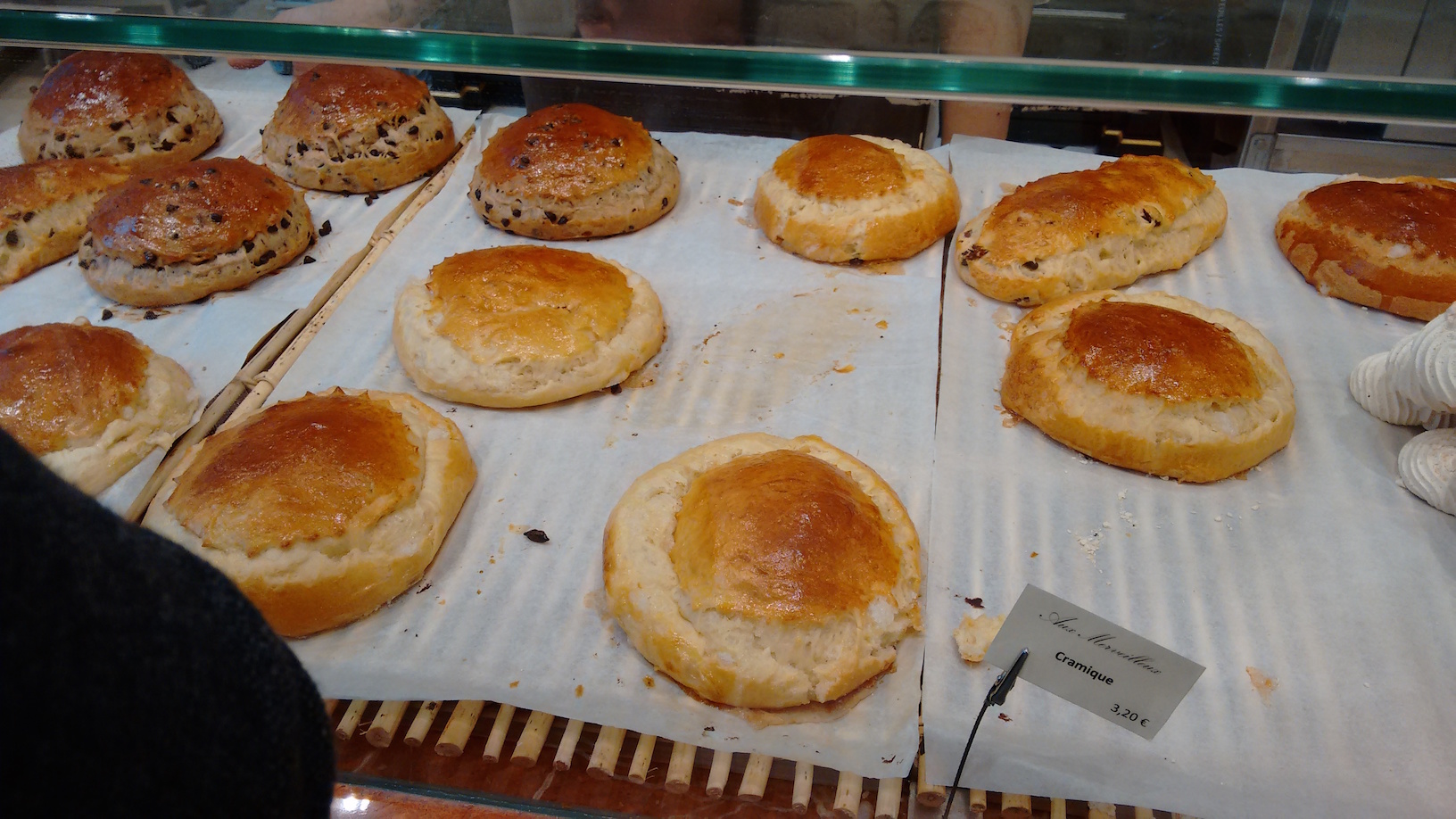 On our last night in Paris, we finally made it to the Eiffel Tower. It was breathtaking and not over-rated like I'd feared. Staring at it from across the river, strolling along the bridges of Paris, it was like something out of a movie. And we did all of that eating mozzarella and Nutella filled crepes (not together).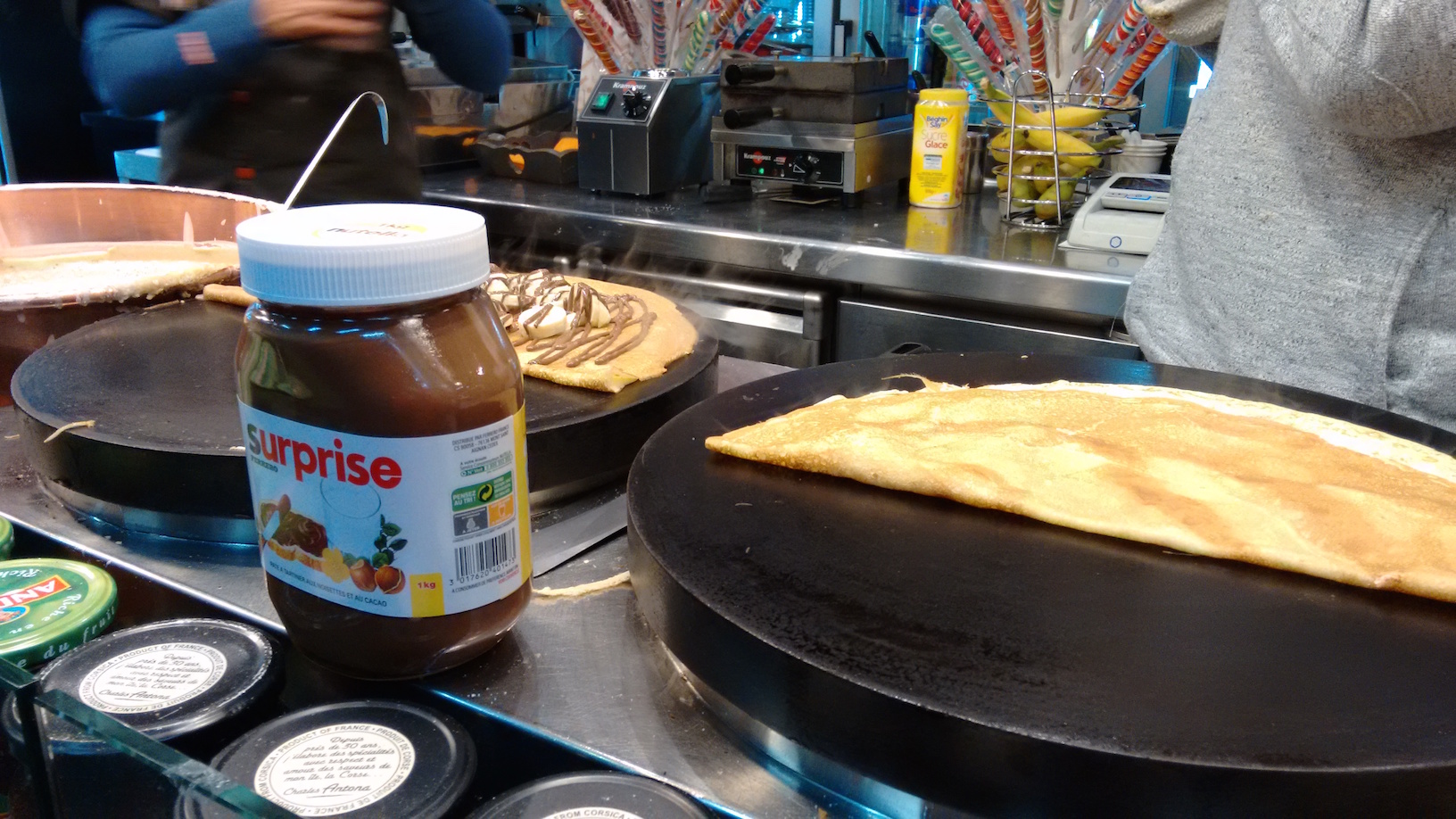 Paris also involved some stunning Normandy Camembert cheese which I took a photo of and can't remember what phone it was on! But it was delicious, we brought some back too 🙂 This city will always be one of the most charming I've ever seen. Montmatre in particular. It stunned us how such a big metropolis could retain its old-world beauty consistently. I'm definitely going back!
Paris to Milan
Our first Italian meal was at the Milano Centrale railway station. I know that's an odd place to have a memorable meal, but the crisp veggies and soft buffalo mozzarella was a great way to start the Italian adventure! It was also the first slice of pizza in Italy 🙂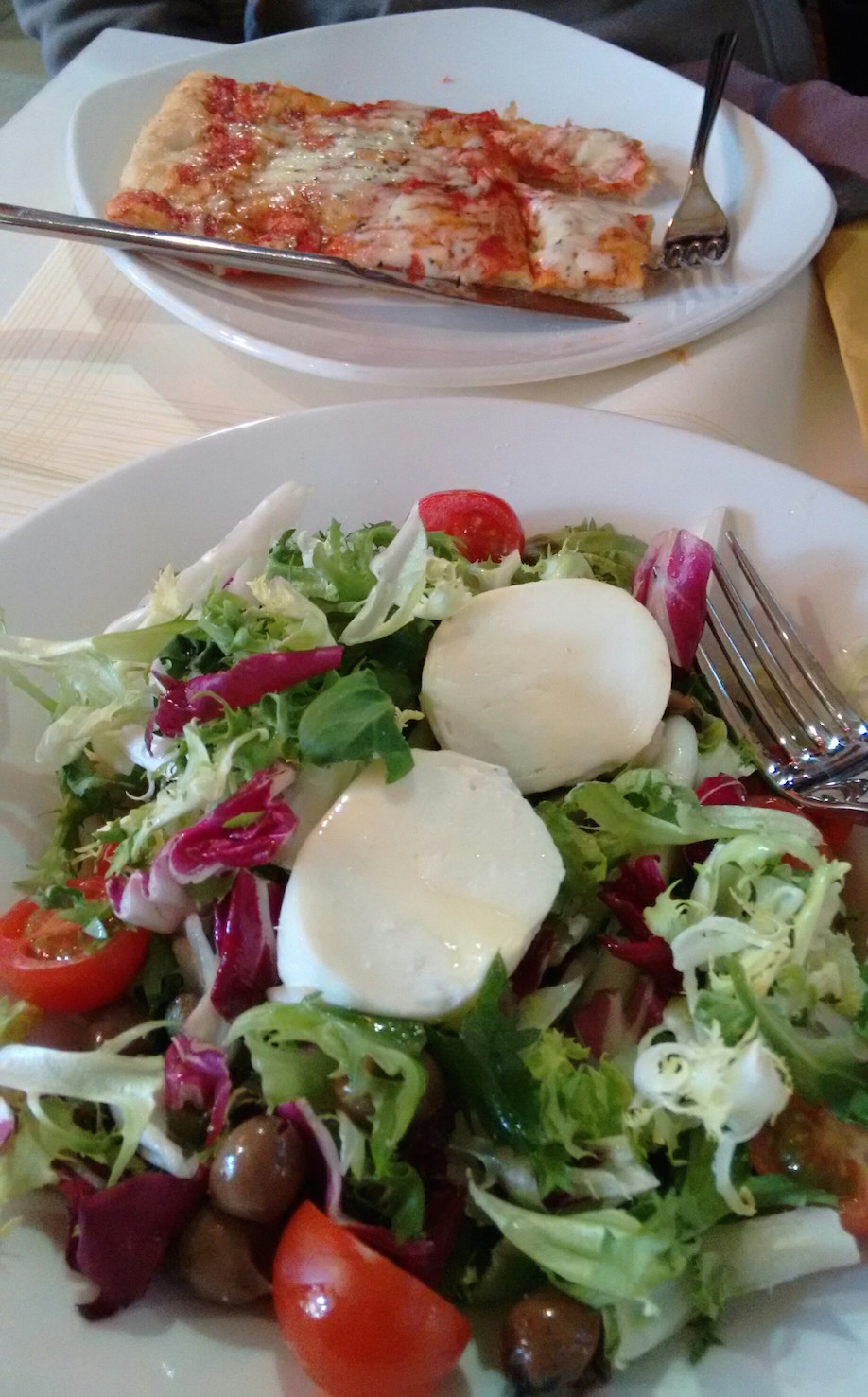 La Spezia and Cinque Terre
This was our first stop in Italy. A small little town on the pretty Liguarian Coast in the North of Italy. La Spezia was our base to travel to the Cinque Teree, or five villages. A breathtaking collection of coastal fishing villages with houses that look like a film set. Brightly coloured, laden with flowerpots and bright green vines, olive oil barrels sitting on the doorsteps, small little alleys and steep stone staircases. And a lot of really good food.
So, we began with this Nutella and Peanut Butter gelato that was so good, I almost cried. Thick, rich and creamy. With the perfect balance of both flavours, it was completely magical. There was a cold breeze but a hot sun and somehow, the gelato fit in beautifully.
There were also these potato chips. Salty salty salty but so delicious!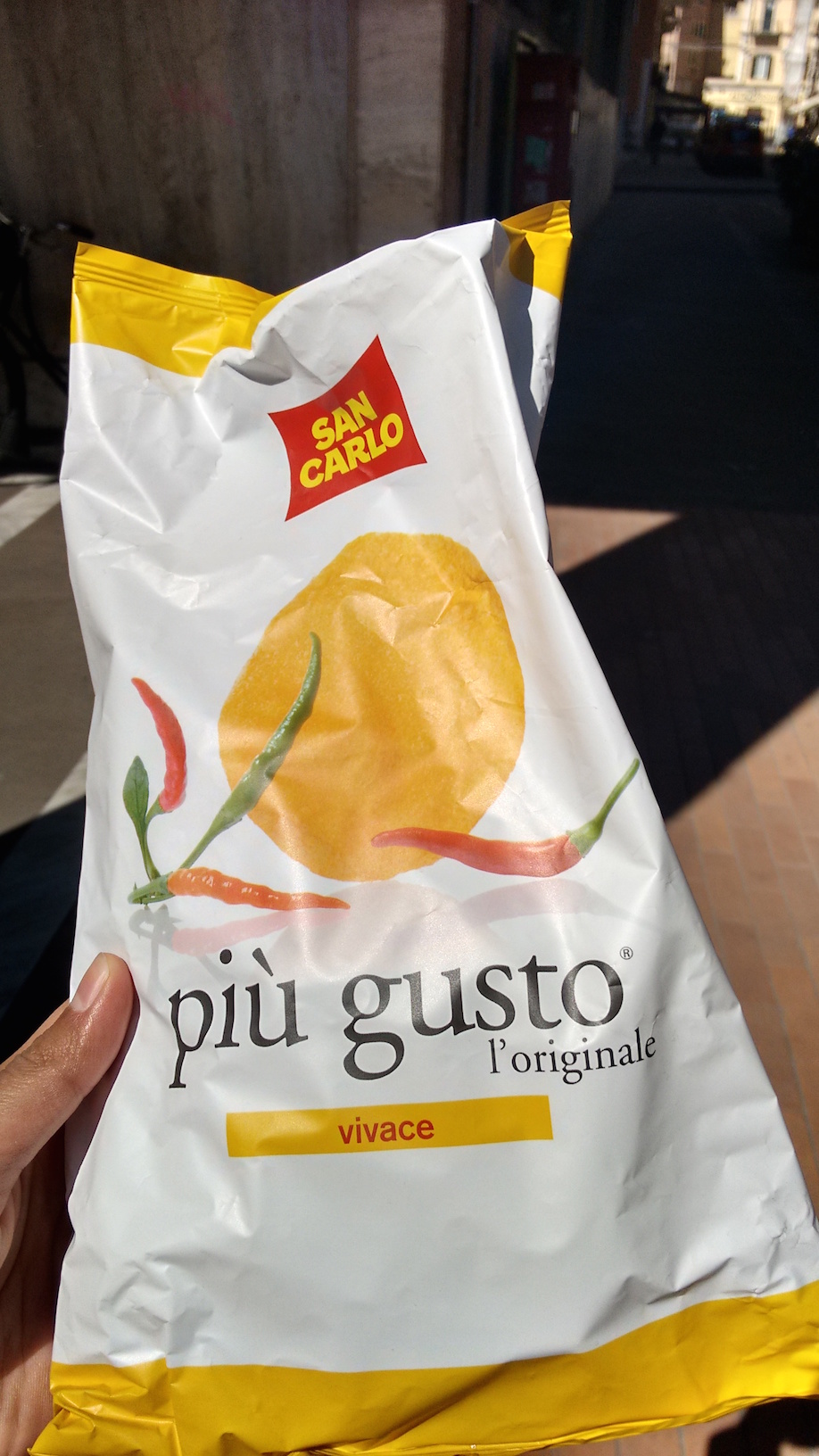 Then there was this lemon cream-filled pastry in a cute little bakery on one of La Spezia's many narrow streets. I'm not a fan of eggy pastry creams but this had so much flavour, the egg was practically not there. Soft and sugary and a great mid-morning snack!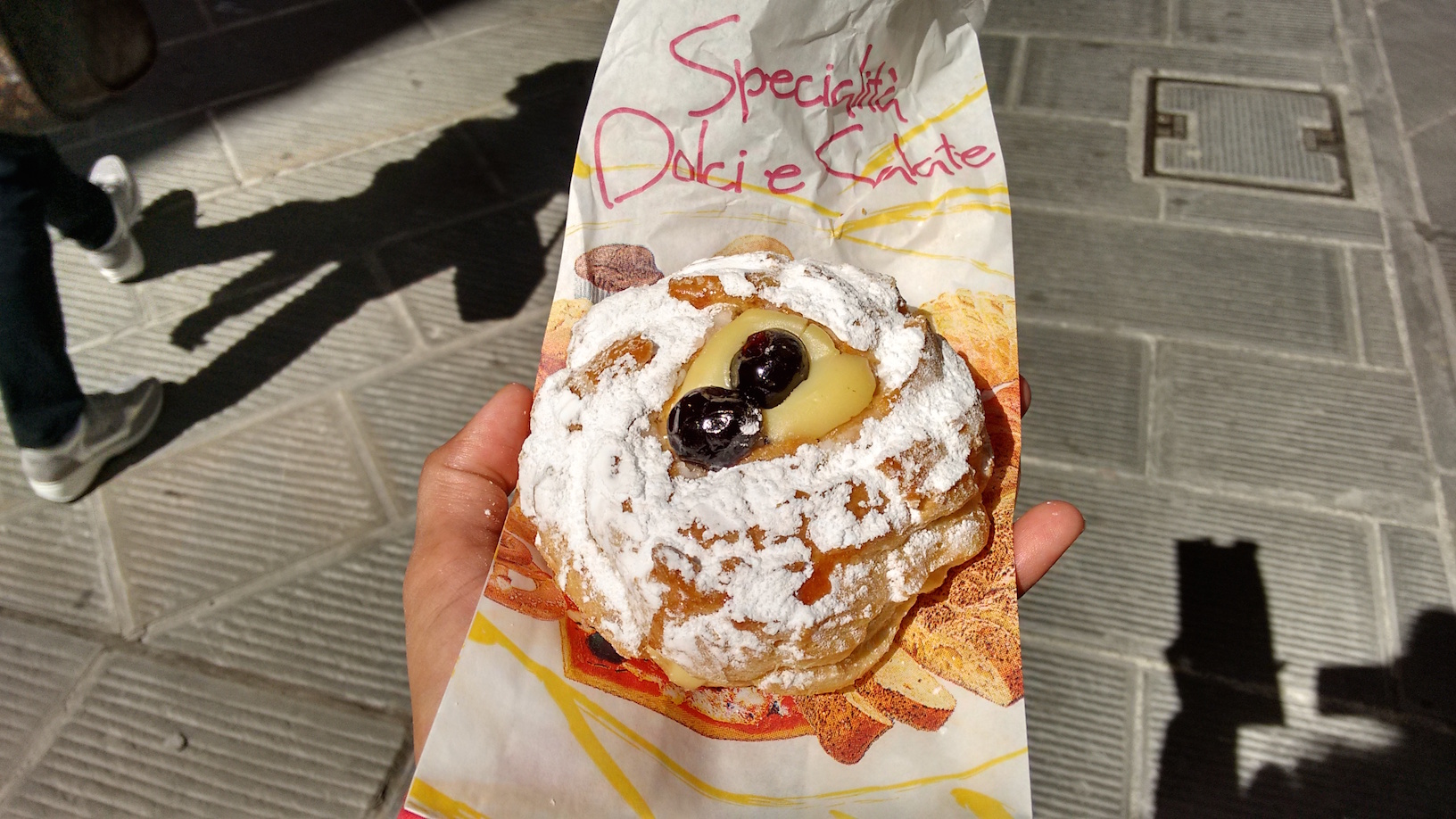 The highlight of our trip to La Spezia and Cinque Terre was our meal at Riomaggiore, the first of the five villages. We got out at the train station, climbed a staircase and found ourselves at a beautiful little cliff-top cafe over-looking a turquoise sea I'd never seen the likes of before. We had a basket of soft, fresh bread and another equally fresh salad. I've never eaten as many salads as I did in Europe!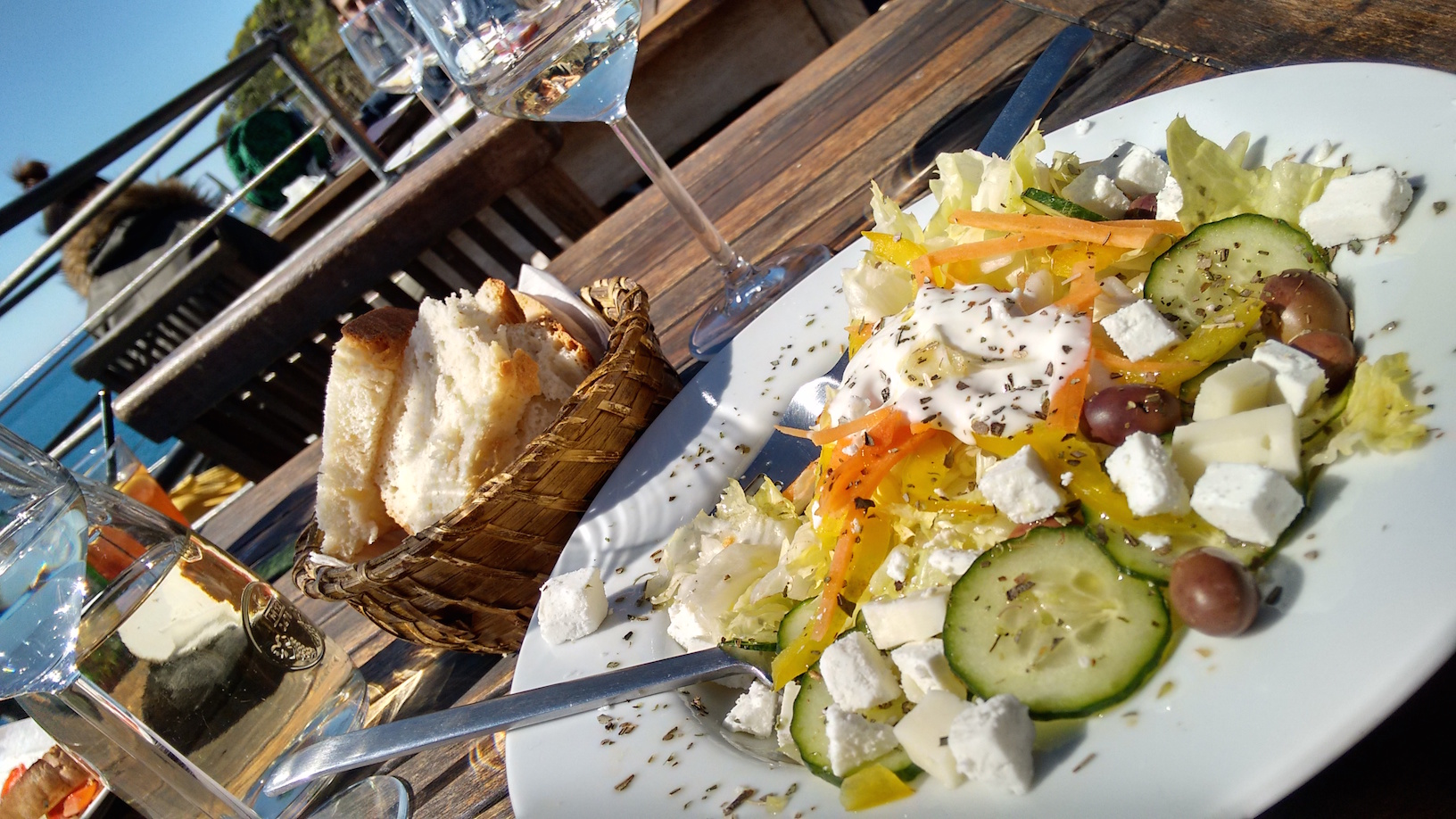 Back at Riomaggiore that evening, we had our first Italian pastas. Pesto and a spinach-ricotta ravioli in a sage butter sauce. I don't know how to say 'so good' differently. So good.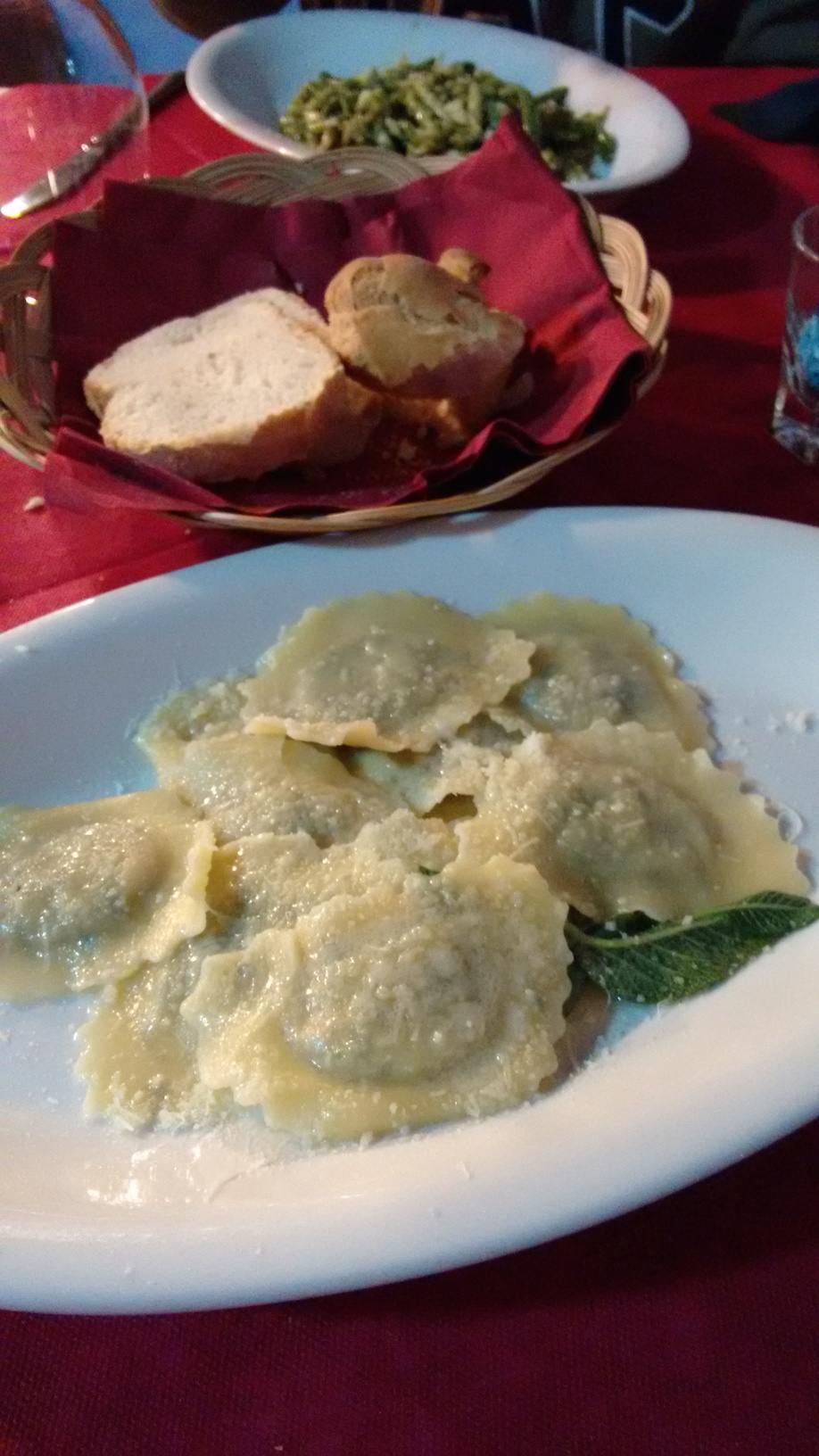 Vernazza and Manarola were the villages we explored really well, given that we had less than a day in Cinque Terre. We didn't do a lot of eating surprisingly, but in the last village of Monterosso, I had this pretty spectacular hot chocolate which tastes A LOT like a melted version of this pudding. Unlike anything I'd ever had before! The beautiful sunshine during the day was disappearing by now and my poor frozen fingers reaaaaly needed it.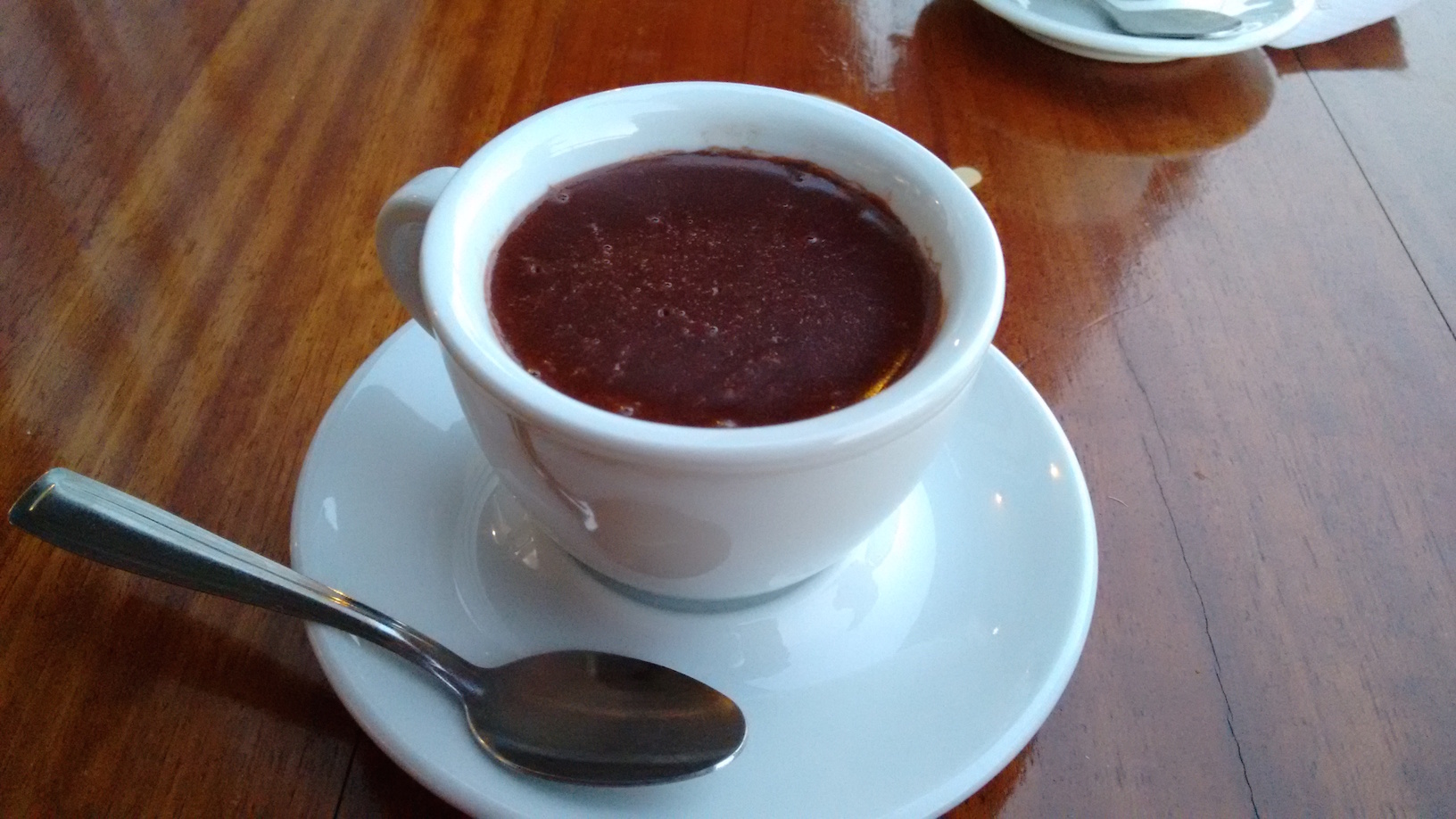 Pisa
On our way to Florence, we stopped over at Pisa. The town itself is beautiful, the Leaning Tower was a bit disappointing but this picnic lunch right in front of it was not 🙂 Focaccia bought that morning in La Spezia, cheese carried carefully from Paris and red wine bought in one of the Cinque Terre villages, I forget which!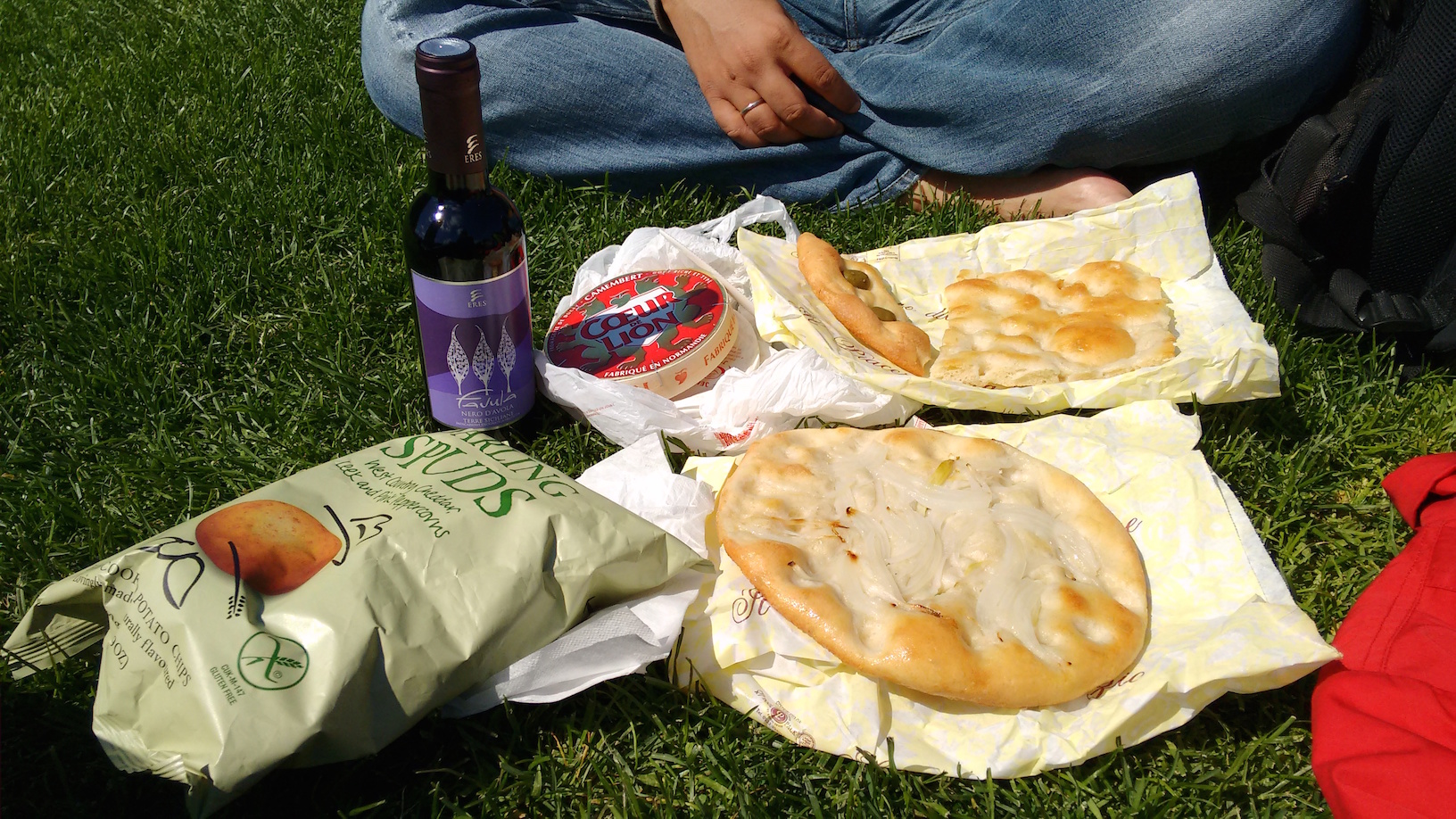 I also had a strawberry gelato and a coffee-chocolate combo gelato. Not tired of them yet 🙂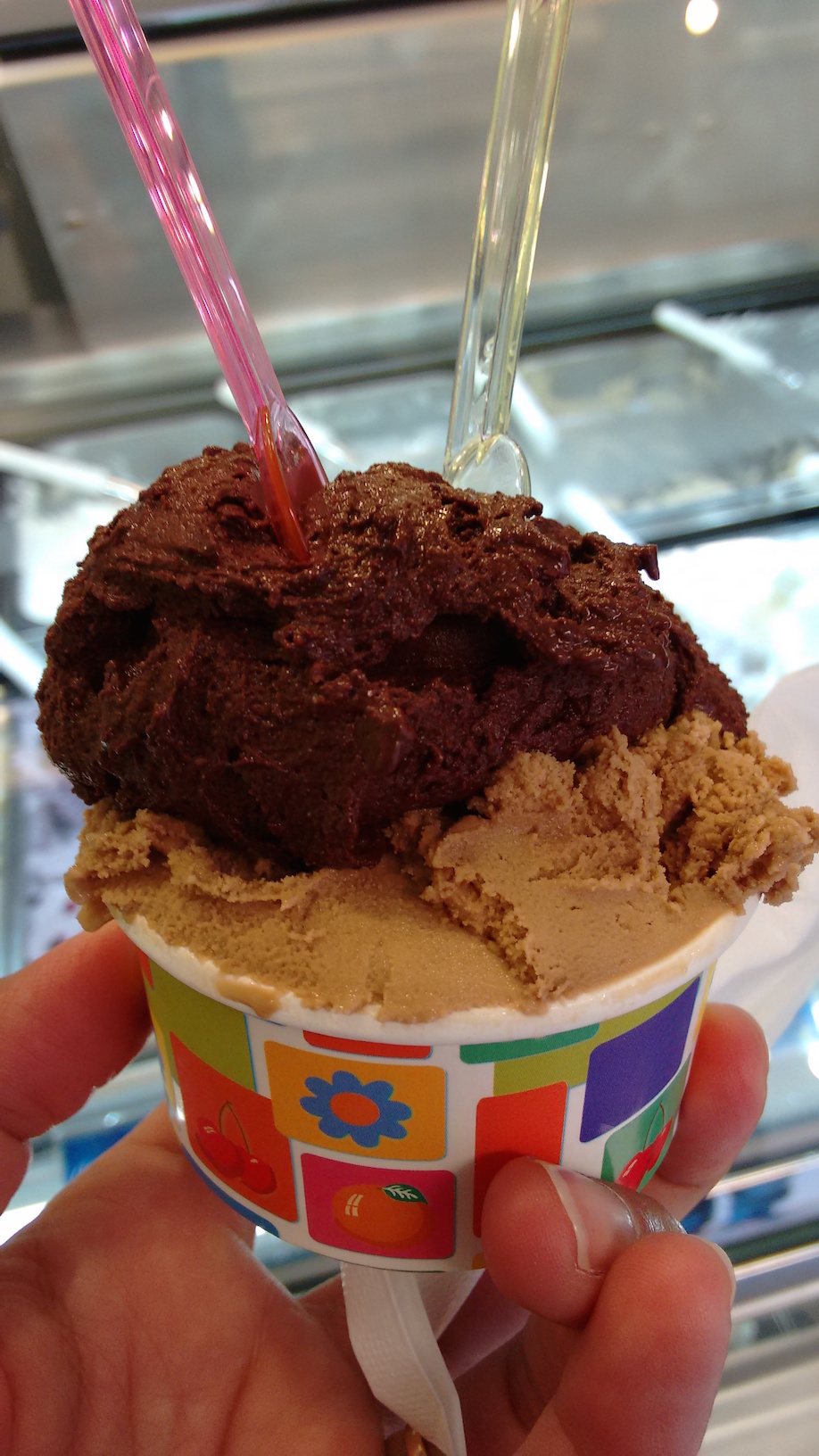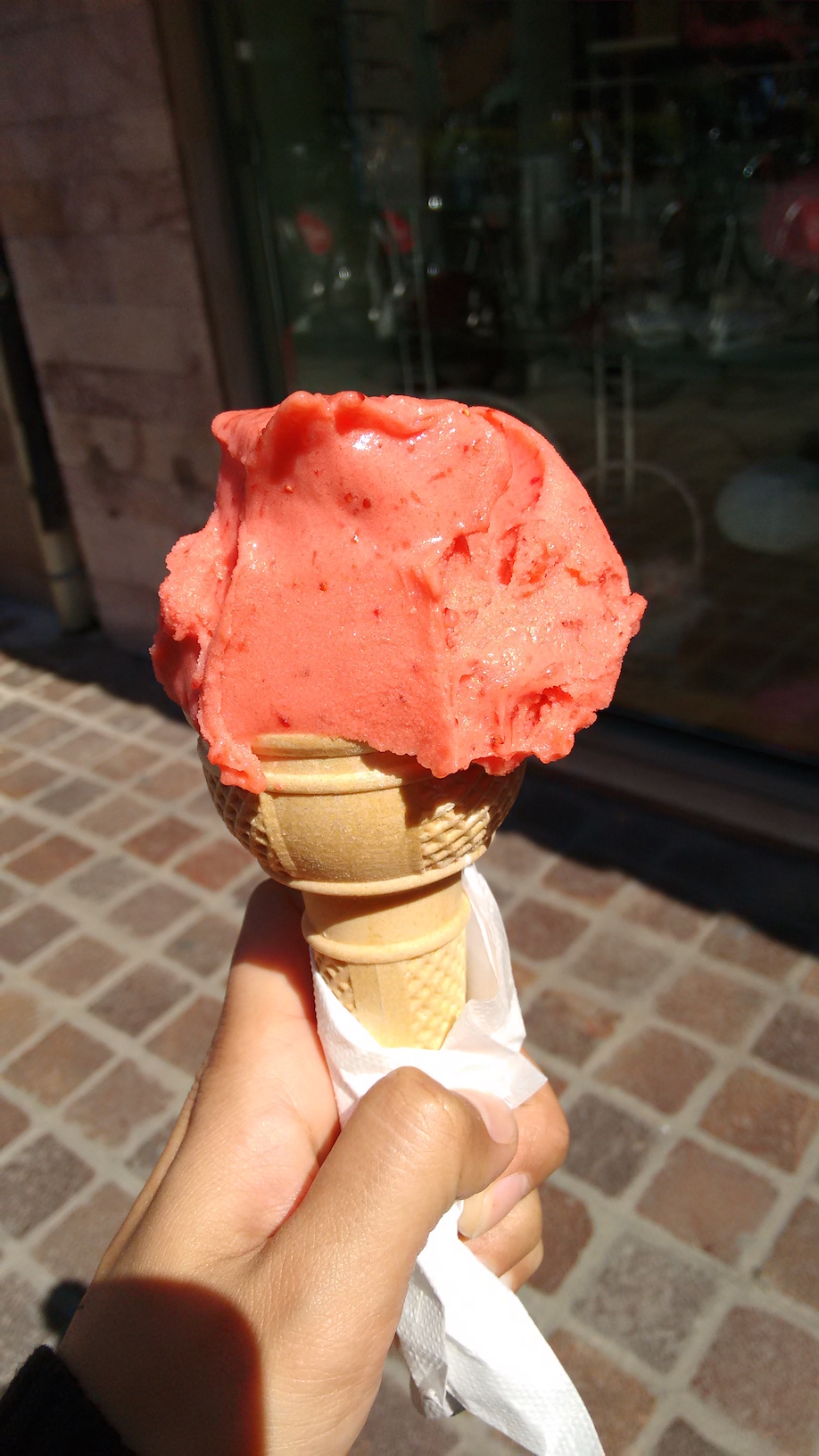 Florence
Sitting at the central piazza eating pizza on the steps of a centuries-old basilica was really something else. These margheritas at supposedly Europe's oldest restaurant, were so good, we went back for another 🙂 Crisp crust, that magical tomato sauce I still don't know the secret too and an unholy amount of mozzarella. See more here!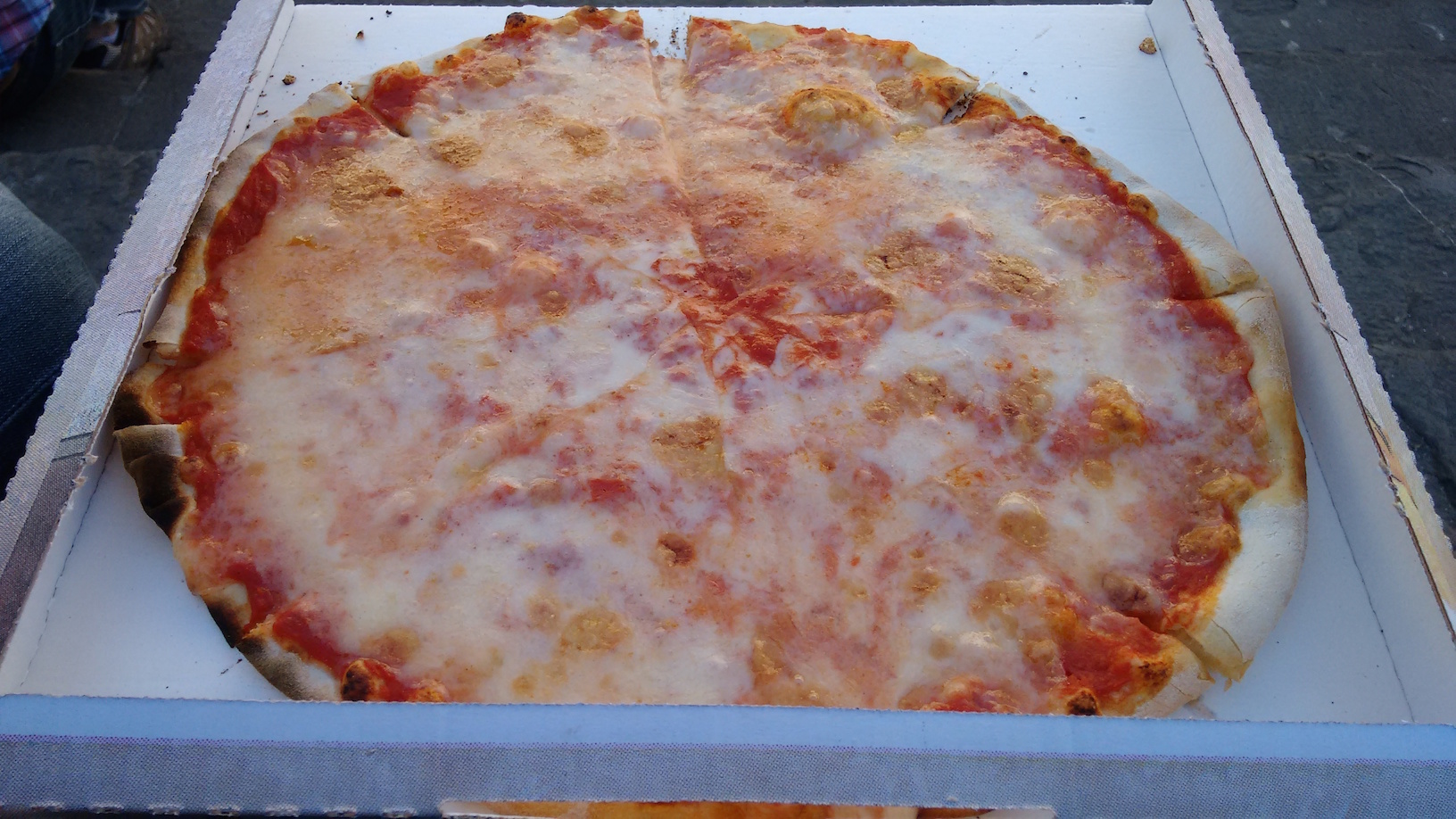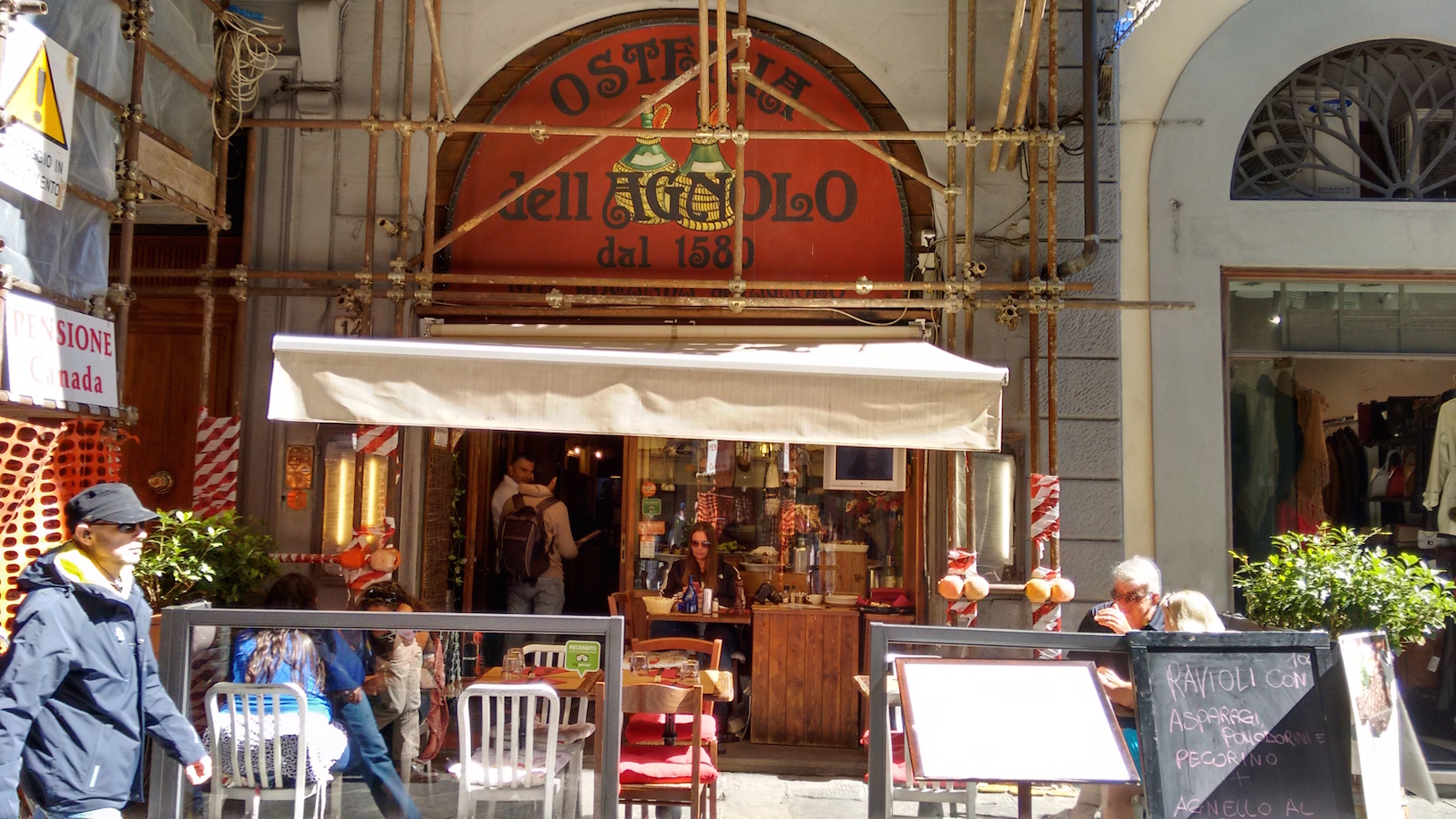 Greve and Montefioralle
Just an hour away from Florence is the small, pretty town of Greve, the center of Italy's wine-making industry. While not far enough from the city to be a complete village, it's definitely quieter and quainter. We had a further 40 minute walk to Montefioralle, where our BnB was next to a 10th century fortified village with homes that look like they are least interested in the skyscrapers of 2015. And thank God for that!
This was our picnic dinner at Montefioralle, with olives and bread we bought at the Greve Saturday Market. It was divine! And yes, that is a cat peeking at you from the chair.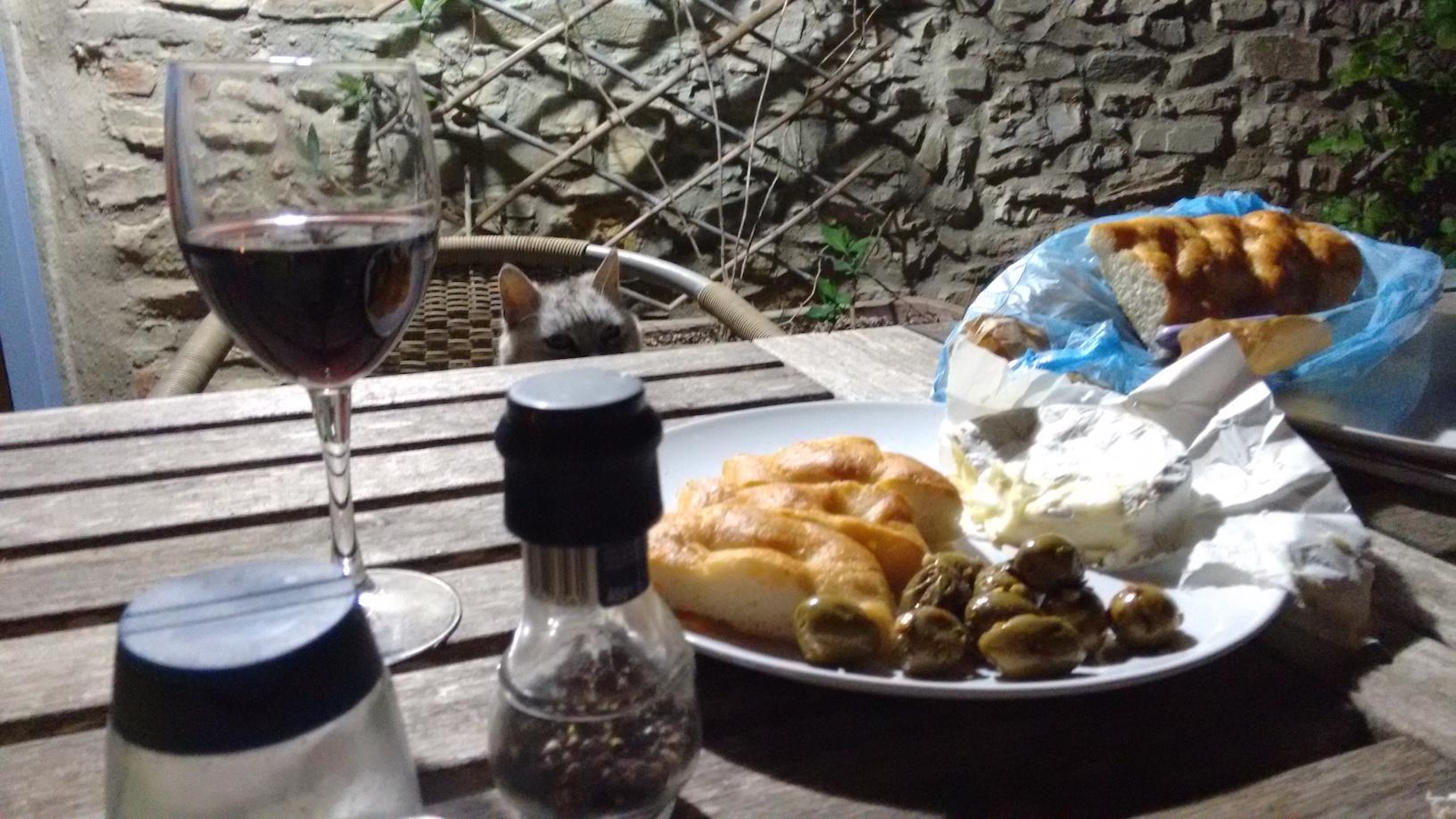 At the La Cantina Pizzeria in Greve, we had this filling, but not rich, vegetable risotto. And a pizza which we ate too quickly to take a photo of. And this apple cake with an ice-cream whose flavour we still don't know! Excuse the shadows of my fingers, the sun was so bright, I could barely see 🙂
Rome
So much of this historic city is in ruins, I was a little worried for it. But they are beautifully preserved ruins and take you back in time in a split second. Rome is also something I'll never forget thanks to the Dar Poeta Pizzeria, recommended by BuzzFeed and our AirBnB host.
I still dream of their Buffalo pizza with cherry tomatoes, fresh basil and fresh buffalo mozzarella. On that magical tomato sauce and that even more magical crust. Unbelievable.
Their Nutella and Ricotta Calzone (small) was very not-small, oozing with a delicious, illegal mixture of the two. I don't think I've ever been this happy.
Then we had their margherita and the Supabuffalo which was a bit too salty but delicious. Please, please, please go to Dar Poeta! It's in the pretty Trastavere neighbourhood on Bologna Street. For me?
I also continued to eat gelato, this time stuffed in a brioche bun. I don't know how I didn't go into a sugar coma here honestly.
SO VERY VERY GOOD!! This one contains the flavour Picasso (toffee) and Malaga (Rum n Raisin). Aaaaahhh.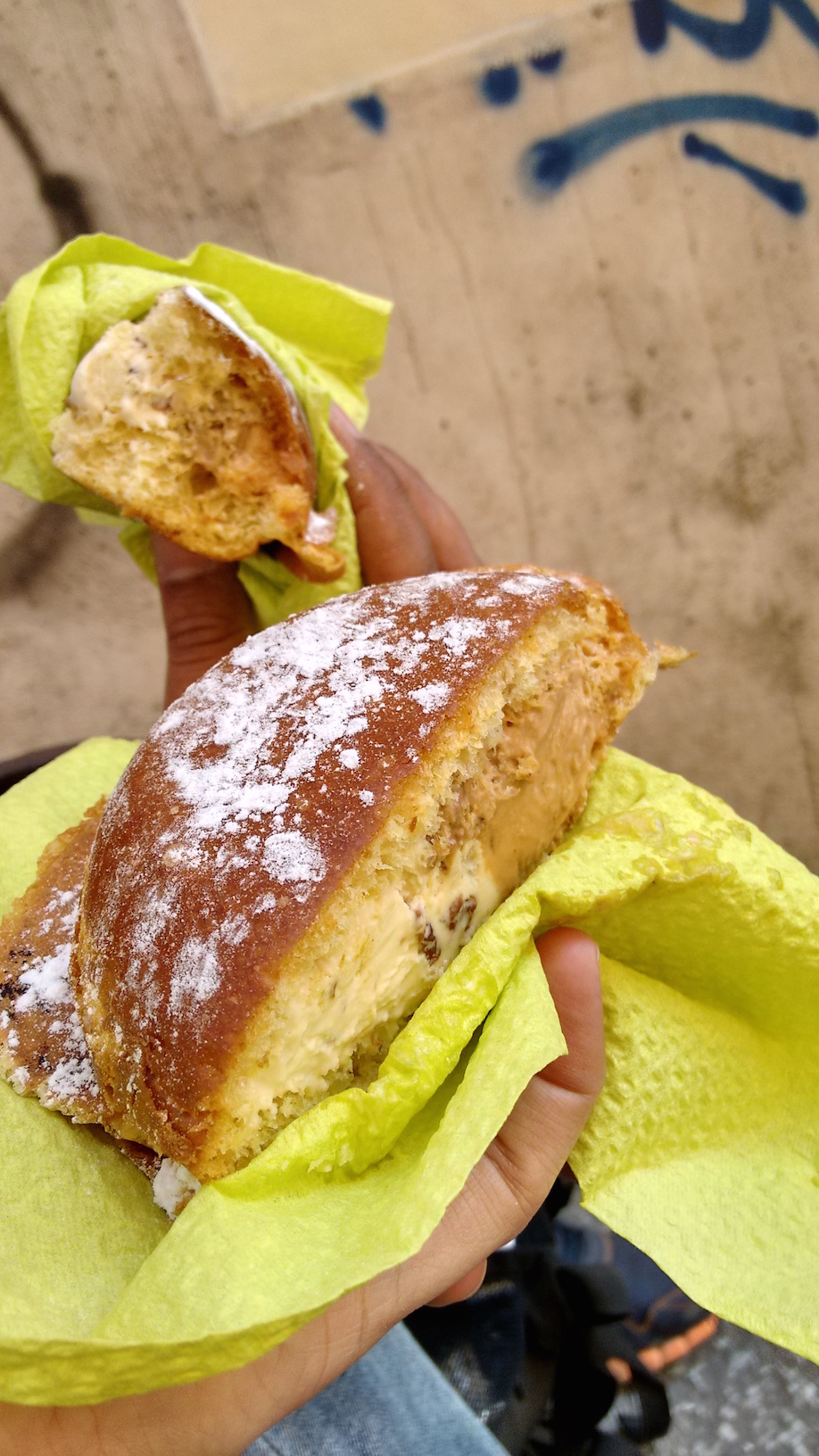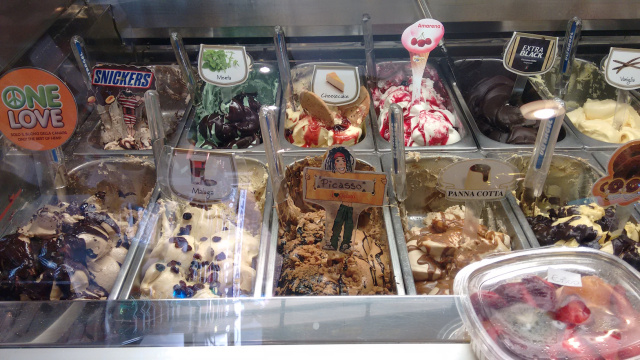 To wrap up Italy, I had a glass of this hot chocolate which was frothy, milky, chocolatey, topped with freshly whipped cream, not the canned, plastic stuff. At a little bar in Trastavere, which was bustling by night and calm and sleepy in the mornings.
There was also tiramisu that I forgot to photograph. Unlimited fabulous espressos and cappuccinos which taste so completely different out there, I'm not even sure why. Croissants and more breads. I loved Italy so much. I'd go back in a second.
Amsterdam
So thanks a to a hideous stomach bug, all I could really enjoy was this vegetable pancake, sitting in the sun by one of the city's many canals. So unusual and so yum! I need to go back to taste the rest though 🙂
There was also a little bakery by Nutella that served the freshest, flakiest, butteriest croissants ever! Better than Paris 😛
And that brings me to the end of how I ate my way through Europe. Thank you sticking with me, if you made it till here 🙂
Next week and the following ones, lots of stuff from the ingredients I bought in all these places! Stay tuned!