We got married on a cold, wintry December evening in Delhi. And most of it is a blur. I know I had 57 hairpins poked into my head and was oddly comfortable. I know I smiled more than I ever have in my life. And for the most part, I was operating on auto-pilot.
What I do remember clearly though, is being handed a cup of hot, steaming Kashmiri Kahwa, when for the first time that day, I realised I was cold. I'd never had it before and wasn't expecting a flood of warm spiced tea and saffron scented wondrousness. It was so good, I used the word 'wondrousness'.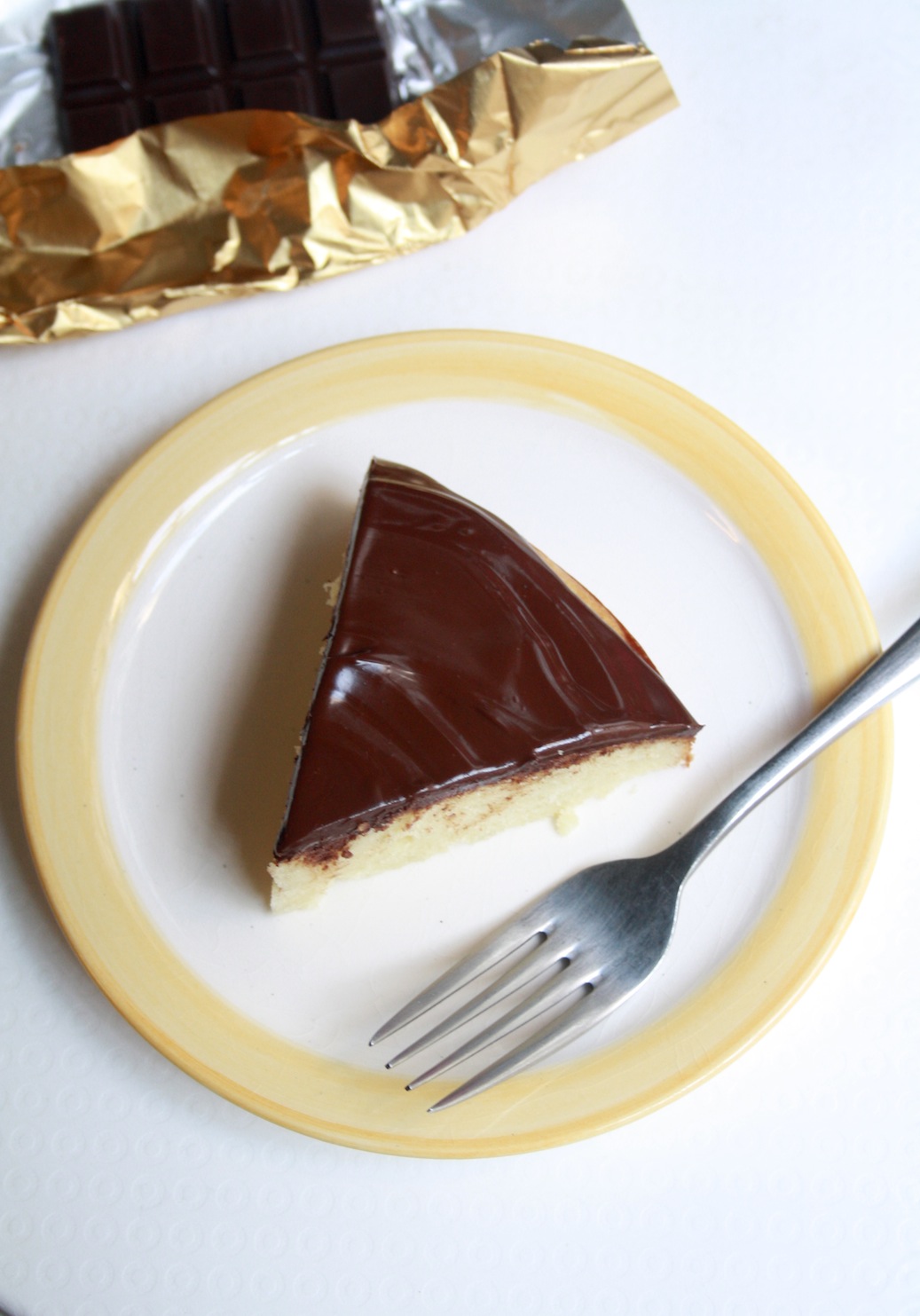 It turns out, that very same kahwa, infused in a divine bar of dark chocolate, poured on top of a cardamom-flecked traditional Mawa Cake, creates something very special.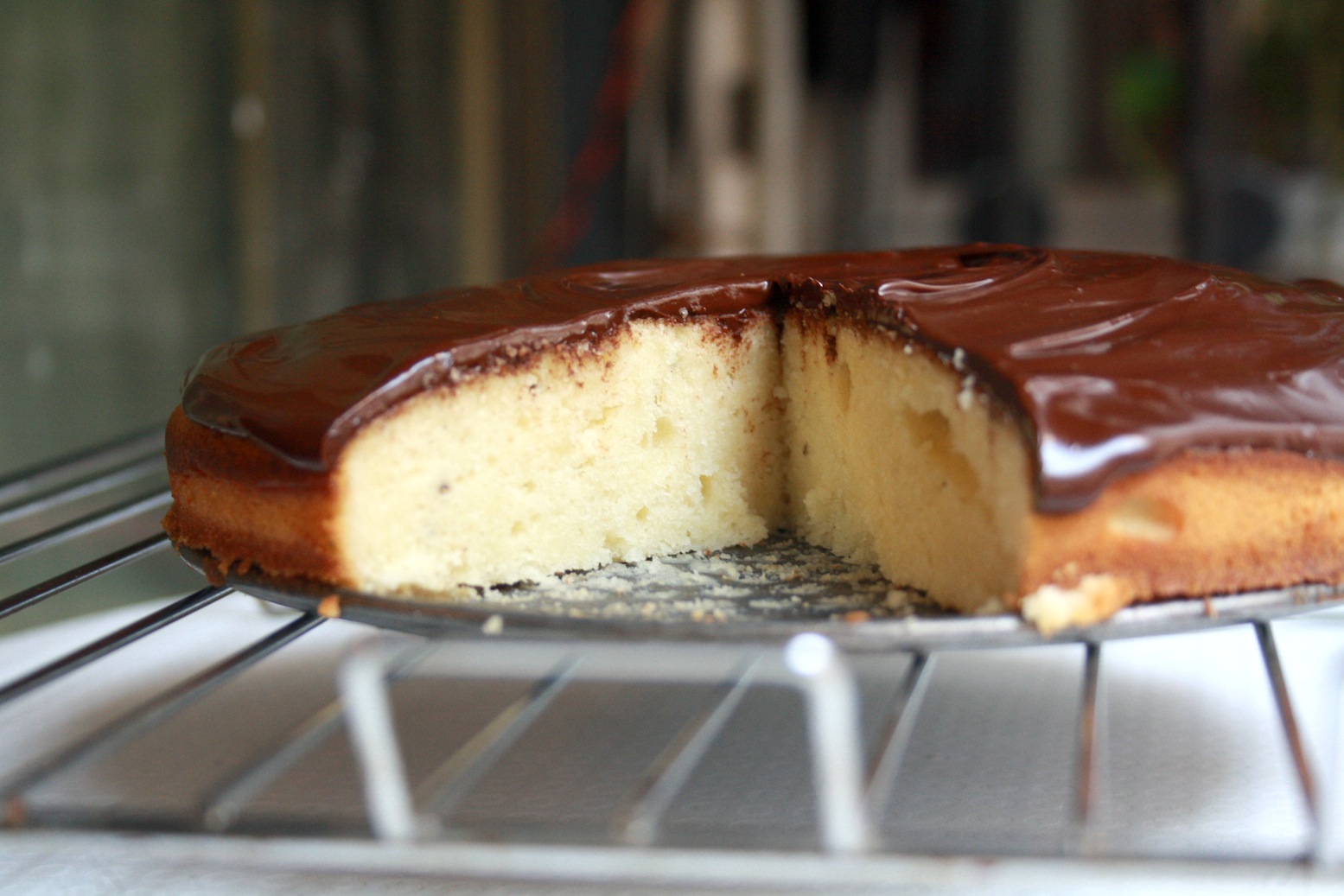 This post came about when I contacted Bean Therapy, a brand of handcrafted, artisan chocolate that produces some of the most unusual, most delicious bars of chocolate I've ever eaten. And I eat A LOT of chocolate. I hear it has antioxidants and I need them.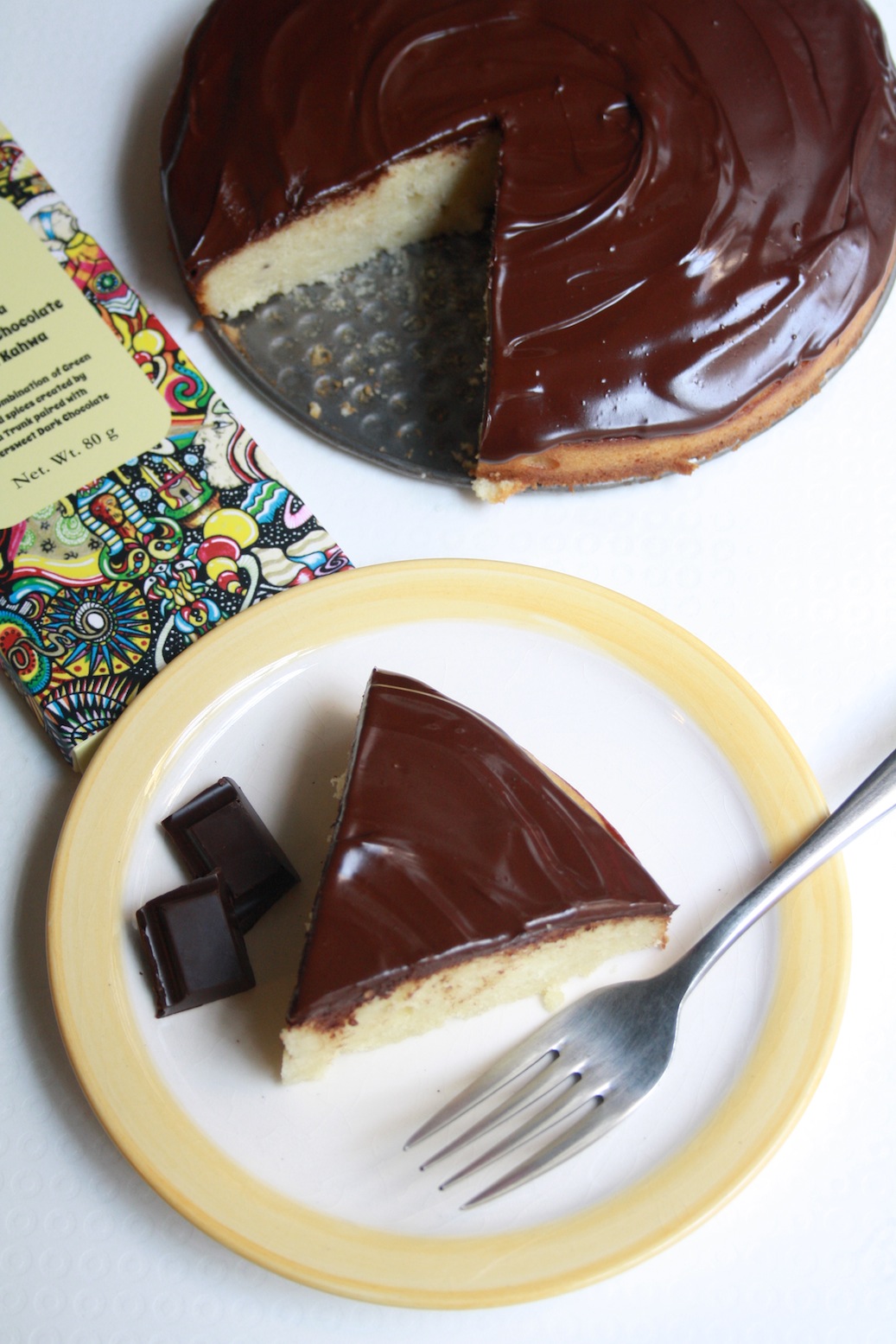 Anyway, I had a feeling these beautiful flavours would work great inside, or on top of, a baked product. They seemed to like the idea and suggested using their Belgian Dark Chocolate Saffron Kahwa as a frosting for this mawa cake, since they're both spice based and might work well together. I'd never made anything of the sort before and was intrigued.
Bean Therapy created this flavour with tea made by Tea Trunk, incidentally. See more here 🙂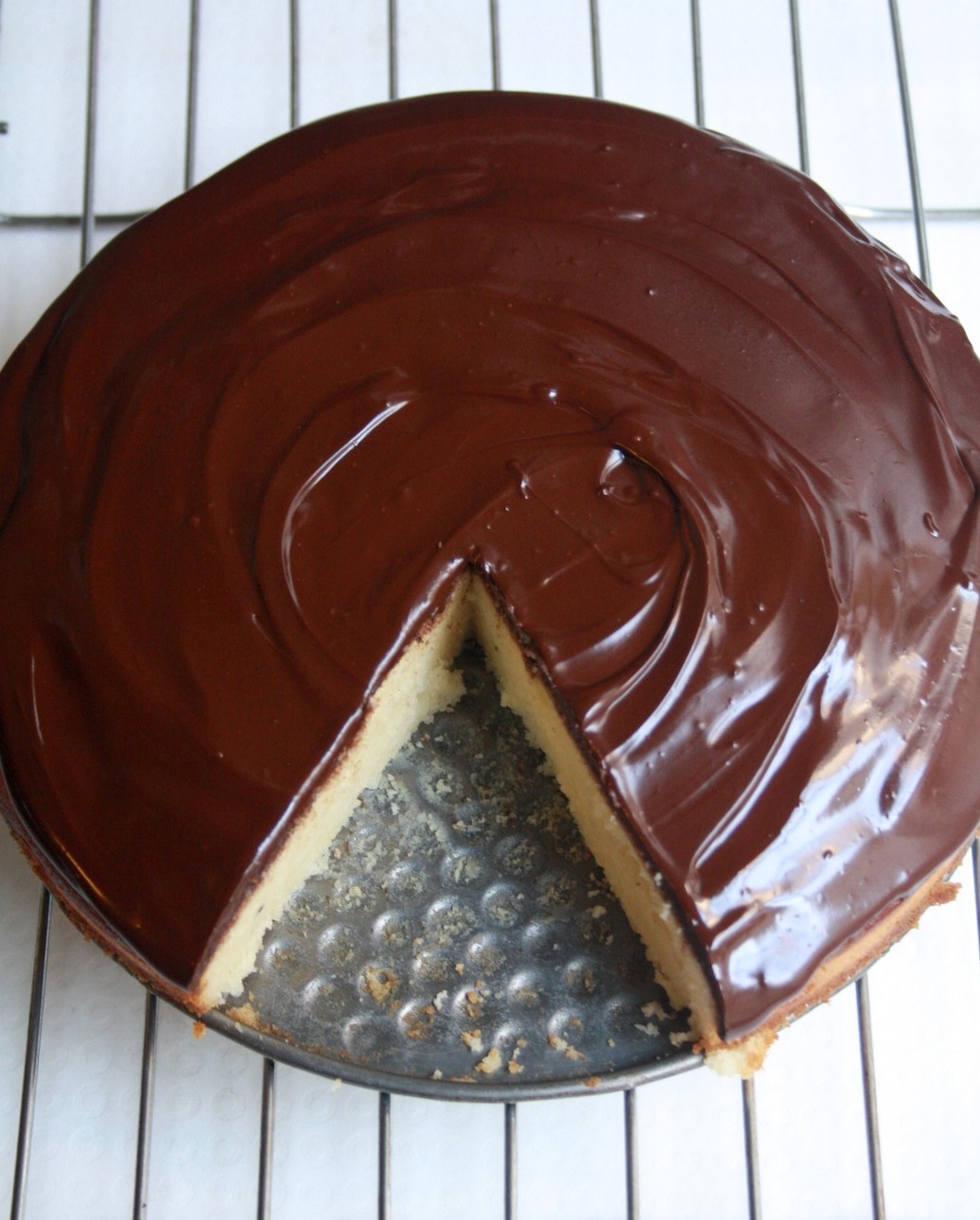 Back to the cake. 'Mawa' or evaporated milk, is made of the solids left behind after boiling milk obsessively. It adds a rich flavour to a whole bunch of Indian desserts and while it's pretty heavy, it creates a uniquely flavoured cake. I found a beautiful Parsi recipe for it, and it's a complete winner.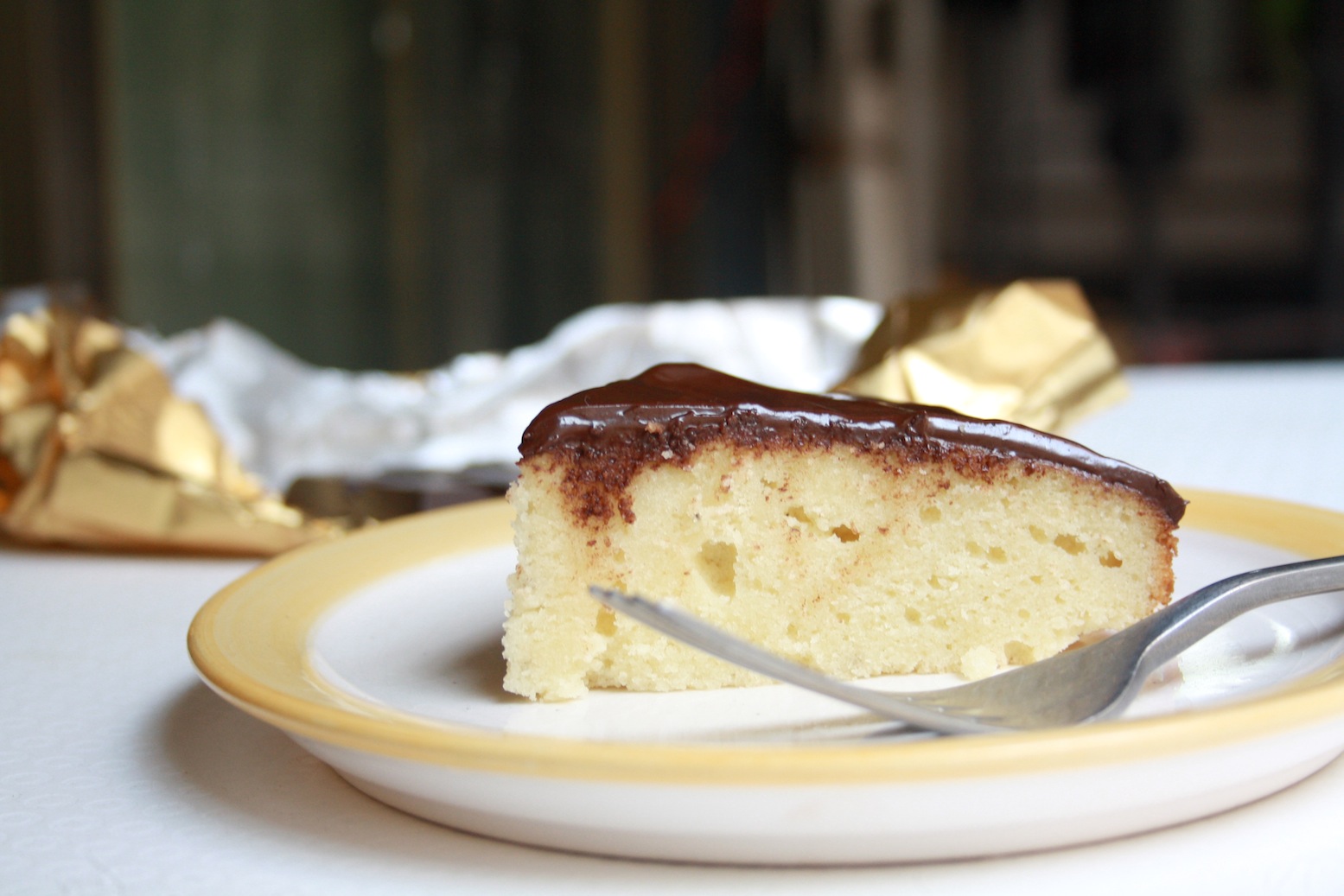 Soft, slightly dense and fluffy at the same time, scented with fresh cardamom. It's one of those amazingly classic cakes. Technically, you need nothing with it. But this chocolate takes it a whole other level. I melted it in a double boiler with a knob of butter and spooned it right on to the cake. It needs to be served either warm or at room temperature for the chocolate to soften. I prefer it this way, but feel free to use it as a ganache or buttercream frosting, which also won't firm up as much.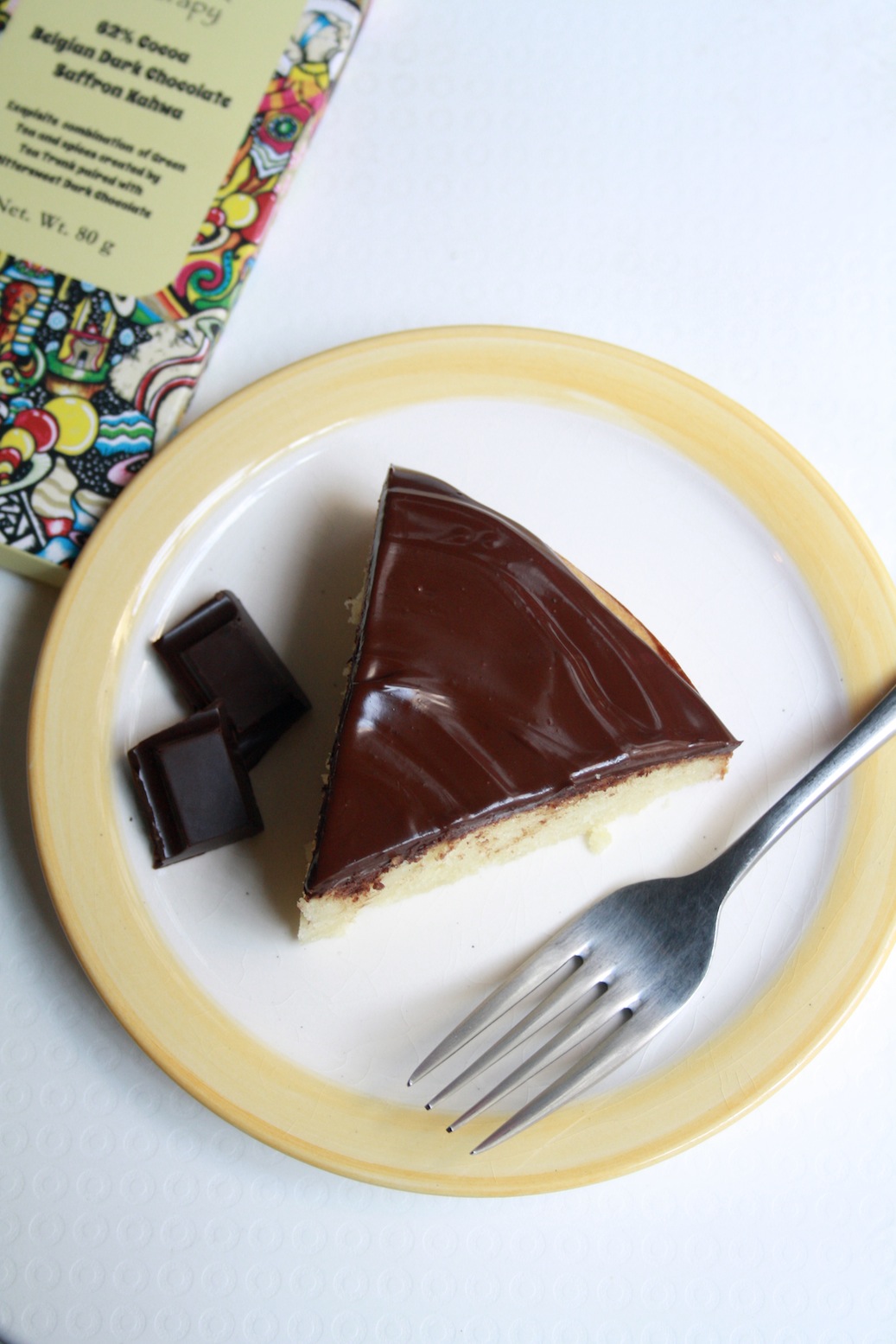 The chocolate is dark, dark, Belgian chocolate. The spices in it are not overpowering but have a delightful kick. Oddly, the mawa cake still shone through the frosting. I was concerned a purist may not approve of this chocolate twist, but my faith has been restored. Spiced stuff never tasted better.
Some matches really are made in heaven.
What you'll need:
1 and 1/4 cups flour
1/2 tsp baking powder
1/4 tsp cardamom powder (about 6 to 8 cardamom pods, crushed finely)
A pinch of salt (if using unsalted butter)
100 gm mava, at room temperature (available at any dairy)
6 tablespoons (90 gms) butter, at room temp
3/4 to 1 cup sugar (depending on taste and whether you're using a frosting)
2 eggs
6 tbsps whole milk
Splash of vanilla essence (optional)
100 gms dark chocolate, preferably spiced (I used a combination of Bean Therapy Saffron Kahwa Chocolate and 70% Dark)
What to do:
1. Sift the flour and baking powder in a large bowl. Add the cardamom and stir. Set aside. Preheat the oven to 180 C and grease a medium sized round or square baking dish. Alternately, you could bake this cake as muffins too 🙂
2. Cream the butter, sugar and mawa till smooth and soft. A hand mixer helps.
3. Add the eggs and vanilla, beating well till combined. If the mixture looks like it split, the next step will fix it.
4. Add the milk and then the dry ingredients, mixing slowly till combined.
5. Pour the batter into the prepared dish and bake for 20 to 25 minutes until golden-brown and a toothpick poked into the center comes out clean.
6. Allow to cool COMPLETELY if you're frosting the cake. If not, slice while warm and enjoy 🙂
7. For the frosting, either melt the chocolate in a double boiler with a bit of butter for a glossy sheen, pouring it on the cake after it's cooled slightly, or turn it into a ganache by adding 100 ml cream and spread it on once cooled or whip the cooled melted chocolate into unsalted butter with icing sugar for a delicious buttercream frosting.
Either way, it's awesome 🙂