Every time I think "Wow, I've found my favourite blogger" (not me), I go find another one equally awesome. This is the amazing thing about blogging. You never stop being amazed.
Pinch of Yum helped me out in a pinch (Ha. Ha.). I wanted to bake something, and all I had lying around was a ton of chocolate, but I've had enough of that for a bit. Something fruity/vegetabl-y was on my mind and 3 little carrots sitting in the fridge got lucky 😀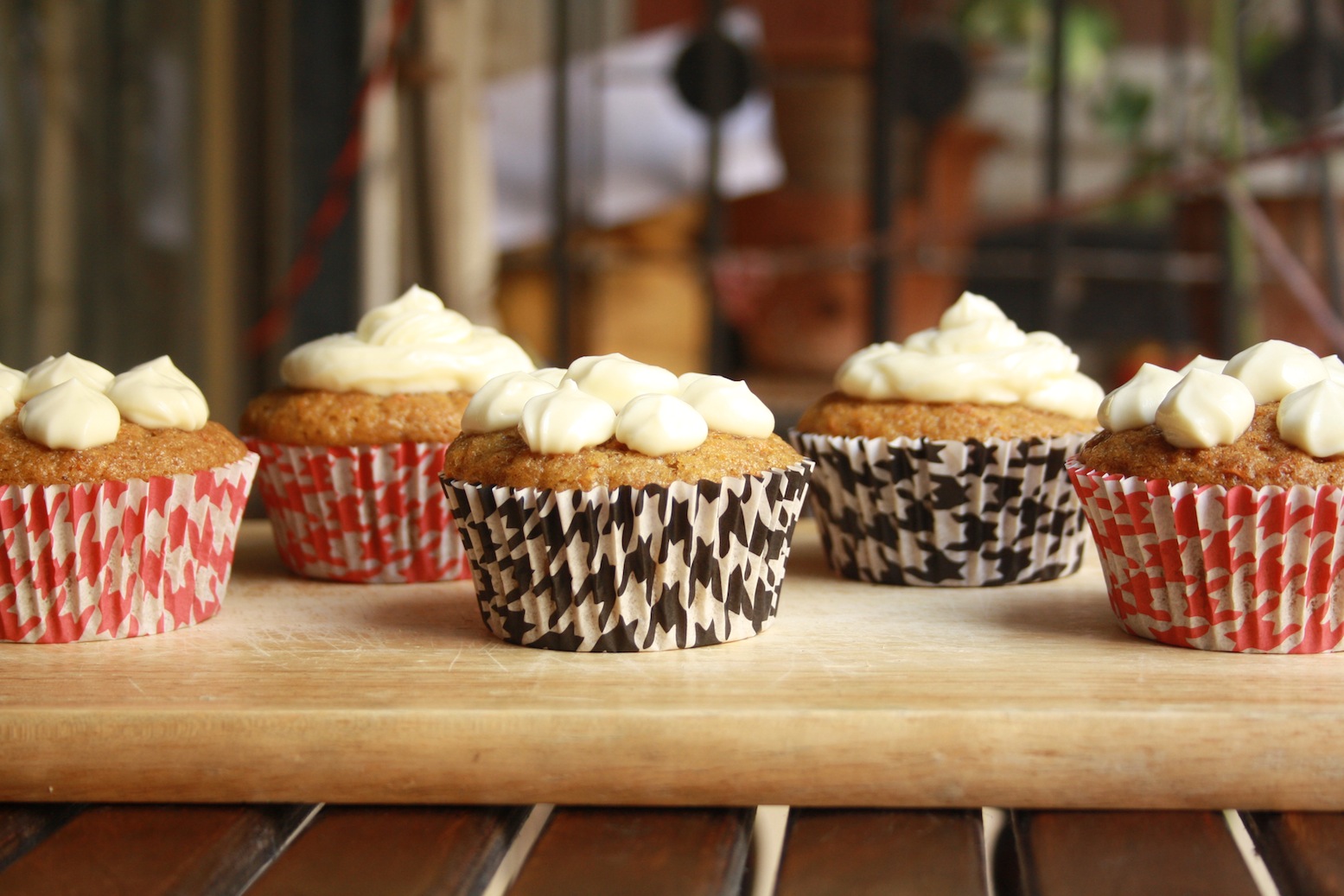 I've already gotten over my skepticism about carrots in cake. Top it with cream cheese frosting, and there's really nothing left to doubt.
Soft, moist, cinnamon-y muffins. This creamy, tangy frosting. All that Vitamin A too. So good!
The only thing I was forced to alter was the amount of grated carrot, because I only had enough for 1 cup, not 1 and a half. Having said that, they still tasted great, but I got 9 muffins, not 12. I also added a couple of splashes of vanilla essence since the recipe calls for the egg to be added last, leaving the batter a bit eggier than I'm used to. This is entirely up to your preference of course.
I got out my little frosting bottles after a long time today. Given that the sun is still very much shining down on us, a swirled pattern melted down faster than the dotted pattern. Which is why you see two types. And also, it was kinda fun to mess around 🙂
I used my own proportions for the frosting, just sort of estimating the amount I'd need. It was more than enough for 9 muffins, so I'm thinking it would taste great on gingerbread! Oooo have you seen these?
They're super, super quick to put together. The frosting is of course, optional. I can't think of many things better than a warm muffin straight out the oven 🙂
What you'll need:
For the muffins
1 cup flour
3/4 cup sugar
1 tsp cinnamon
1 tsp baking soda
1/2 tsp baking powder
1/4 tsp salt
1 and 1/2 heaping cups of grated carrot (For 12 muffins; 1 cup or 3 small carrots will make 9)
2/3 cup vegetable oil
2 eggs, beaten
2 tsps vanilla essence (optional)
For the frosting
150 gms cream cheese (one box of Britannia cream cheese basically)
1 tbsp butter (salted is fine)
1/2 cup powdered sugar, sifted to get rid of lumps
What to do:
1. Preheat the oven to 175 C. Grease or line 9 muffin moulds (or 12 depending on how much carrot you have). In a bowl, sift the dry ingredients and add the sugar. Stir and set aside.
2. In another bowl, mix the carrots and oil together. Add the dry mixture bit by bit, stirring to combine, but not over-mixing.
3. Now add the beaten eggs and vanilla and combine gently. The less stirring, the better, but I found this step needed a bit of work since the mixture is sticky. About 15 stirs should be enough.
4. Pour the batter into the prepared muffin moulds and bake for 15 to 17 minutes, till the tops are browned and a toothpick poked into the center comes out clean.
5. Allow the muffins to cool before you frost. To make the frosting, simply combine all the ingredients and beat well, by hand or using a mixer. Spread onto the muffins or have fun piping 🙂
Happy eating!