The last of the winter apples are lying in my fruit basket and I figured updating an old apple muffin post was the best way to use them up! Warm, super soft, cinnamon-y little muffins with chunks of juicy apples throughout. So much easier than pie!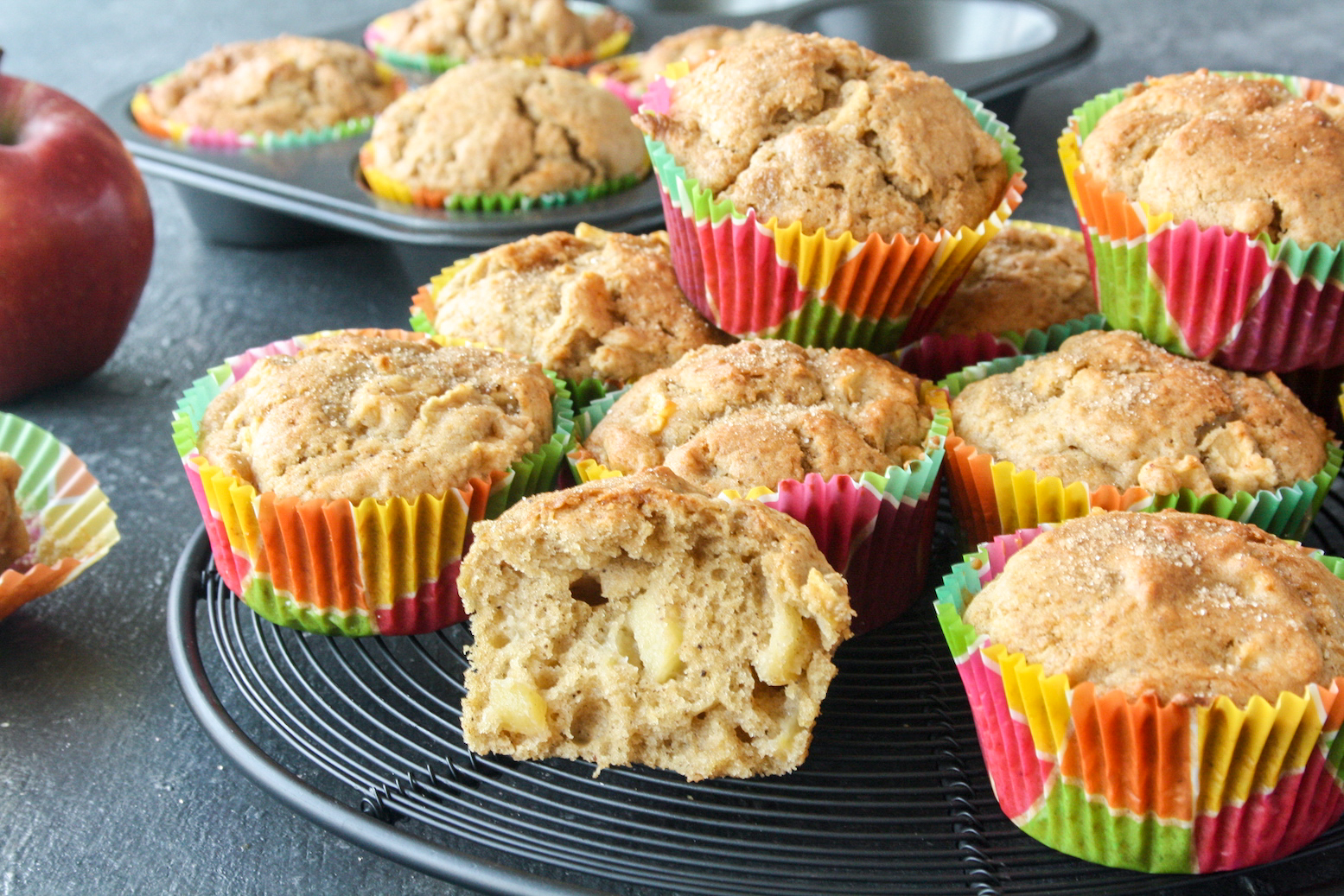 I made this Smitten Kitchen recipe more than four years ago, and I have no idea why I'm not baking these muffins more often because they're just so good! With yoghurt to keep them extra tender, they're unbelievably delicious. Classic flavours, just the way I like them. I used a little less sugar and changed the baking temperature around a little, but they still turned out great!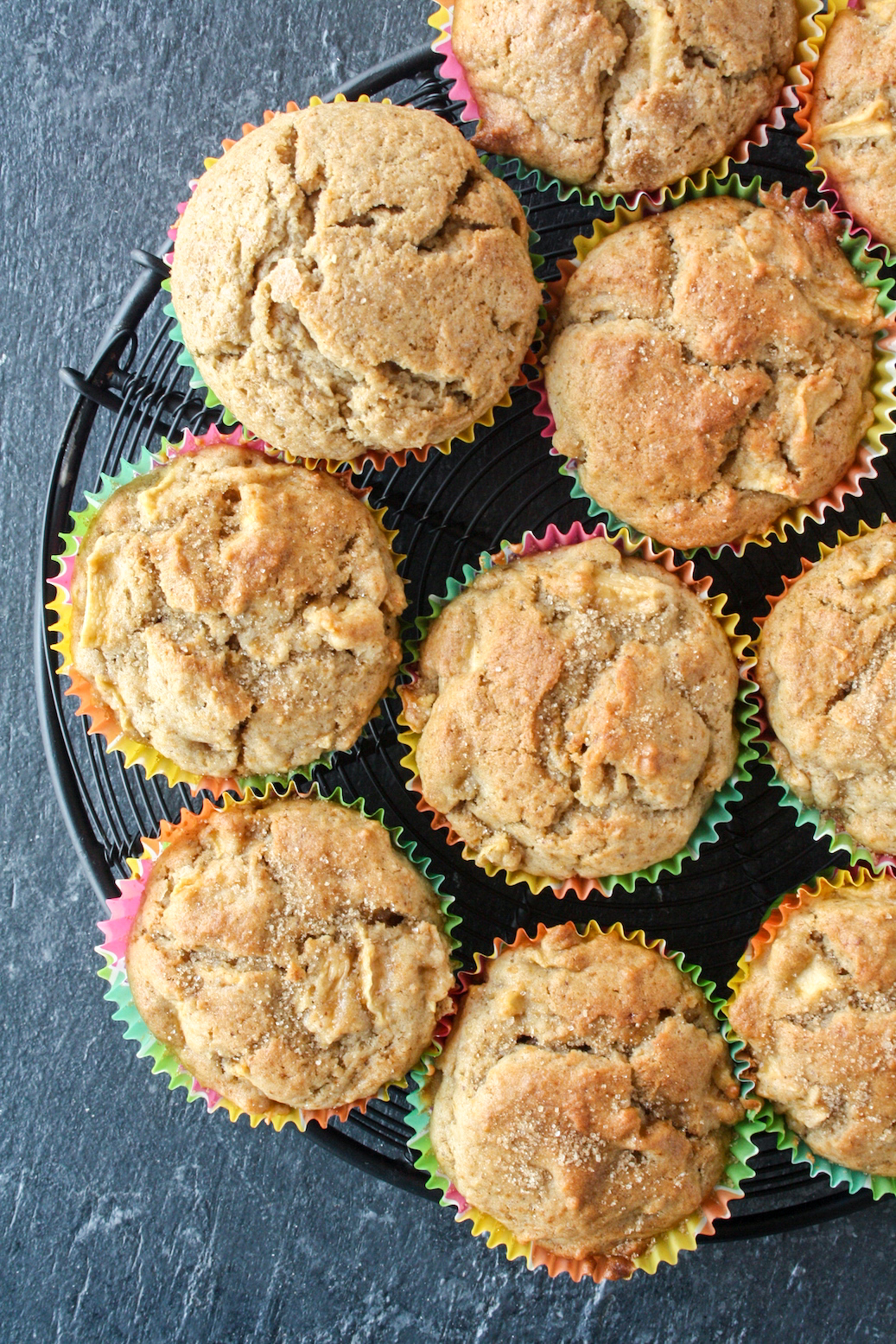 A mixture of wholewheat and all-purpose flour gives them a deeper colour and flavour. Brown sugar sprinkled on top gives a little crunch and sparkle, but I preferred doing this towards the end of the baking time rather than in the beginning, because I found that sugar just melts into the batter. You can certainly skip this step though, the muffins are sweet enough.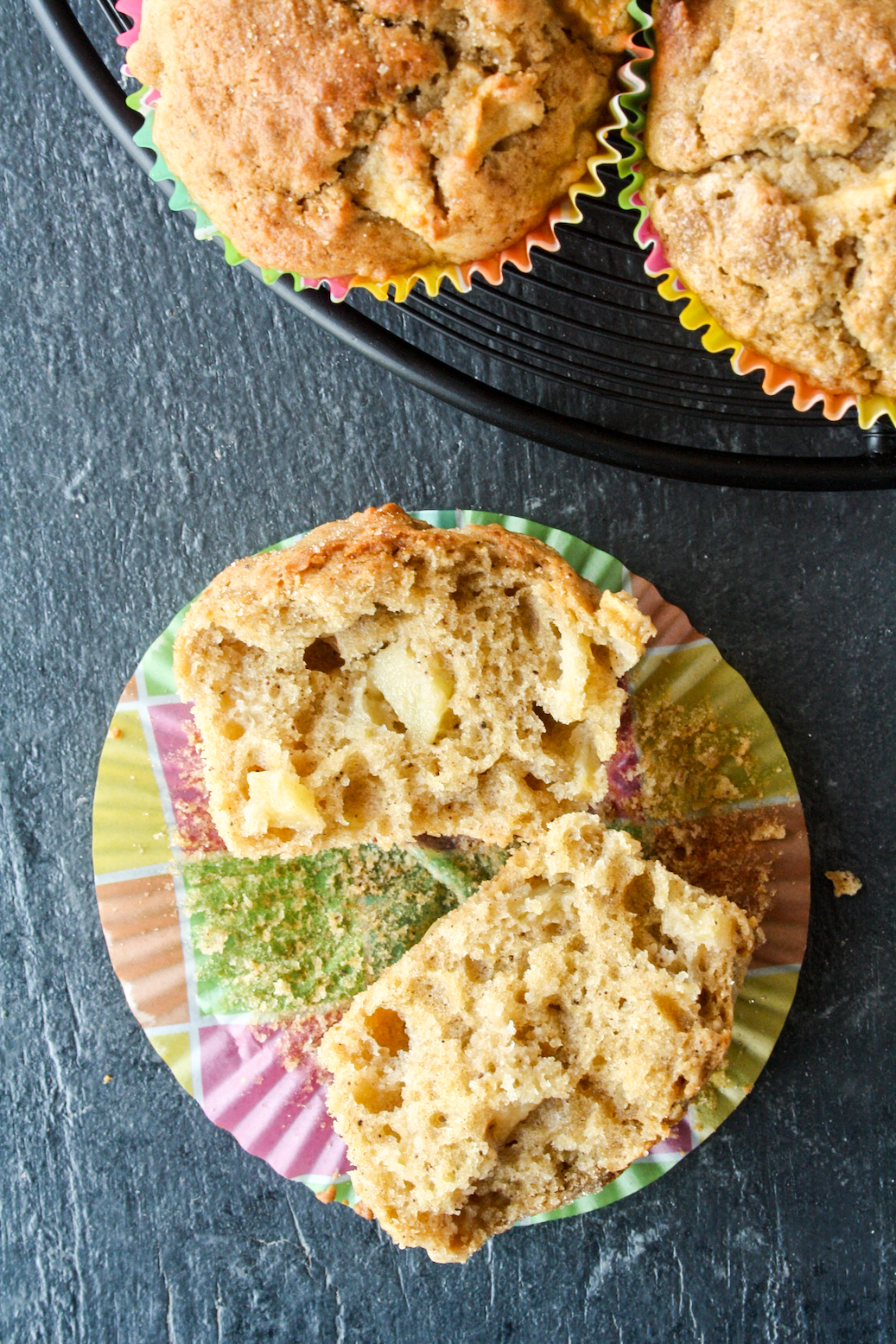 The apple pieces soften while baking, but do not become mushy, proving a little bite and texture to the muffin. I used two here,  but I think three would be great as well, for extra apple bites throughout!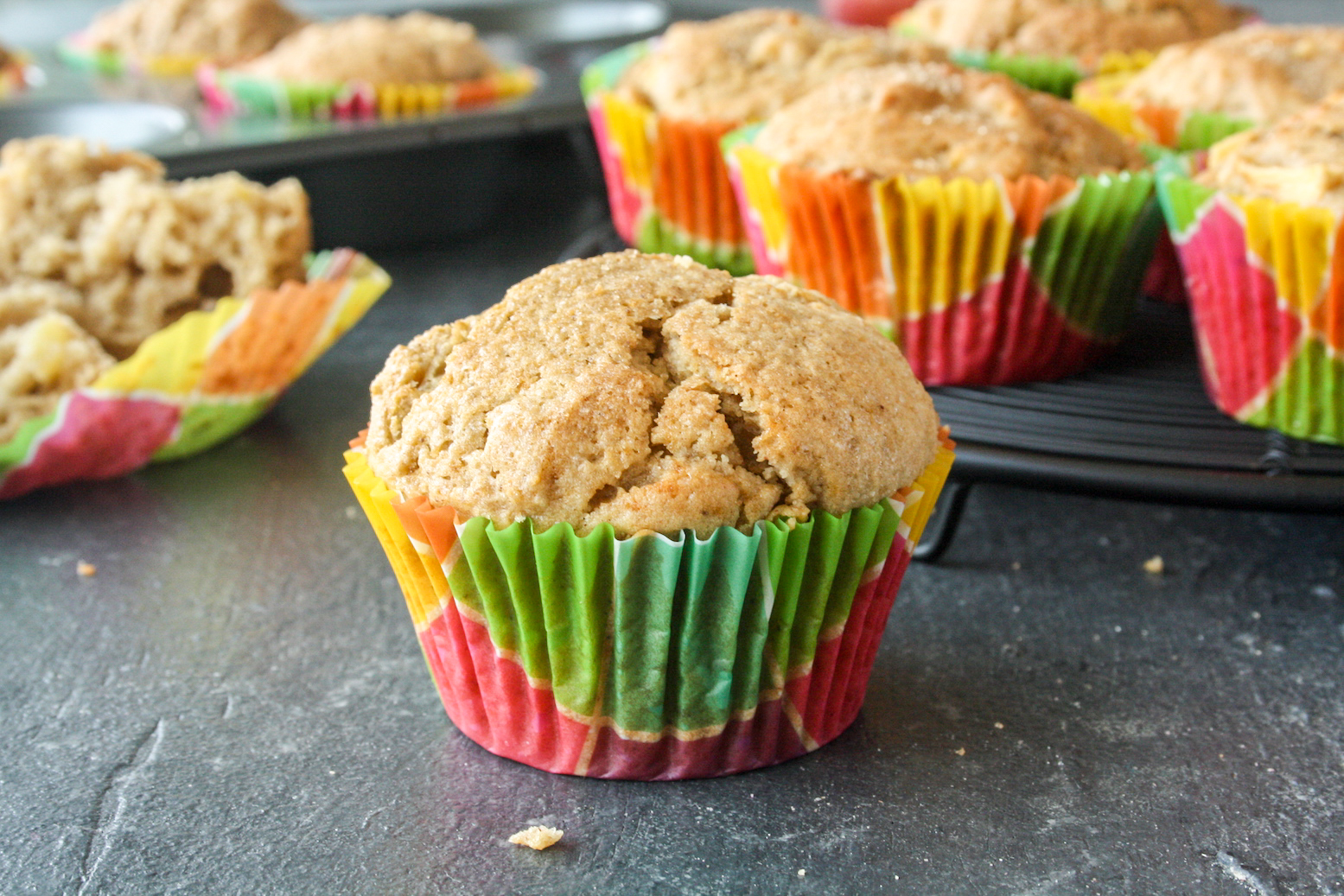 I hope you'll make a batch of these today!

Apple Cinnamon Muffins
Super soft muffins with fresh apples and cinnamon
Author:
The Desserted Girl
Ingredients
1 cup whole wheat flour
1 cup all-purpose flour
1 tsp baking soda
1 tsp baking powder
¼ tsp salt if using unsalted butter
2 tsps cinnamon powder
½ cup butter, at room temp (115 gms)
½ cup brown sugar
¼ cup caster sugar
1 egg, at room temp
¼ tsp vanilla extract
1 cup plain yoghurt, at room temp
2 to 3 small apples, peeled, cored and diced
Extra brown sugar to sprinkle on top, optional
Instructions
Sift the flours, baking soda, baking powder, cinnamon and salt, if using. Set aside.

Preheat the oven to 190 C and line 12 muffin moulds with liners (see notes).

In a mixing bowl, beat the butter and sugars with a hand mixer, till pale and fluffy.

Add the egg and vanilla, beat to combine.

Now add a spoonful of the flour mixture, then half the yoghurt. The flour stops the batter from curdling because of the yoghurt. Beat lightly, then add a little more flour mixture and the rest of the yoghurt.

Now slowly fold in the remaining flour mixture, then fold in the diced apples.

Divide the batter equally among the muffin moulds and bake for 20 minutes until a toothpick poked in the center comes out clean. About 5 minutes before the muffins are done, sprinkle on a bit of brown sugar over the tops, then put them back in the oven to finish baking. This is just for a little extra crunch and sparkle, totally optional.

For a little extra colour on the tops, turn your oven to the broil setting for 2 to 3 minutes, or bake at 200 C for 2 to 3 minutes towards the end of the baking time.

Allow the muffins to cool for 10 minutes, then place on a wire rack to cool completely. Store in an airtight tin at room temperature for 2 to 3 days, or in the fridge for a week. These muffins can be frozen for a month. Happy baking!
Notes
*I made 16 muffins out of this batter, but they don't rise super tall, so you can get away with making 12 to 14 muffins instead. If you're baking in batches, the remaining batter can sit out at room temperature while the first batch bakes.

*I used 2 apples, but 3 would guarantee more fruit in every bite so if you're smaller apples, that's what I'd recommend.

*Sliced almonds on top would be lovely for some crunch and prettiness!
Shop this recipe!
This post contains affiliate links.