I've spent a lot of February giving new life to old recipes and I've been eyeing these peanut butter brownies for some time. Originally, I'd used peanut butter chips and baked them in a smaller pan. But this time, I wanted thinner, fudgier brownies with a slight bite from the peanuts themselves.
Enter, crunchy peanut butter! Just enough for flavour and texture, and it still doesn't take away from how deliciously chocolatey, chewy and fudgy these brownies are.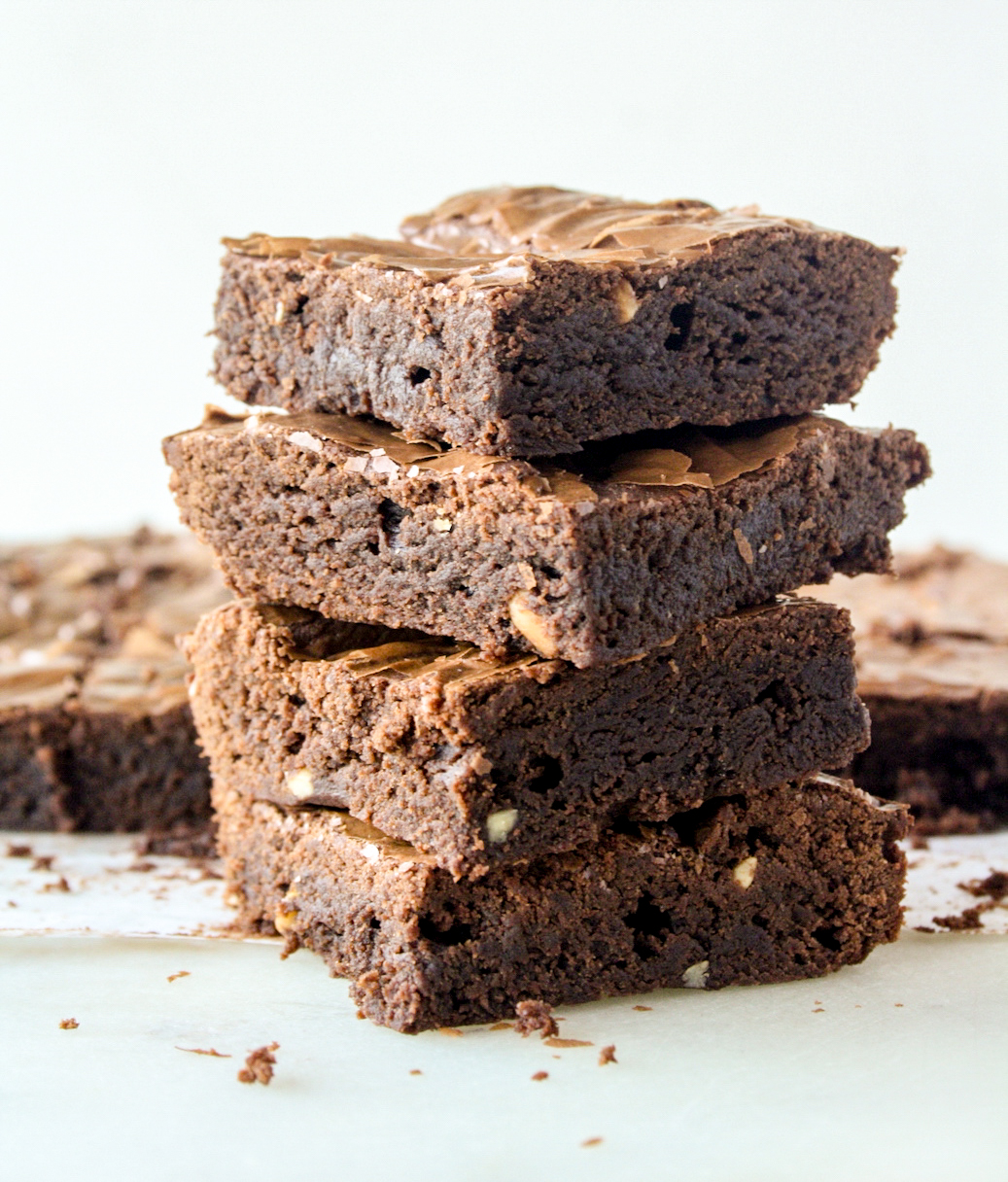 Also, that flaky crust!! Something I perfected here, a recipe that so many of you have tried and loved. It's my favourite! Crackly, crispy and really easy to get as long as you beat the eggs and sugar really, really well.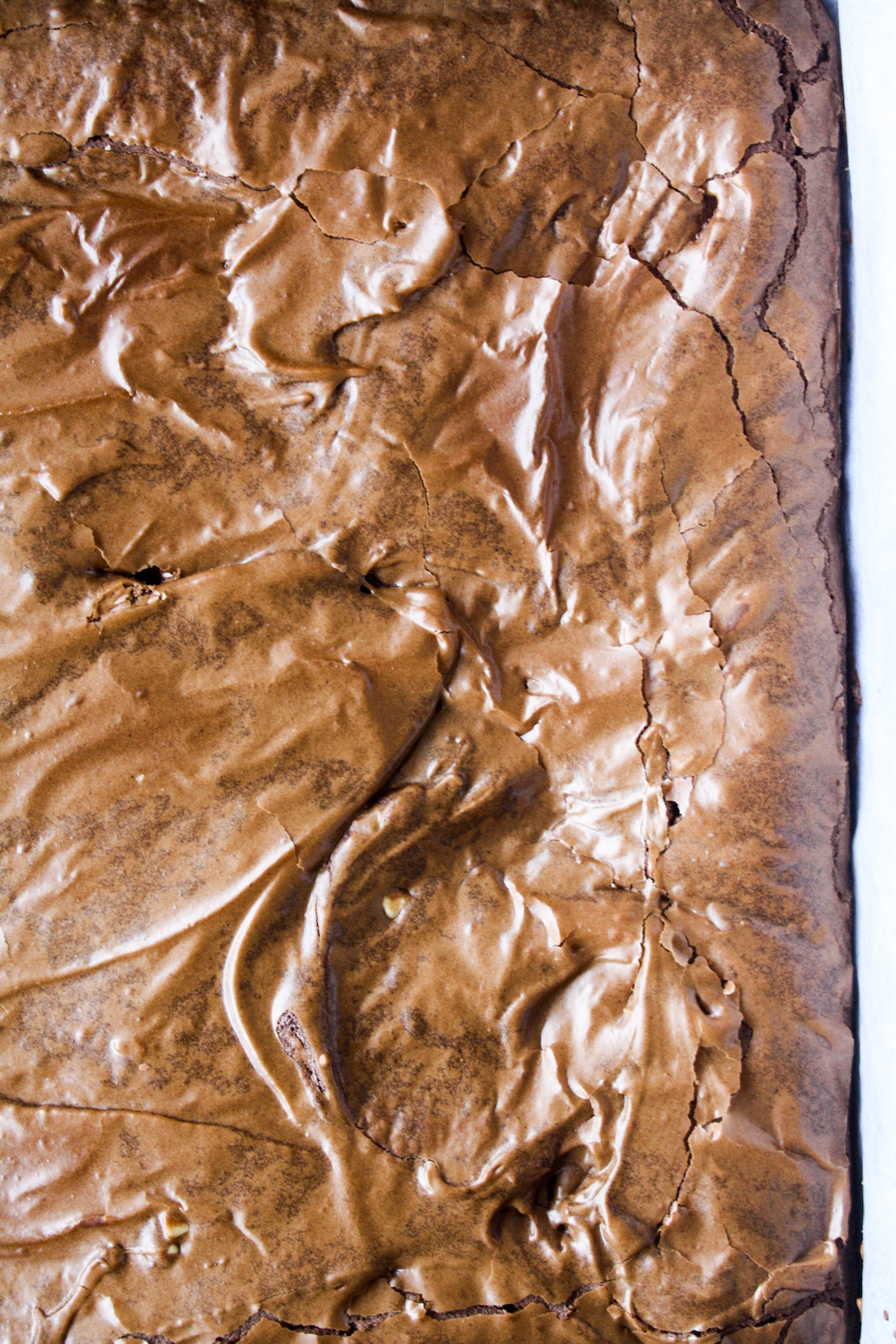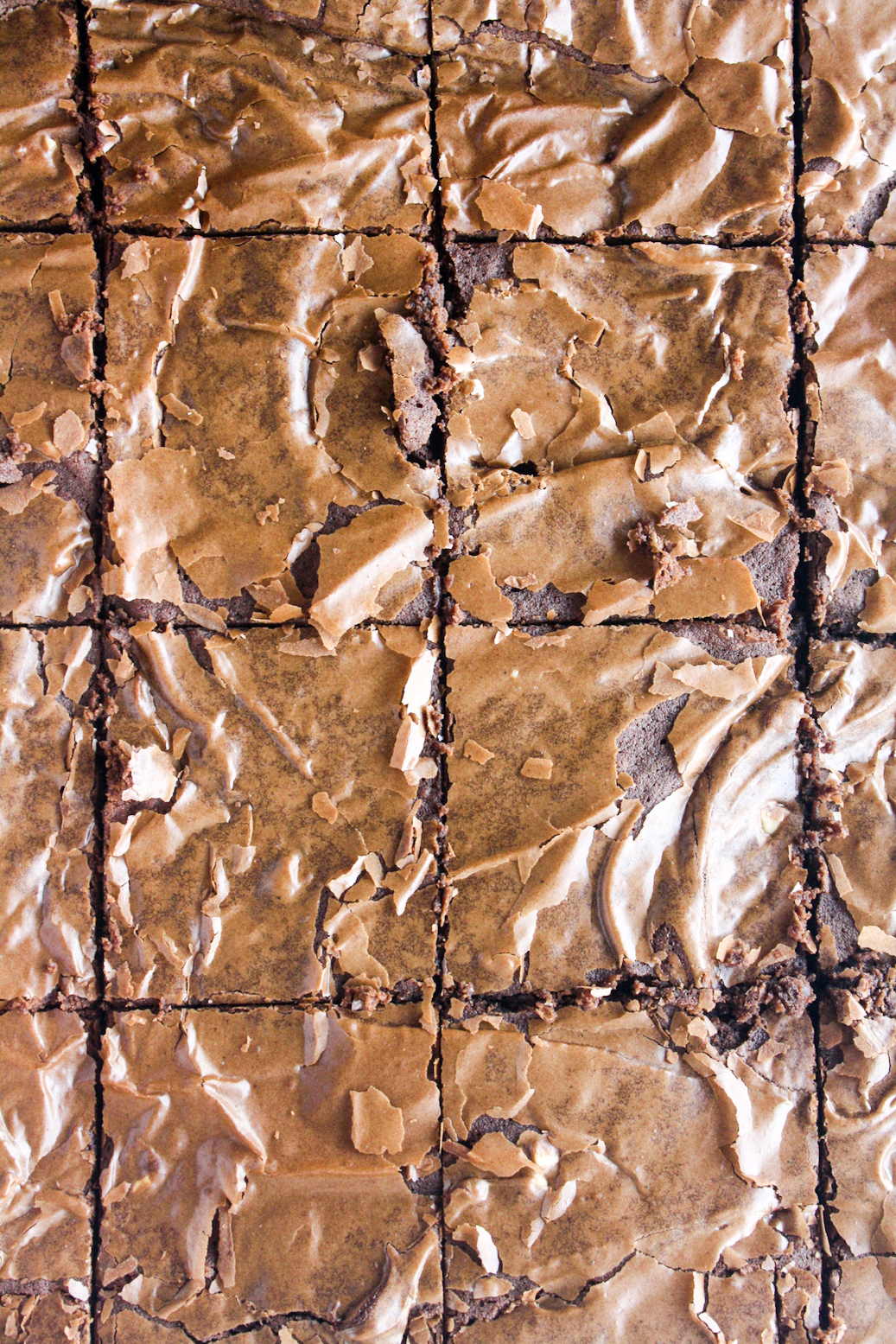 The brownie batter itself is my go-to one, the only difference being a little bit of peanut butter melted along with the chocolate. Peanut butter can turn baked goods a little dry and dense, so baking powder helps add some 'lift' here. Not enough to turn these into cakey brownies I promise! Moist, fudgy and chewy.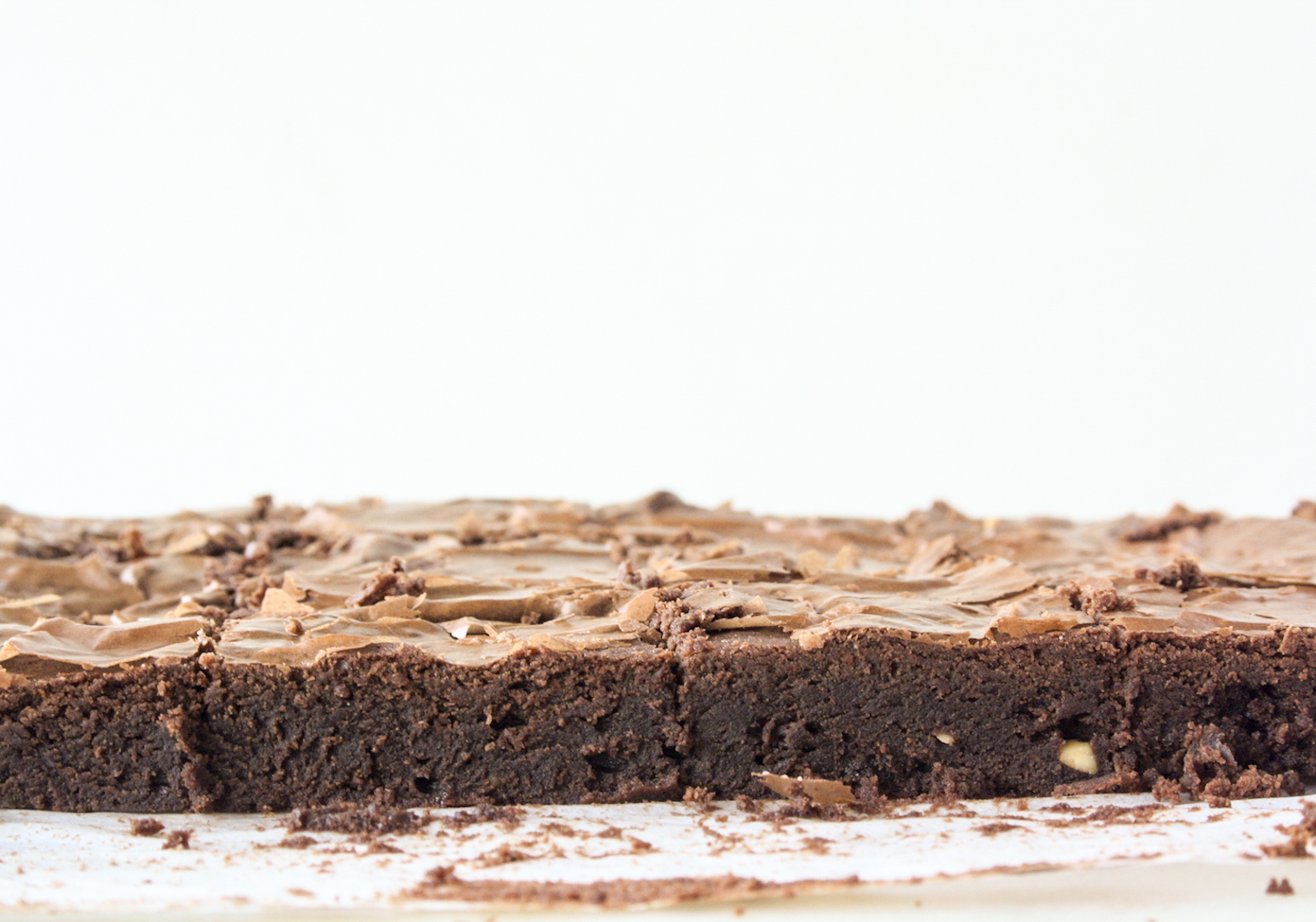 I hadn't intended on using crunchy peanut butter, it's just what I had on hand at the time. The little bits of peanuts add texture and more flavour and though you can drizzle more melted peanut butter on top, I didn't really feel the need. The flavour is all there!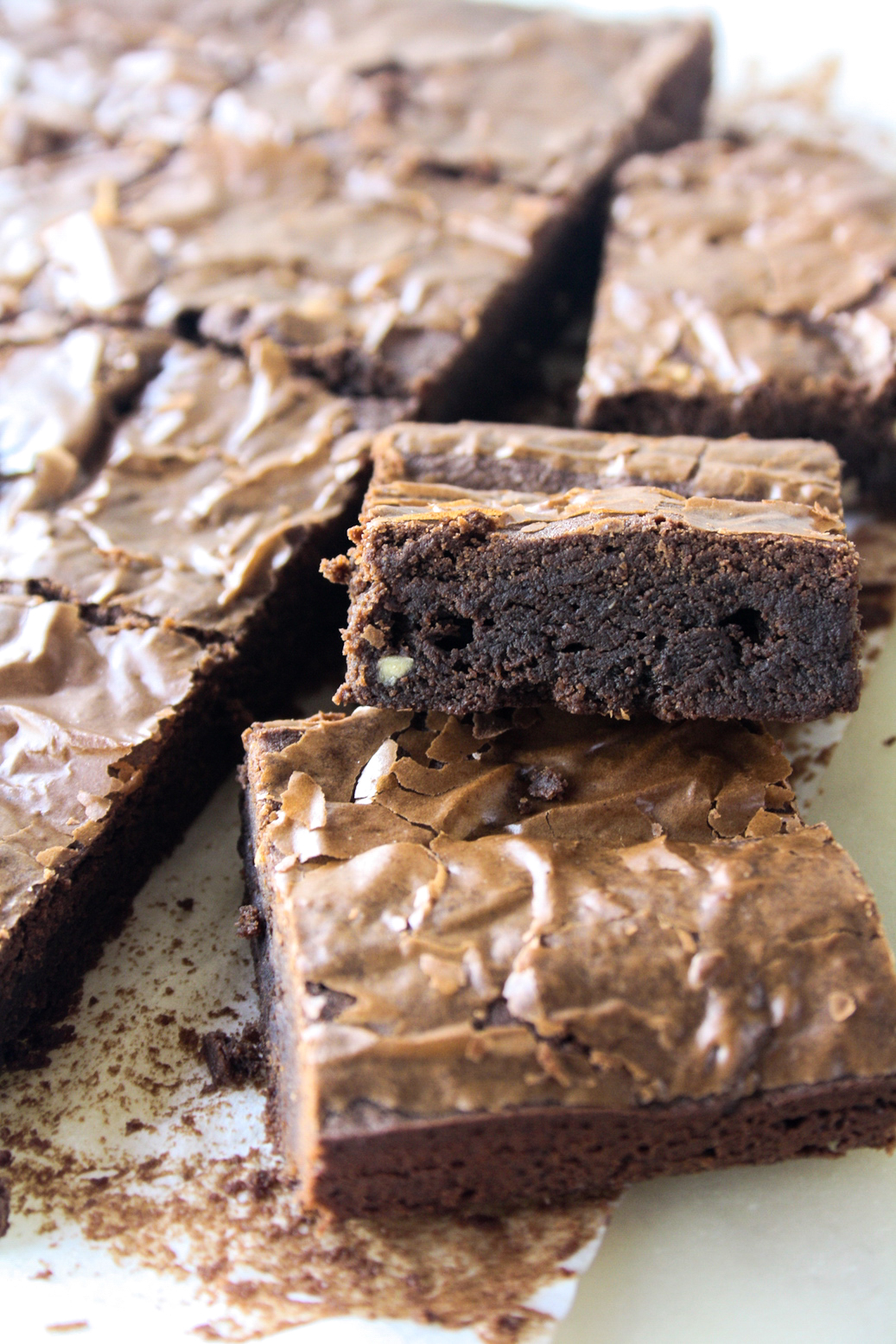 This unbeatable flavour combination never tasted so good. Brownies for the win!

Peanut Butter Brownies
Chewy, fudgy chocolate brownies with crunchy peanut butter flavour
Author:
The Desserted Girl
Ingredients
6 tbsps unsalted butter, at room temp (85 gms)
170 gms dark cooking chocolate, finely chopped
¼ cup cocoa powder
4 lightly heaped tsps chunky peanut butter
¾ cup all-purpose flour
¼ tsp baking powder
¼ tsp salt if using unsalted butter
¾ cup caster sugar
2 eggs
½ tsp vanilla extract
Instructions
Sieve the flour, baking soda and salt in a bowl and set aside.

In a bowl placed over a pot of simmering water, melt the butter, peanut butter, chocolate and cocoa until you have a smooth mixture. If a few lumps of chocolate remain, take the bowl off the heat and stir till melted through, do not over heat the mixture. Let it cool for a few minutes.

Meanwhile, preheat the oven to 175 C. Grease an 8x8 baking dish and line with baking paper, leaving a little overhang for easy removal. Grease the paper too.

Beat the eggs, sugar and vanilla in a large bowl till pale and thickened, about 4 minutes. This is where you're ensuring a crust forms, so beat away! An electric mixer will get the best results.

Add the cooled chocolate mixture to the egg mixture and beat again till combined.

Finally add the flour mixture and fold gently to combine. The batter will be thick, almost like frosting!

Spoon into the prepared dish, and smoothen the top. Bake for 20 minutes, or until a toothpick poked in the center comes out with moist crumbs but no wet batter. Brownies continue to cook as they cool, so don't overbake them.

Let the brownies cool in the tin for 20 minutes, then remove using the overhang of the baking paper and set on a wire rack. Slice into 16 equal pieces when completely cool. Store in an airtight tin at room temperature for 4 to 5 days, or in the fridge for 10 days. You can even freeze them for a month. Happy baking!
Notes
*I like my brownies fairly dark and not too sweet. I use 70% chocolate, although you can use a milder one if you prefer, as well as increase the sugar to 1 cup for sweeter brownies.
Shop this recipe!
This post contains affiliate links.