I want to go to France. For a whole bunch of reasons. But now I want to go mostly because I CAN EAT THIS HEAVENLY CRUMBLE AGAIN!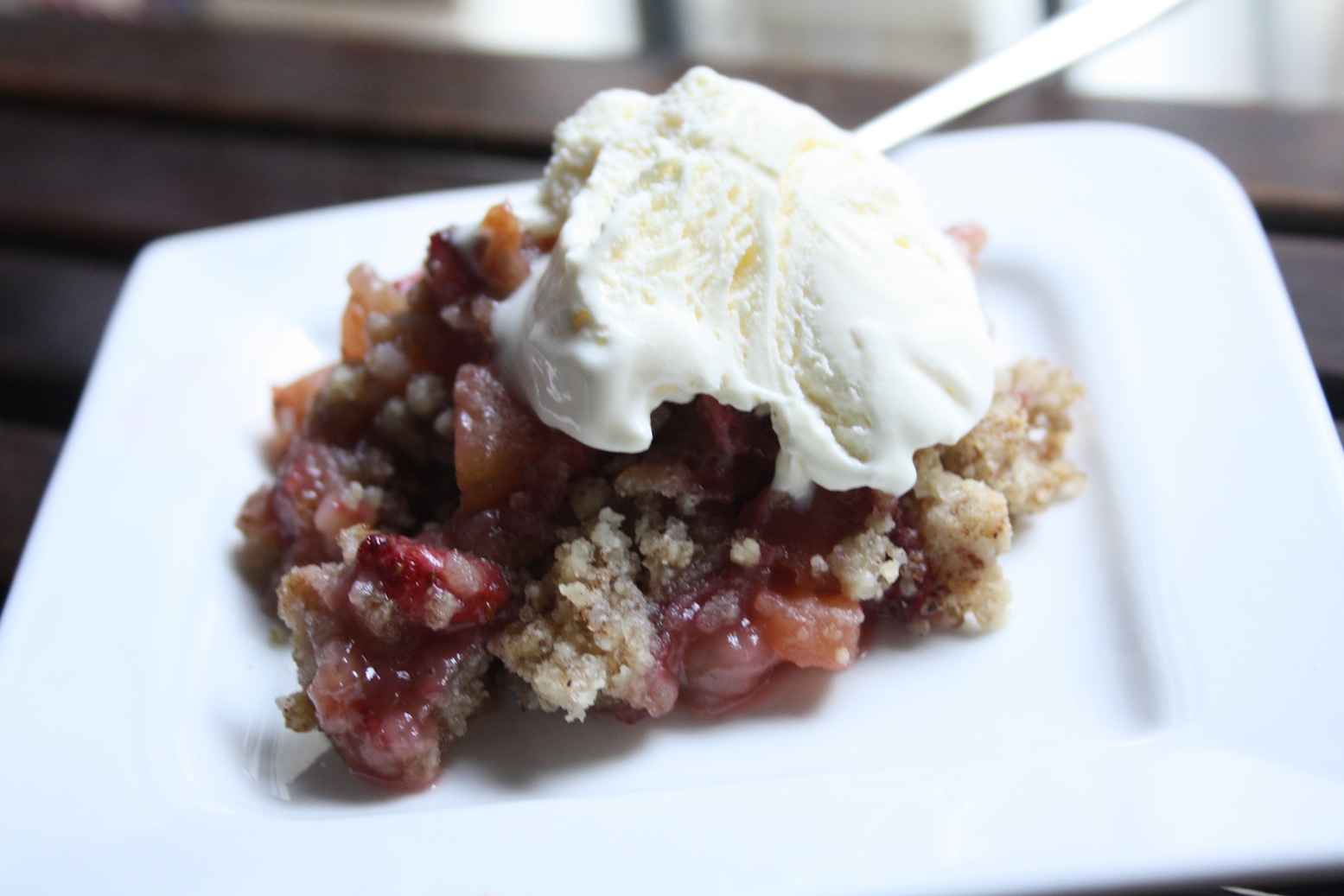 Must rewind. Amelie and her husband Geoffrey, live on, and run a farm in France. Originally from Belgium, Amelie studied with my husband and is reputed for making a terrific apple crumble. The two of them are visiting India for the first time and stayed with us during their Mumbai leg. And so, amidst them braving the traffic, crowds and heat, we asked Amelie to use up two apples in the kitchen and make her famous crumble again. And we threw in some strawberries leftover from these too.
Within seconds, she'd scribbled down the proportions, and in 10 minutes, the crumble was ready and in the oven. I've made crumble multiple times before, including one with peaches, but Amelie's speed was something else 🙂 If you've never made crumble before, please do. It's the easiest and most forgiving thing you could bake!
The crumble was made and photographed before we left for work which meant we didn't have the luxury of afternoon sunlight. Shooting this was serious trauma but eating it made up for all of that!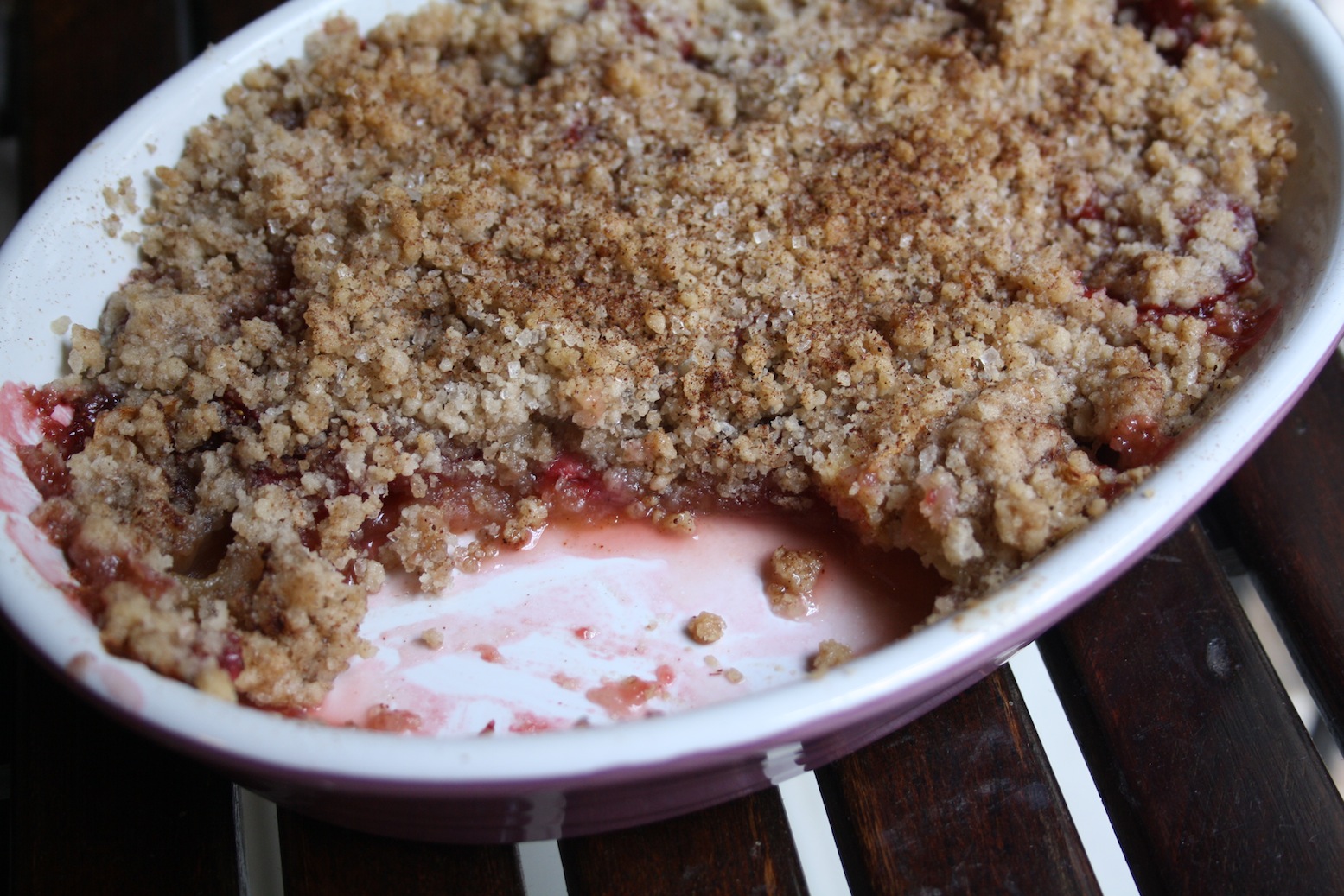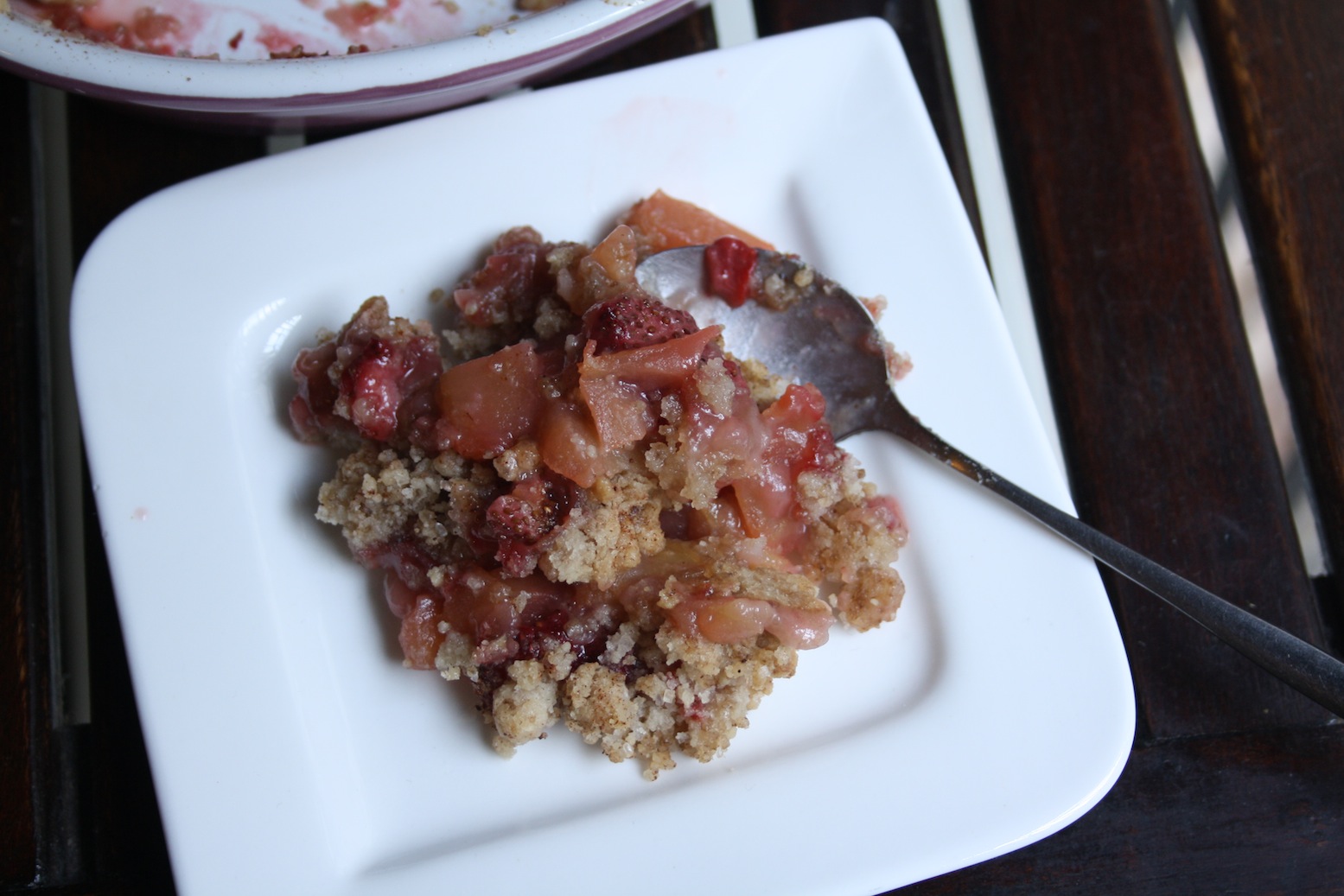 Apple and strawberry crumble makes the best breakfast EVER, by the way. You could use just apples, just strawberries, peaches, any other berries. Super flexible!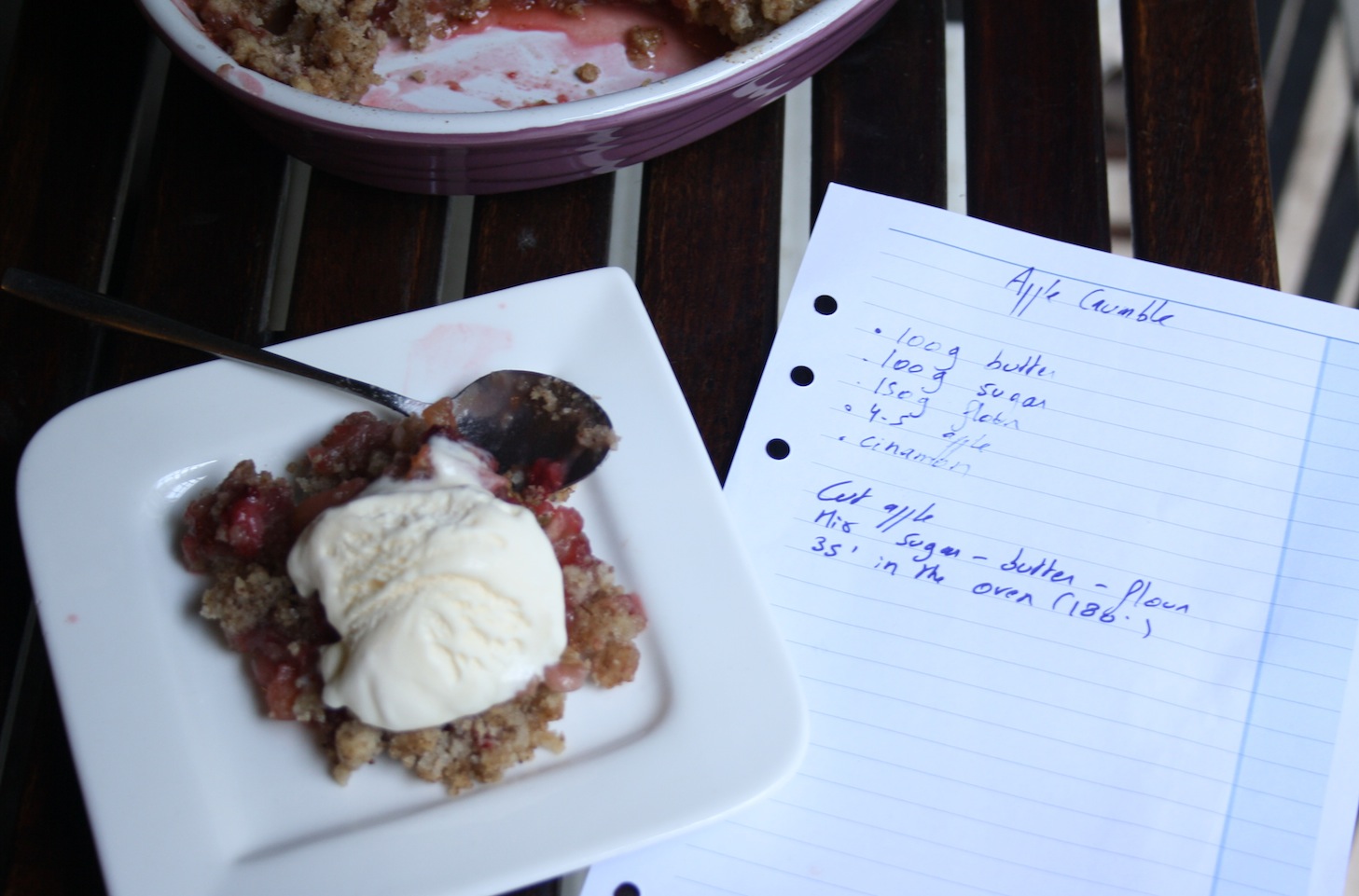 I've always made crumble by sugaring the fruits first, chopping the butter into cubes and then mixing it with the flour. Turns out, none of that is needed. Just mix everything but the fruits in a bowl and top them with the crumble and bake. So quick 🙂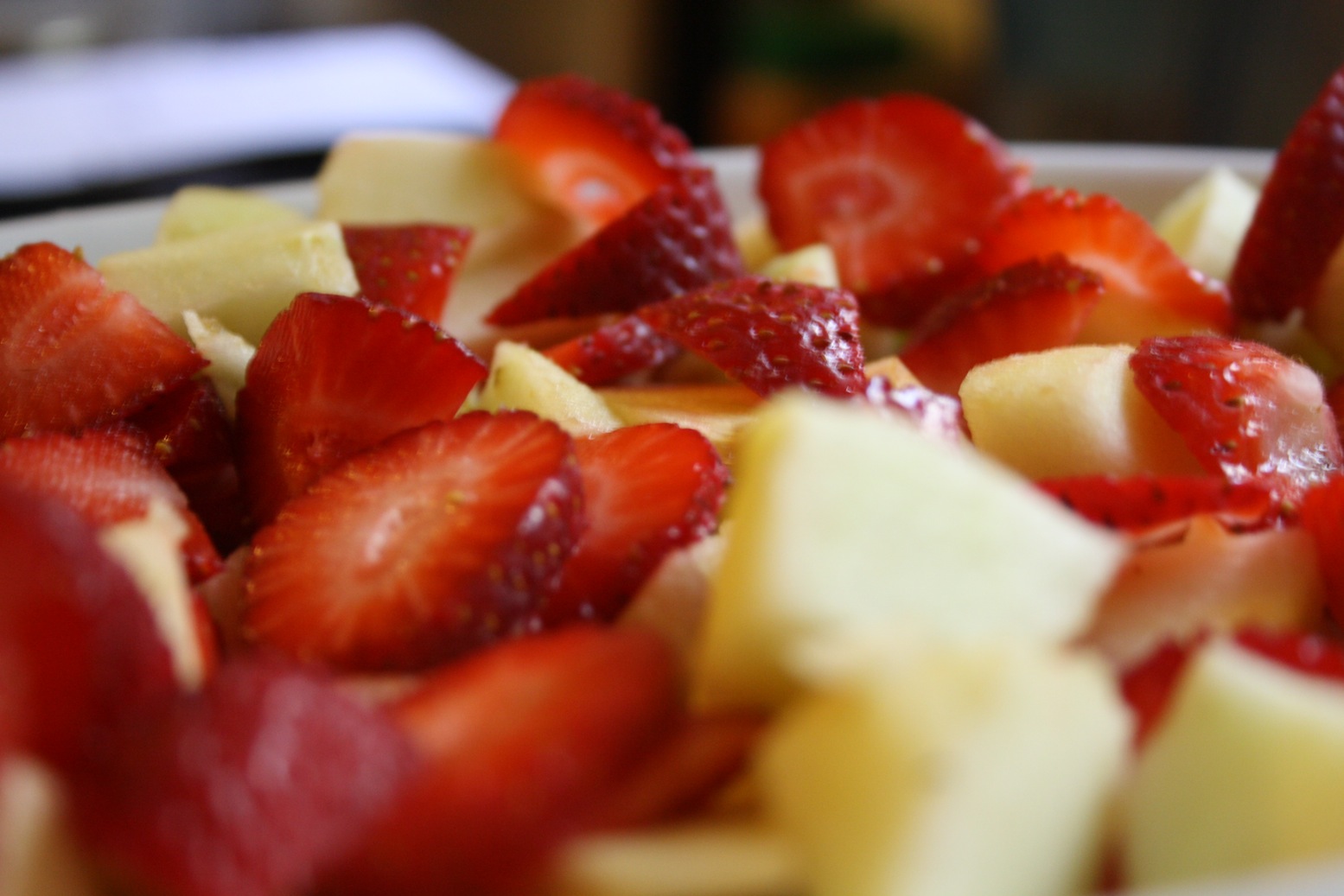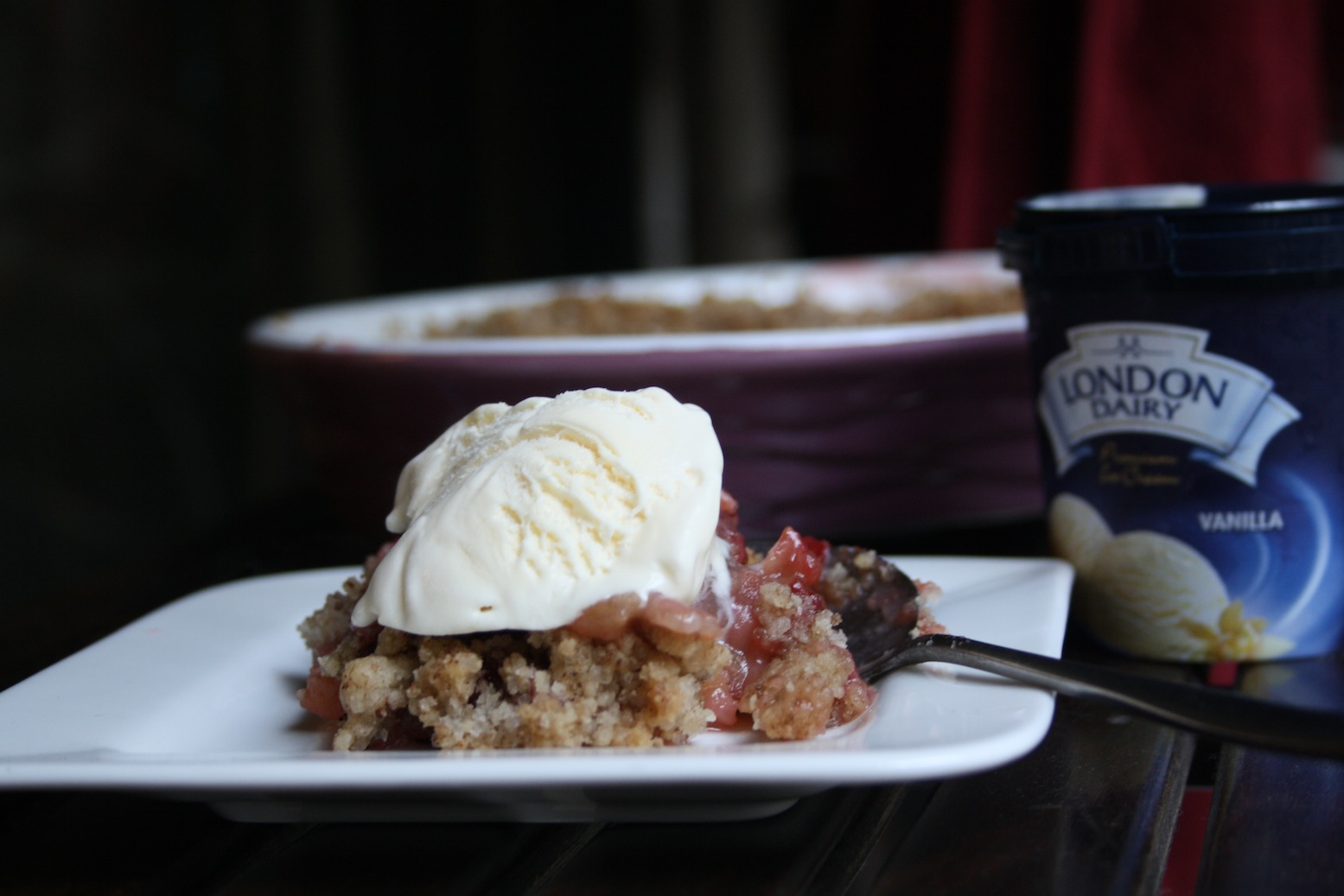 We polished off the entire dish within seconds, with vanilla ice cream and you could try it with whipped or regular cream too. It's stellar by itself though!
Amelie's recipe is for 4 or 5 apples. We halved it because we had only two. Here are the proportions we used. A weighing scale is recommended because 'weights to cups' converters differ but you could use this one.
What you'll need:
50 gms cold, unsalted butter
50 gms brown sugar (Amelie added a teaspoon of white too but you could leave it out)
75 gms plain flour
2 tsps cinnamon (more or less as you like)
2 apples, peeled and chopped into bite-sized pieces
A few strawberries, optional.
What to do:
1. Preheat the oven to 180 C. Place the fruits in a baking dish.
2. In a bowl, mix the flour, butter and sugar and cinnamon with your fingertips until you have a mixture resembling sand.

3. Tip this mixture over the fruits and spread it out evenly. Bake for 20 to 25 minutes until the fruits are soft and the crumble is browned. The strawberries released some juice which bubbled at the sides for a bit but this doesn't make the crumble soggy.
Try not to let it cool. Crumble tastes best when it's still warm with ice cream melting on it 🙂
Thank you, Amelie! Do visit us again 🙂