Happy 2014, everyone! I'm back to reality after much-needed R&R and I'm dealing with the end of holiday season with strawberry season! Best way to combat a holiday hangover if you ask me. Though my Christmas tree is still up. Is that weird?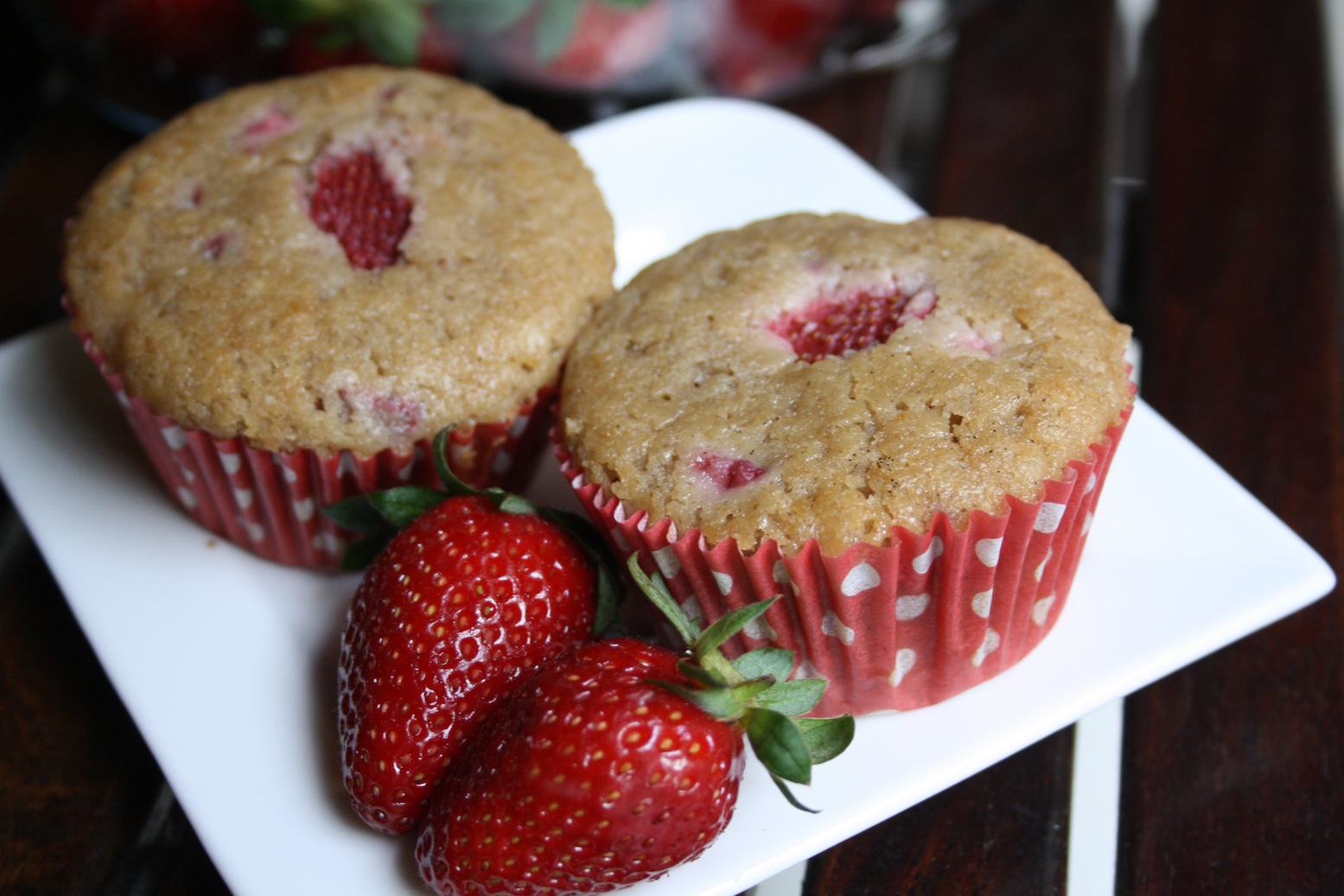 So, these muffins. Or rather, these strawberries. I had two whopping boxes sitting in my fridge and coupled with a hectic week back in Mumbai, I hadn't gotten around to doing something with them. So using the recipe for these cupcakes I made for Christmas, I threw in some chopped strawberries and voila 🙂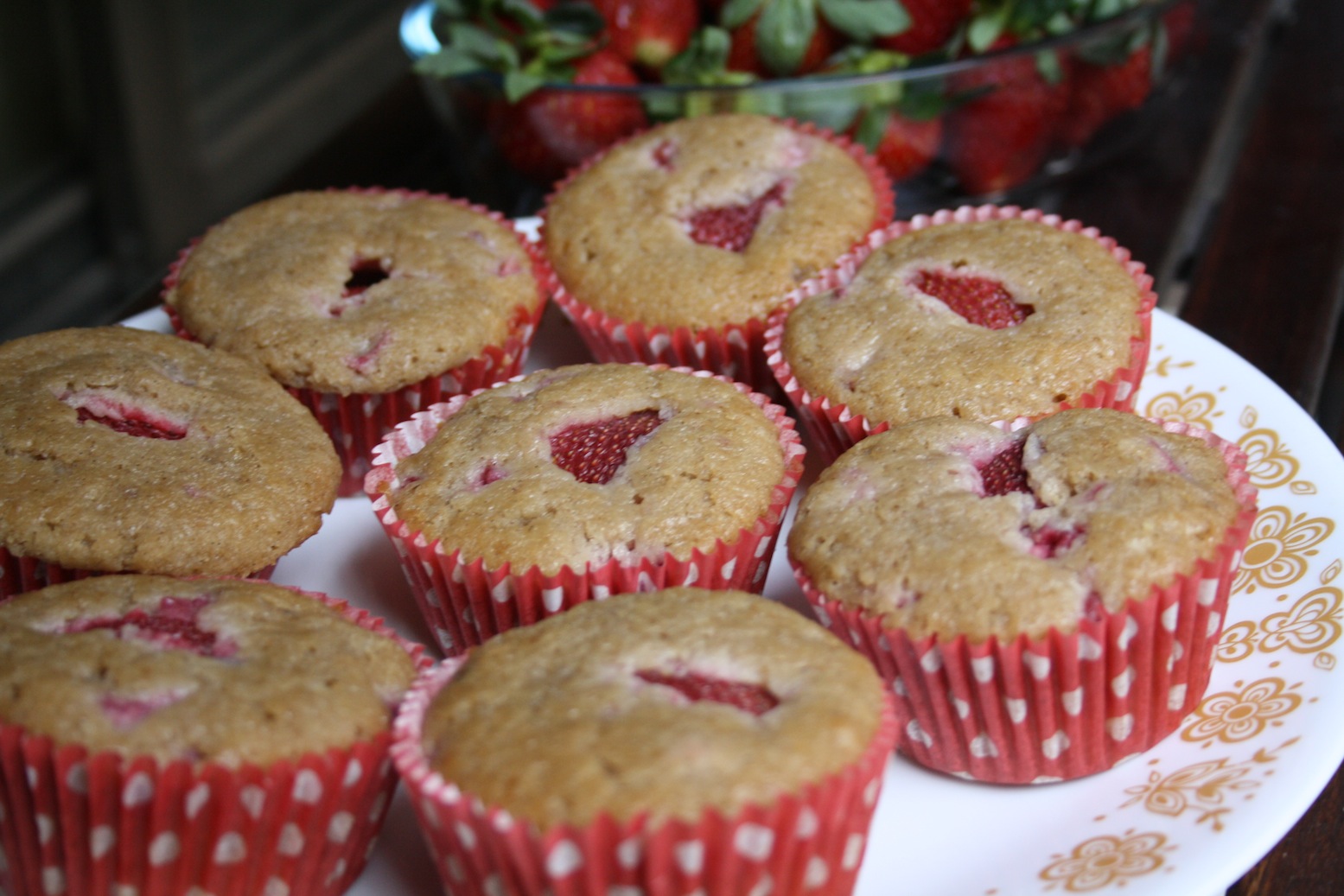 I went with barley flour again, not just because it's healthier but I actually love the texture it gives much more than regular flour. Ridiculously soft and flavourful, moist from all the strawberries. These muffins are a win-win! And they make a pretty picture, don't they?
I made them late last night. I have to say, as tired as I was after a looooong day, I still think night-time baking is a little bit awesome. I mean, imagine this being the last thing you see before you close your eyes. Lucky, lucky me.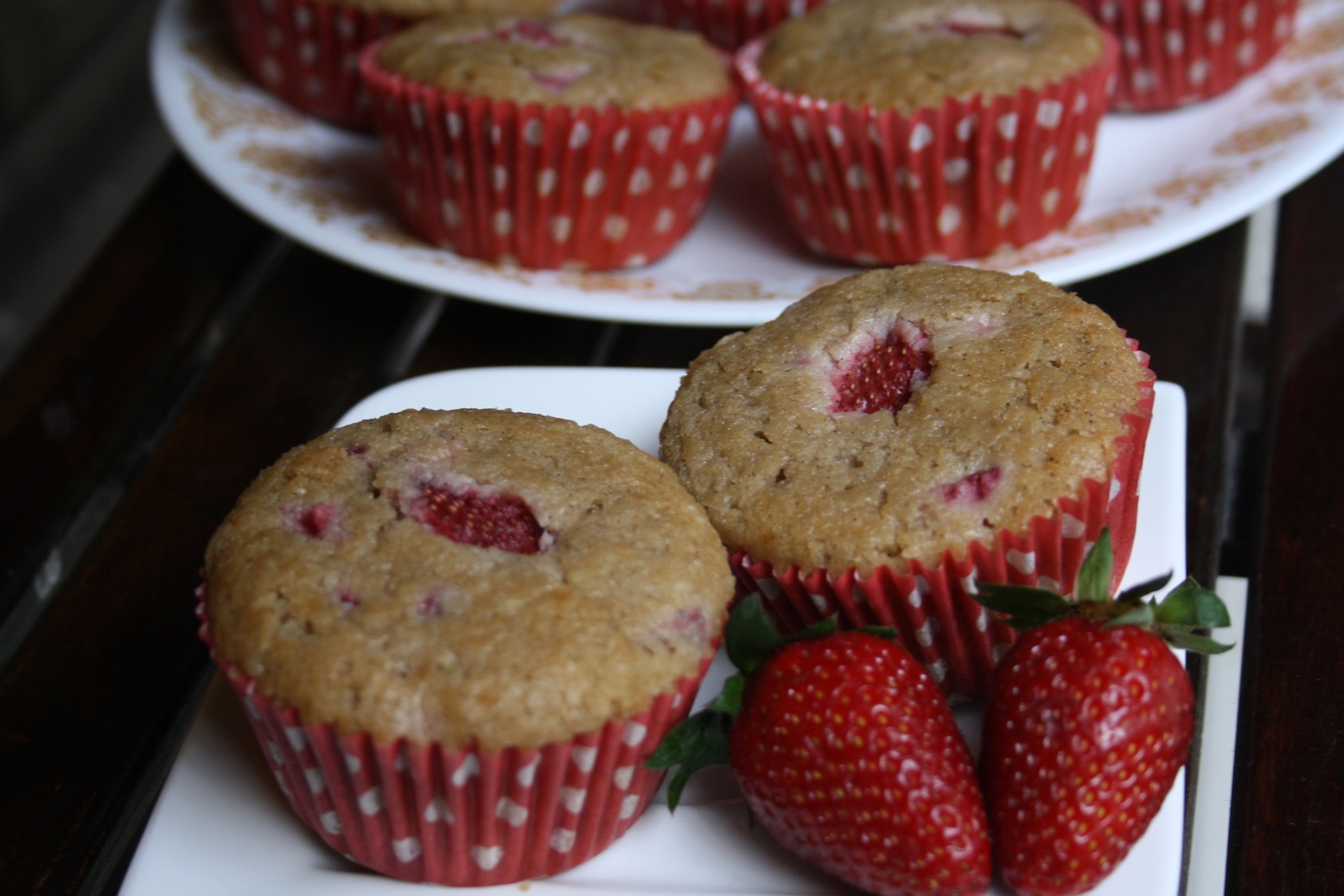 The vanilla cupcakes I based these muffins on, call for two egg whites to avoid the yellow-ish tinge of yolk. I realised that the recipe for those was a variation of this one, which uses a whole egg. Saved me the stress of separating eggs, so that's what I went with 🙂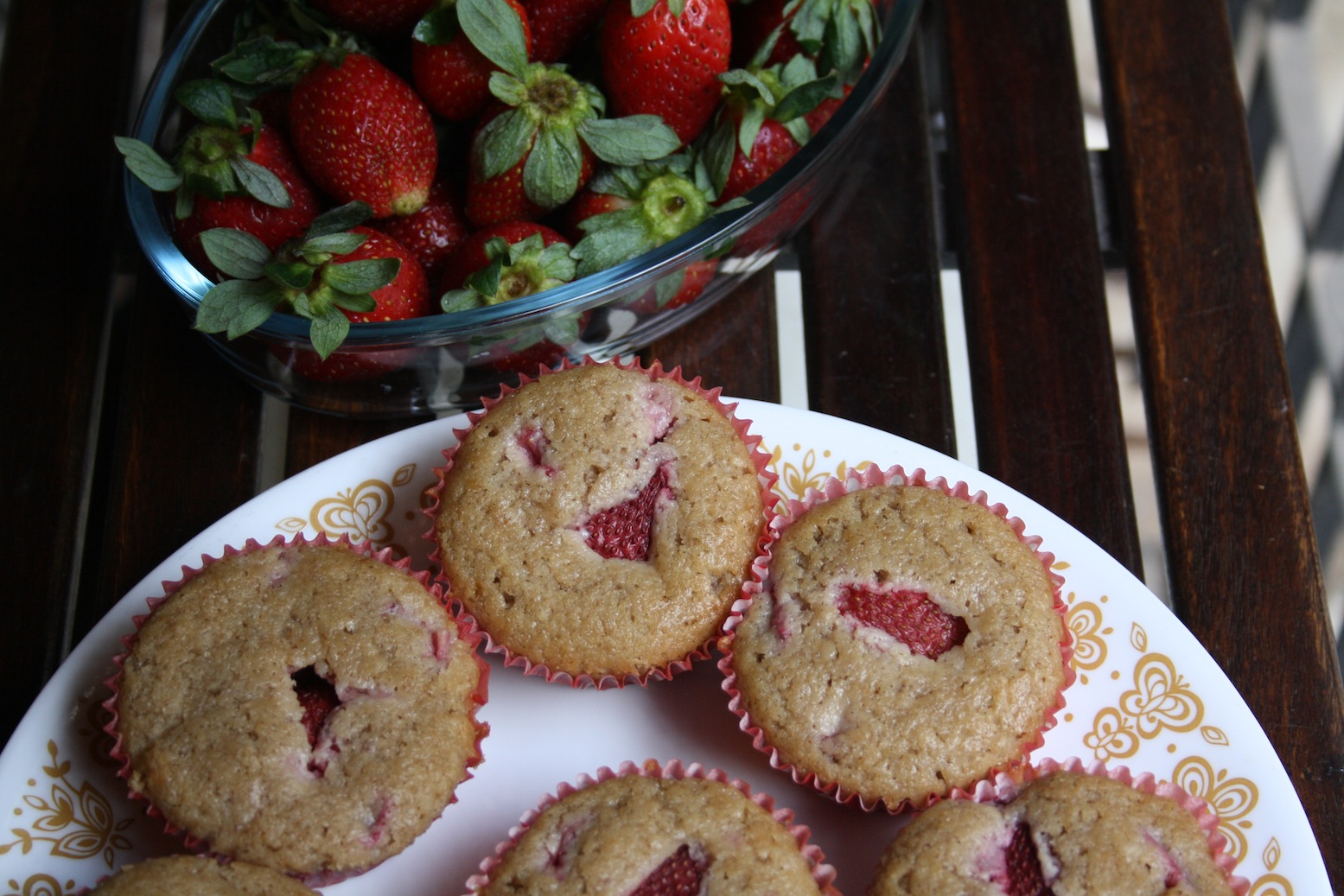 Barley flour poses only one problem. It turns out SUCH soft baked goods that the addition of strawberries actually made the muffins fragile. They were easier to handle with the liners on so that's why there aren't too many opened up to show the inside. Rest assured, there's plenty of strawberry in each bite!
Incidentally, I've become quite the fan of barley flour. I've used it here, here and here and here and ohmygodthesearesogood.
Each piece of fruit left a pale pinkish patch around it, I'm assuming that's normal. The tops also remained a bit sticky because of all the moisture in the berries. Again, nothing catastrophic. The 'vanilla' bit comes from vanilla pods, because I had one leftover after the cupcakes. This part is optional though, they'll taste amazing without it too.
Before adding the berries to the batter, I sprinkled a little castor sugar over them to take away any sudden sourness while eating. You could omit this depending on how sweet the strawberries that you have are.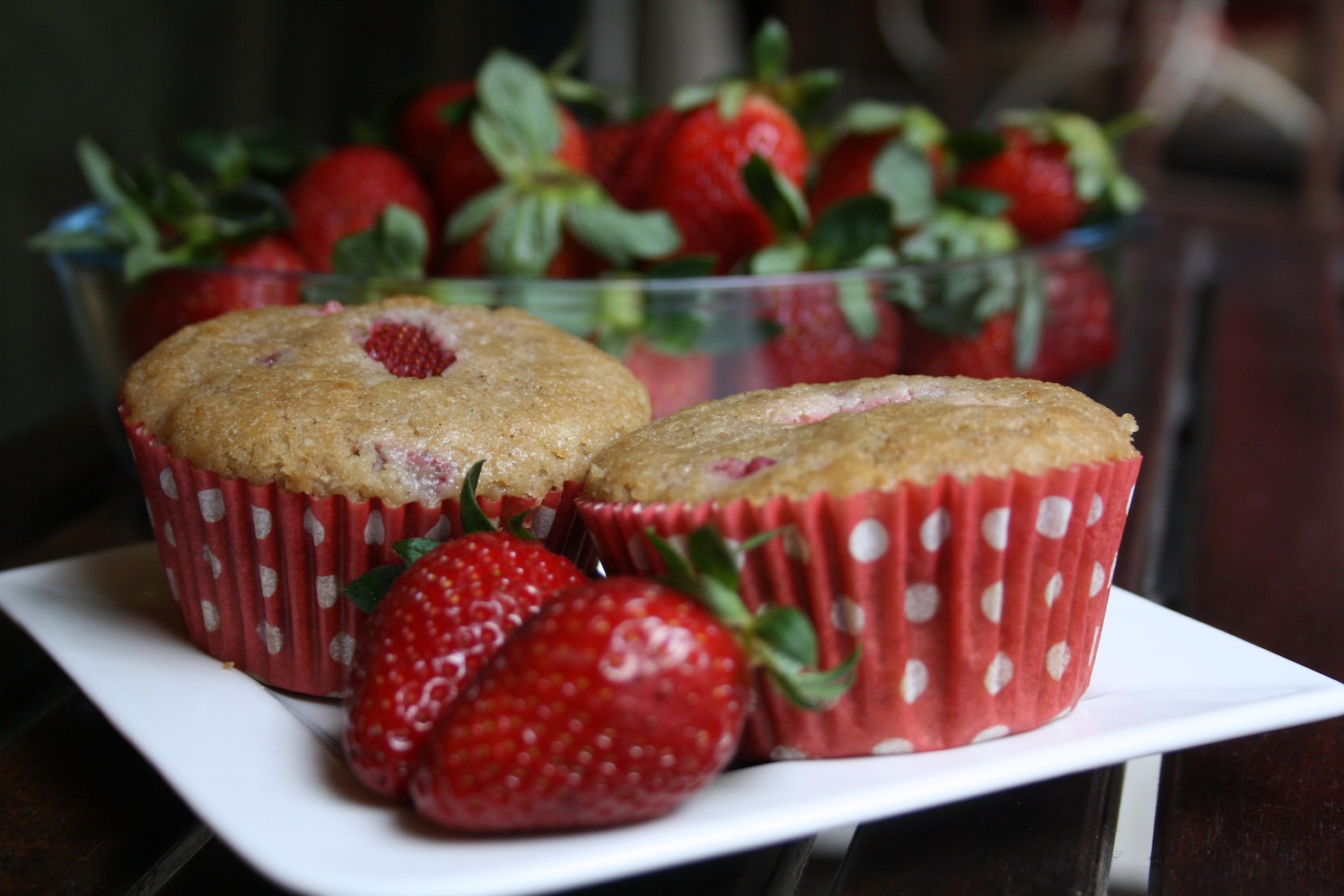 I'm still trying to master the really high, domed muffins like you see in cafes and bakeries. These rose a lot in the oven but 'sat' a bit after cooling. Apparently getting 'tall' muffins involves more baking powder/soda, higher baking temperatures for the first 5 minutes and filling the muffin moulds till the top. Reserving these tricks for the next batch 🙂 Also, I might add an oats streusel the next time, for some crunch and one more reason to call these healthy!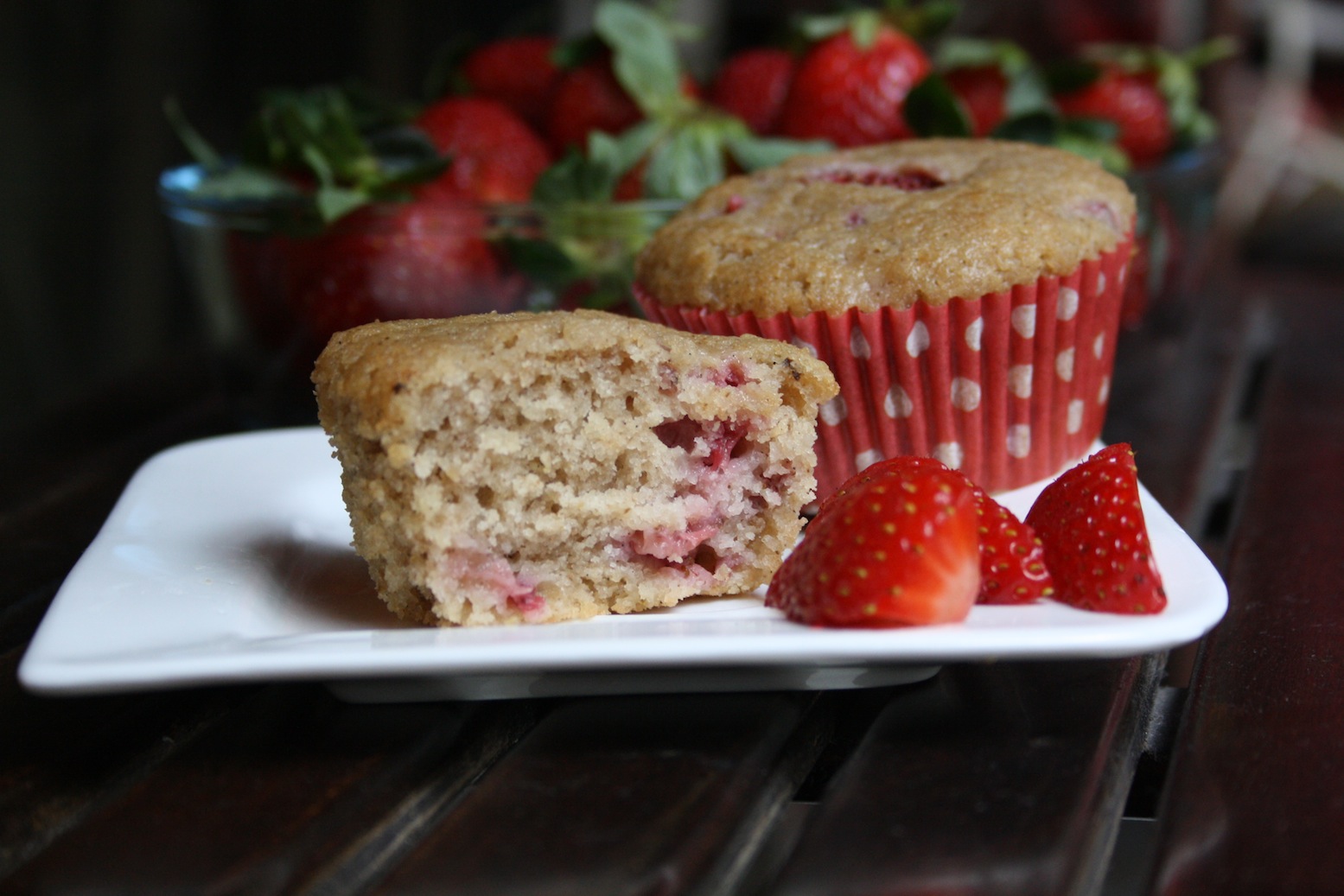 I got all artsy and placed one neatly cut slice of strawberry on top of each muffin just before baking. But I hadn't anticipated the batter drowning them out. Oops. Anyhoo, still awesome. I'm hoping to have a lot more strawberries on this blog while I can!
What you'll need:
1 and 2/3 cups barley flour (or regular flour)
1/2 tsp baking powder
1/4 tsp baking soda
1/2 tsp salt (omit if using salted butter. I've gone back to regular Amul for a while now and it works just fine)
1 cup castor sugar
1/2 cup unsalted butter
1 large egg
1/4 cup yogurt
3/4 cup milk

2 tsps vanilla essence
1 vanilla pod, split lengthwise, optional
12 strawberries, chopped into small pieces, sprinkled with a tsp of sugar if needed. You could chop up 3 more to place on top of each muffin just before baking for a pop of colour.
What to do:
1. Sift the flour, baking powder, soda and salt, if using. Set aside.
2. Melt the butter in a large microwave-safe bowl. Add the sugar and stir.
3. Add the egg, milk, yoghurt and vanilla essence to the above and mix well. Add half the vanilla pod seeds. Mix again. Reserve the other half of the pod for the Christmas cupcakes I talked about earlier! 
4. Preheat the oven to 175 C. Add the flour mixture to the egg mixture and fold till you have a thick batter with few lumps.
5. Add the chopped strawberries and mix to distribute them evenly in the batter but do not over-mix.
6. Pour into 12 greased/lined muffin moulds and bake for 20 to 25 minutes till the tops are slightly browned and a toothpick comes out clean. You might across some moist bits because of the strawberries which is fine.
7. Allow to cool, or not, and enjoy 🙂
Ok, this picture is really so you can admire the strawberries. Look how pretty!