I didn't think it was possible to consume an entire Christmas cake, about 20 gingerbread cookies AND these cupcakes over one weekend, but it happened.
We had a little party at home with family and by the end of it, everyone was hopped up on sugar. But I've had these cupcakes in my head for at least six months and I had to make them. Red liners with green frosting. I had it all planned out 🙂
And when made with barley flour, even a cupcake can be almost healthy! I'm starting to swear by barley flour. It tastes better than regular flour and turns out the softest baked goods. Seriously unbeatable texture. I also used pure vanilla pods for the first time and it involved a last minute dash to Fab India to buy their last piece. The things you do for a cupcake!
These are delightfully easy and watching them get devoured feels even better. My last Christmas themed post, hope you enjoy it!
One of my favorite blogs is Sally's Baking Addiction, from where I got this recipe. Her recipes are always foolproof and I've never had one backfire. Even though this one required separating eggs (*shudder*) the cupcakes turned out flawless.
Aren't they pretty 🙂
I used the recipe almost exactly as on her blog, so I won't repeat it. But here are some changes I made to it:
1. Used barley flour instead of regular flour.
2. Baked the cupcakes for 5 extra minutes for a little browning on the tops.
3. Forgot to add the vanilla pod seeds to the frosting 🙂 Try not to do this! I did add them to the batter though and they turned out amazingly vanilla-y with just that, so no harm done. I mixed up the remaining frosting with the vanilla seeds though, and used it to ice more gingerbread cookies 🙂
4. Used a more basic buttercream frosting using about 1/2 cup unsalted butter and 1/3 cup powdered sugar.
That's about it. Follow the same proportions and temperature listed in Sally's recipe and you'll be fine. They smell HEAVENLY while they're in the oven. Pure vanilla scent. While I normally use only the imitation essence, most bakers really don't recommend it though I've never had a huge problem with it. This time though, since the recipe specifically called for vanilla pods, I went with it 🙂
I baked the cakes at night, left them out at room temperature and frosted them the next morning. I coloured the frosting green, added white sprinkles for 'snow' and then some silver sprinkles just for a festive pop.
They're soft, fluffy and absolutely bursting with vanilla flavour. The frosting is sweet and buttery and just enough to not clog your arteries 🙂
I'm going to say again just how wonderful barley flour is. Do give it a shot if you haven't already. The texture it gives is amazing. And you can tell yourself you're eating whole grains and feel a bit less guilty this holiday season 🙂
And then I found this cute little cake jar to display them in next to our tree 🙂 Yes, that is a Starbucks cup hanging off it!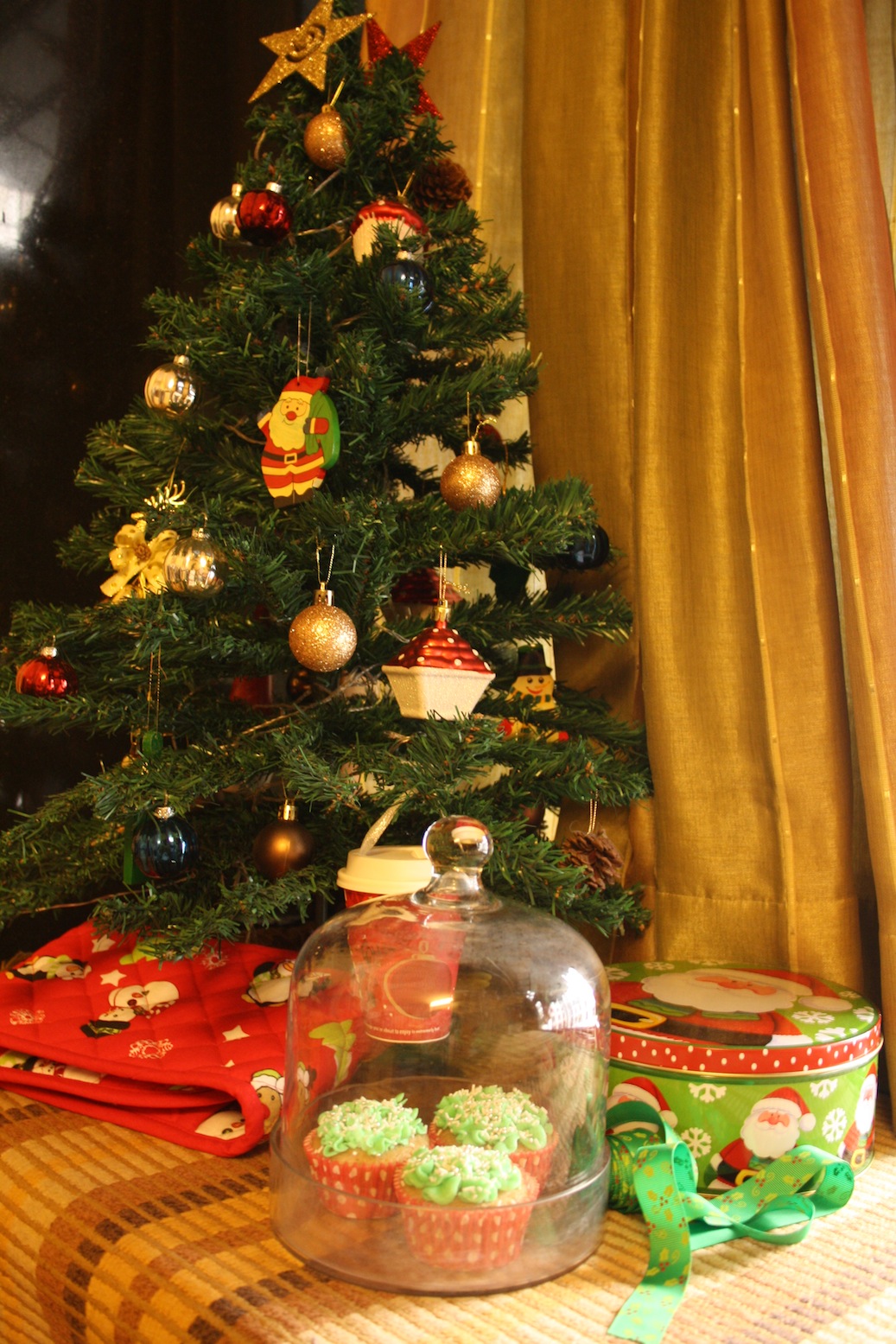 'Tis the season to eat cake 🙂 Have a great Christmas everyone!