This post is oozing Christmas all over the place. There's our beautiful tree, this delightful Santa cake tin aaaaaaaaand this fabulous traditional Christmas cake which for a first attempt, is pretty darn good!
Quite a few people have been looking forward to this post, so I hope it lives up to your expectations 🙂
BURSTING with plump fruits, deliciously boozy with fruity rum, rich with cinnamon and ginger and unbelievably moist. I think that's really all that's needed to say MAKE THIS CAKE!
It's easy. Very, very easy. Just takes one step of prep in advance and the rest is all about baking and testing your willpower to let the cake rest for a bit.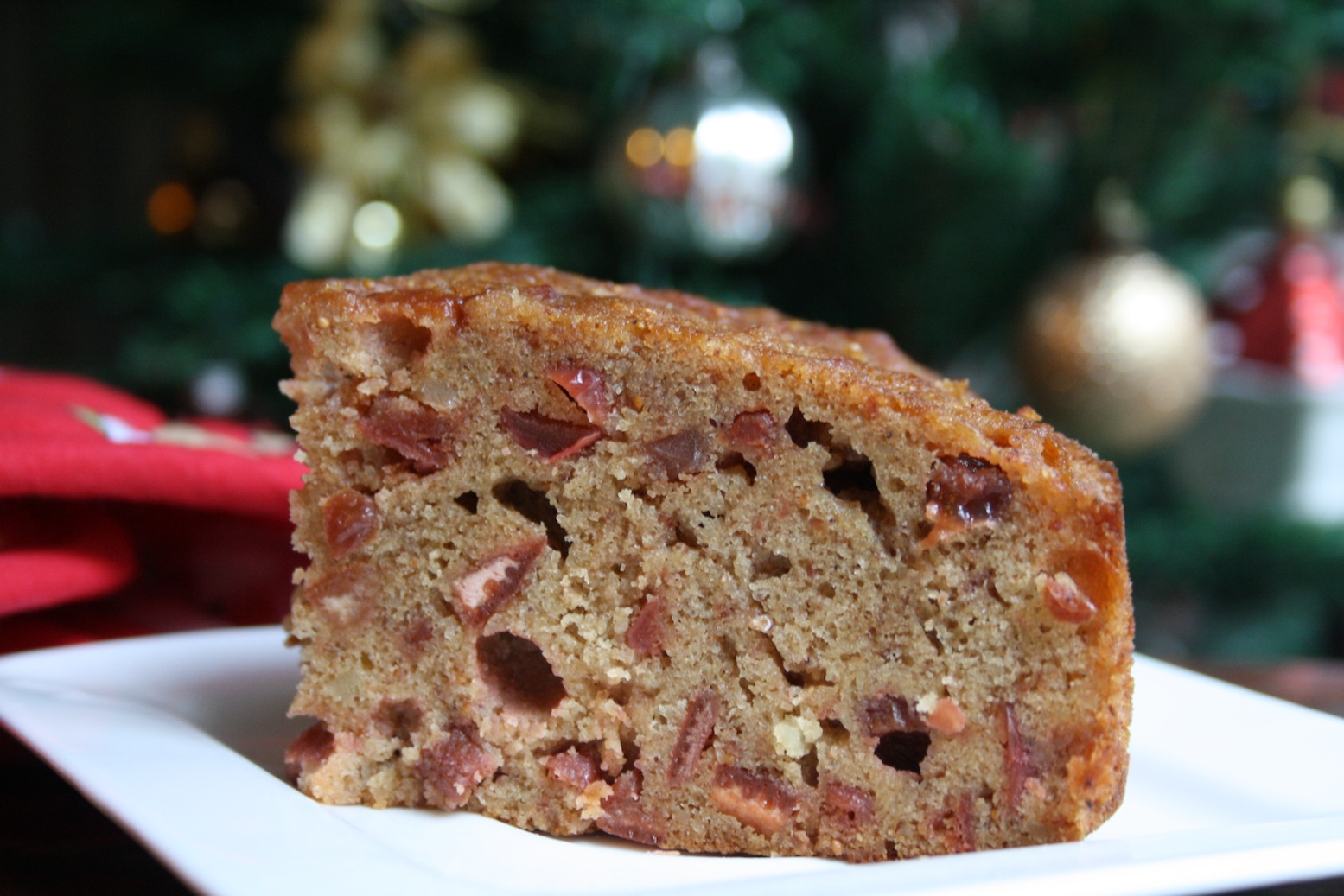 Everyone has their own way of making Christmas cake. It's one of those things where family recipes are carefully preserved and passed down generations and that's what makes it so special. My mom made one years ago that involved baking the cake itself a month in advance and soaking it in brandy every day but that recipe is lost in time somewhere. I saw more recipes that said the fruits can be soaked a month in advance and the cake made close to when you want to cut it. And I was completely confused. SO MANY OPTIONS. Some people make the cake a year in advance! Some use rum, some whisky, some brandy. Some recipes had terribly difficult ingredients, some were straightforward.
Then I found this treasure trove. Not only does it have the recipe I adapted to make the cake, it has a whole thesis on the different ways and opinions to make Christmas cake 🙂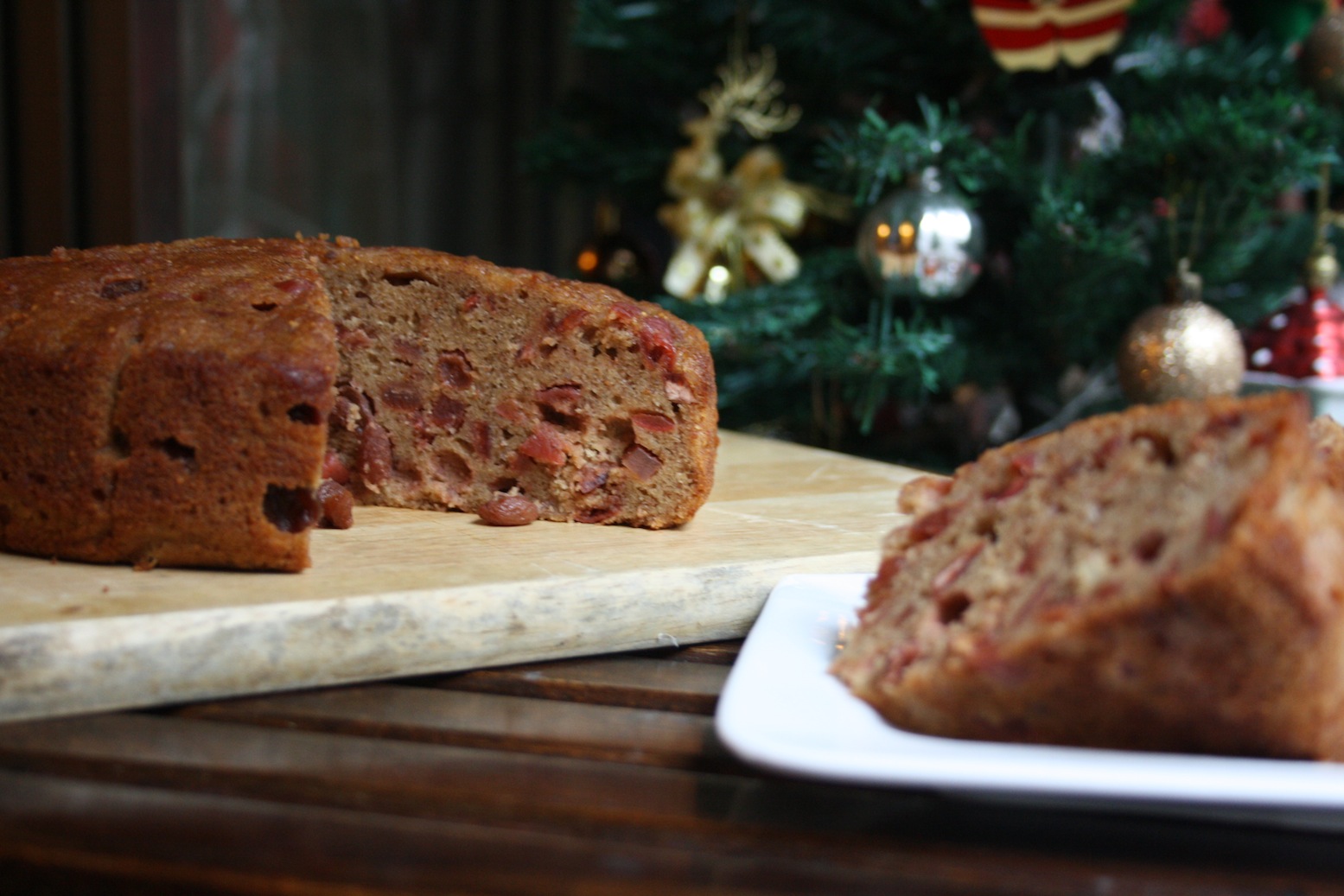 I don't like raisins much, so cut those down. Omitted whole almonds because I don't like dry fruits. Yes, I know, bit ironic to be making a fruit cake when I don't eat dry fruits 🙂 Didn't have lemon zest or crystallised ginger so left those out. If after all that, this cake turned out as awesome as it did, someone's on my side!
So, I soaked all the fruits (mixed peel, raisins, glace cherries, dried figs) in Old Monk for three weeks. I don't like the taste of rum at all (I chose that because I like whisky even less), but the flavour of the fruits completely takes care of that. The aroma every time I opened that jar was OH MY GOD delicious. I checked the jar every two days to make sure the fruits weren't getting spoilt and in the 3-week period, I topped up the rum 3 times just to make sure there was always enough to keep the fruits wet.
I got the mixed peel at Lobos, in Crawford Market. The rest I got at Suryodaya, Churchgate. I had no idea that shop would have everything it did!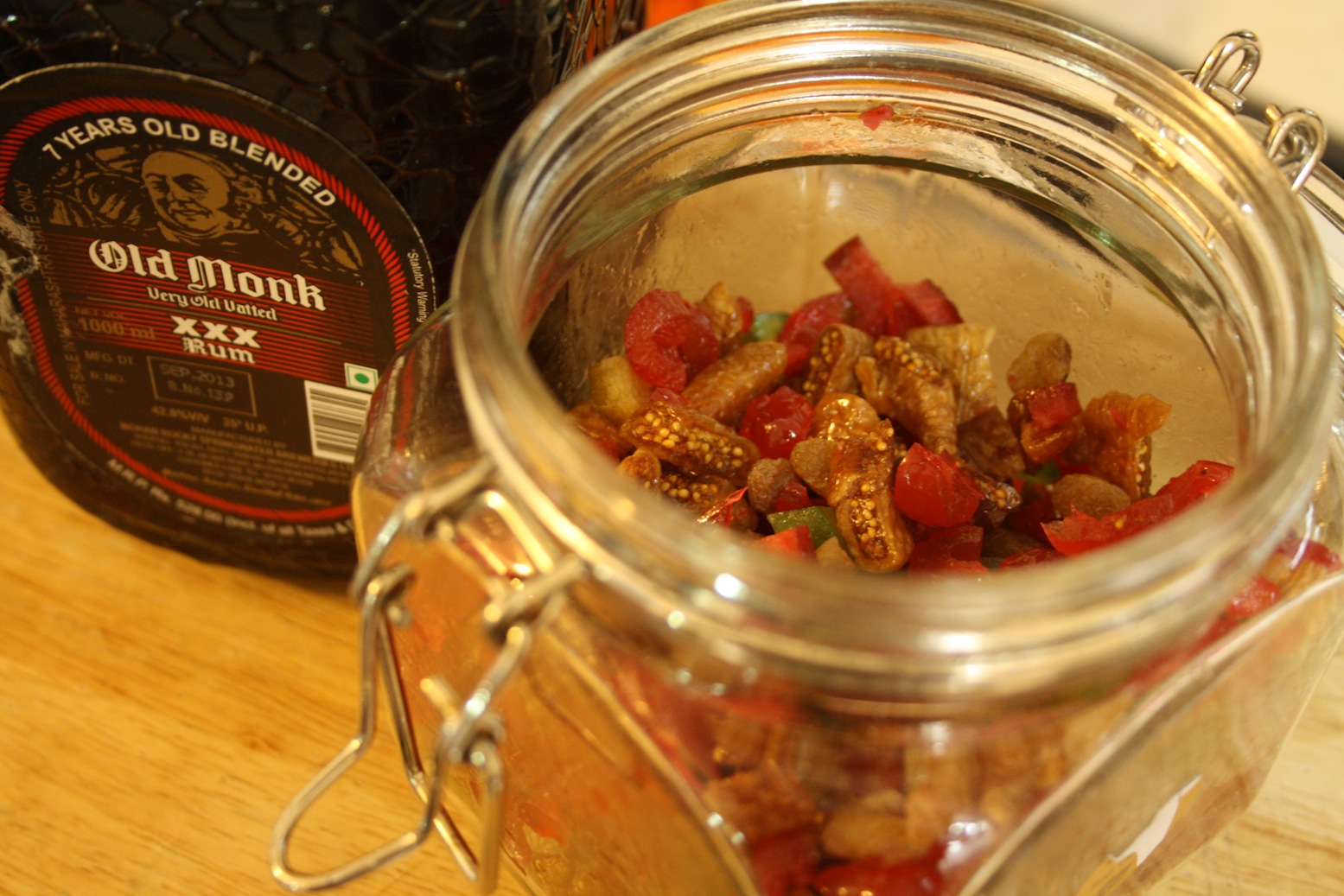 I baked the cake last Saturday, and then poked holes in it to drizzle the leftover fruity rum for soaking. I stopped after 3 days though because the cake started to look too moist and I didn't want it to get soggy. Turned out to be the perfect amount of soaking when I cut into it. The cake gets darker as its stored and didn't get spoilt even at room temperature in Mumbai. Thank you, kinda, sorta winter 🙂 And every time I opened the tin to soak the cake, my olfactory nerves went a little bit crazy. SO GOOD! Fruity and spicy and rummy and for some reason, plum-y!
Here's what it looked like just after baking.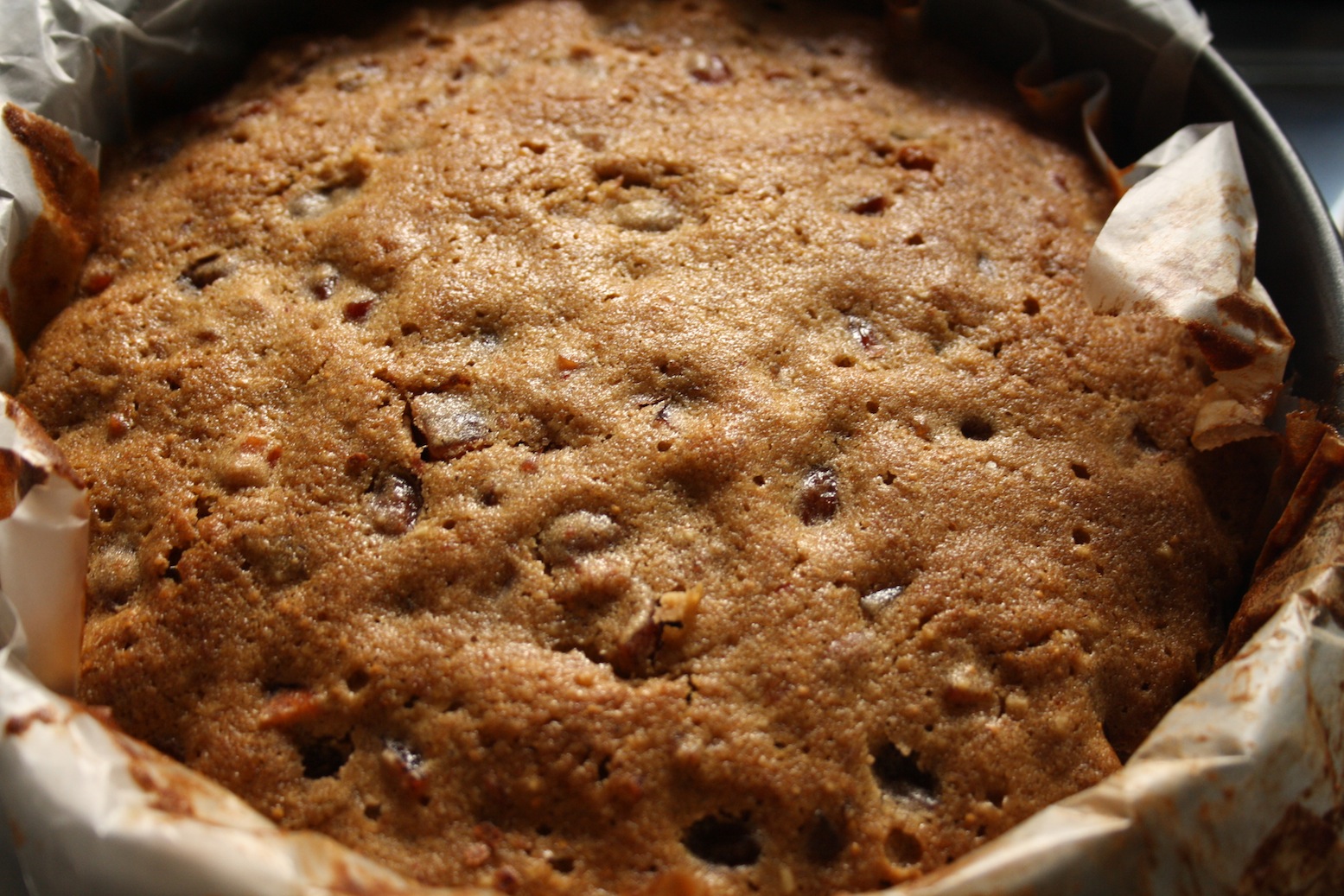 The ground almonds in this batter make the cake denser than a regular cake, but not heavy. It also adds flavour and since I didn't put the whole almonds, I decided not to leave it out.  Speaking of ground almonds, have you tried this?
The Santa tin was made for this cake, at least that's what I believe. It was the perfect size and so cute 🙂 And I went a bit nuts with tree ornaments and didn't want to leave one single inch undecorated!
Give this recipe a shot. The original version uses fruits soaked only overnight, so that's an option too if you hadn't planned in advance to make a cake this Christmas. Other than that, it's just a regular straightforward batter. Oh and try not to let this dish slip when you're putting it in the oven. Cleaning up even one tablespoon of batter from a hot oven is NOT FUN 😛
I used a weighing scale since the recipe listed ingredients in grams. If you would like to use cup measures, use this converter though Christmas cake is traditionally baked using equal weight measures of the butter, sugar, eggs and flour. This cake bakes for an hour, at a low temperature. Don't forget to double-line your 20 cm baking tin with baking paper to avoid burning. The size of the cake tin is important because the cake doesn't rise a lot so a larger tin will result in too flat a cake.
Ok, I'm done. Boozy Christmas cake doesn't get any easier or any yummier than this! Do it!
What you'll need:
For the fruit soak
100 gms dried figs, chopped
100 gms glace cherries, cut in half
100 gms raisins, with the stems removed
100 gms mixed peel, chopped into small pieces
About 2 cups of rum, or enough to cover the fruits completely
For the cake
Soaked fruits, drained and the fruity rum reserved for soaking (don't let more than 2 tablespoons of the rum get into the batter with the fruits, or your batter will become too runny)
125 gms butter (I used salted, and it didn't make a difference)
125 gms brown sugar
4 eggs, lightly beaten
130 gms flour
1/2 tsp baking powder
1 tsp cinnamon powder
1 tsp ginger powder
50 gms ground almonds (lightly roast before grinding to get rid of moisture)
What to do:
1. Soak the fruits for the three weeks in a jar or box with a fell-fitting lid. Leave it out at room temperature checking and stirring every day and topping up with rum as needed.
2. When ready to bake, start by sifting the flour, baking powder, cinnamon and ginger. Add the ground almonds. Set aside.
3. Preheat the oven to 140 C. Cream the butter and sugar until light and fluffy. Gradually add the eggs and beat well.
4. Fold in the flour mixture and then add the fruits. Stir to combine. The original recipe says to also pour in the soaking liquid but that would have made the batter too liquidy so I only added about two tablespoons.
5. Pour into a double-lined, 20 cm baking tin and bake for 1 hour. I left it in for another 5 mins for a bit of browning on top. Check to see with a toothpick if it's done.
6. Once it has cooled completely, use a skewer or the handle of a spoon to poke small holes in the cake almost all the way. Don't remove the cake from the tin. Drizzle a few teaspoons of the fruity rum into the cake.
7. Loosen the cake from the tin leaving the paper around it intact and wrap well in more baking paper or foil. Store in an airtight tin until ready to cut. Three days of soaking was enough for my cake and my willpower 🙂 I left the cake open for a while every day to 'air' it.
Cut into it and surprise yourself! Merry Christmas!