I succumbed. I ODed on food colour, brushing aside all my worries about overusing it. I'm so glad I did.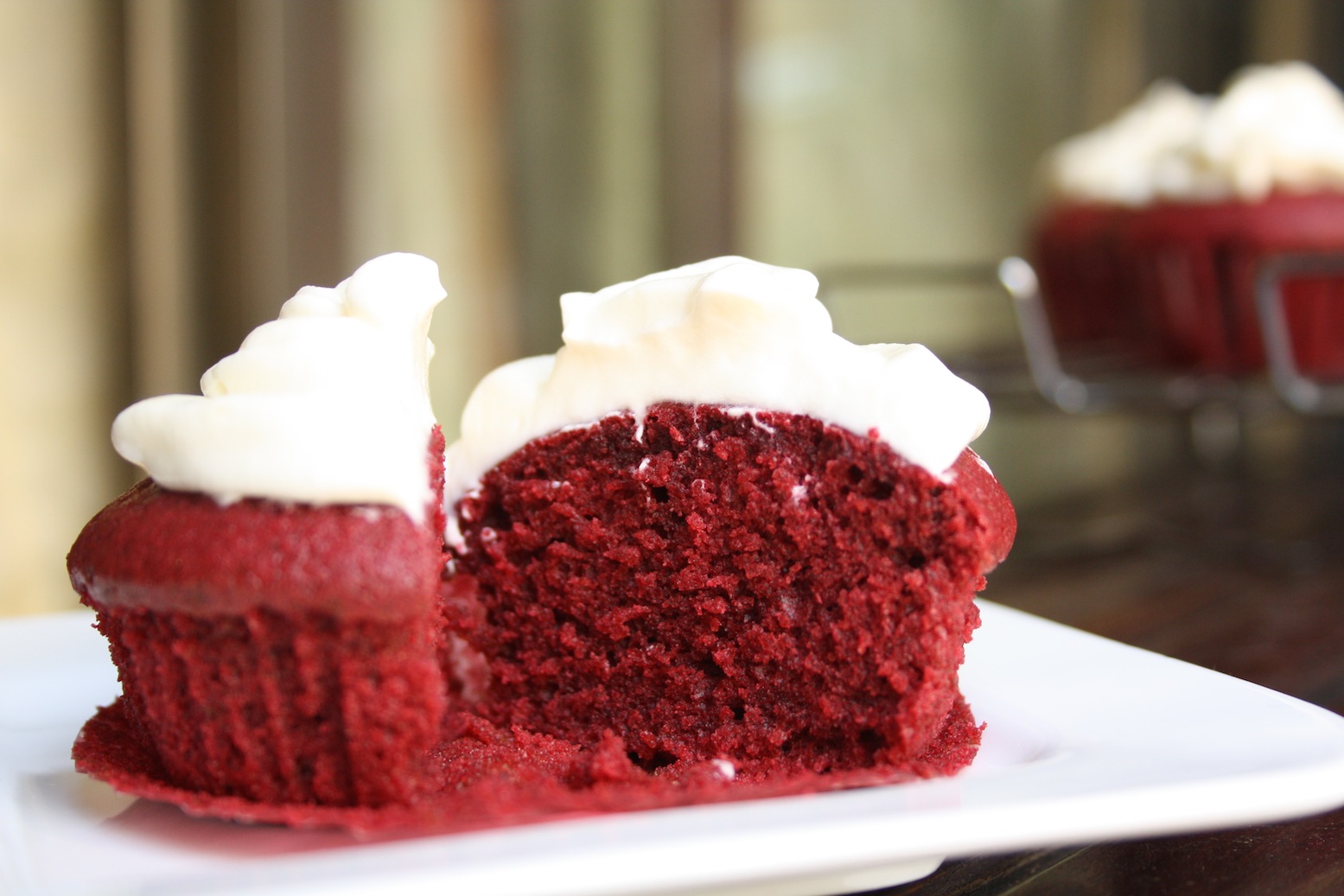 The last time I tried making red velvet cake and cupcakes, I was paranoid about using too much red food colour and therefore wound up with tasty, but only 'reddish' velvet. I also looked for a recipe that had basic ingredients lying around in my kitchen. And the one I chose had a lot of cocoa so the poor food colour didn't stand a chance.
Not this time. Presenting red velvet cupcakes, 2.0.
Softer, moister and oh so red.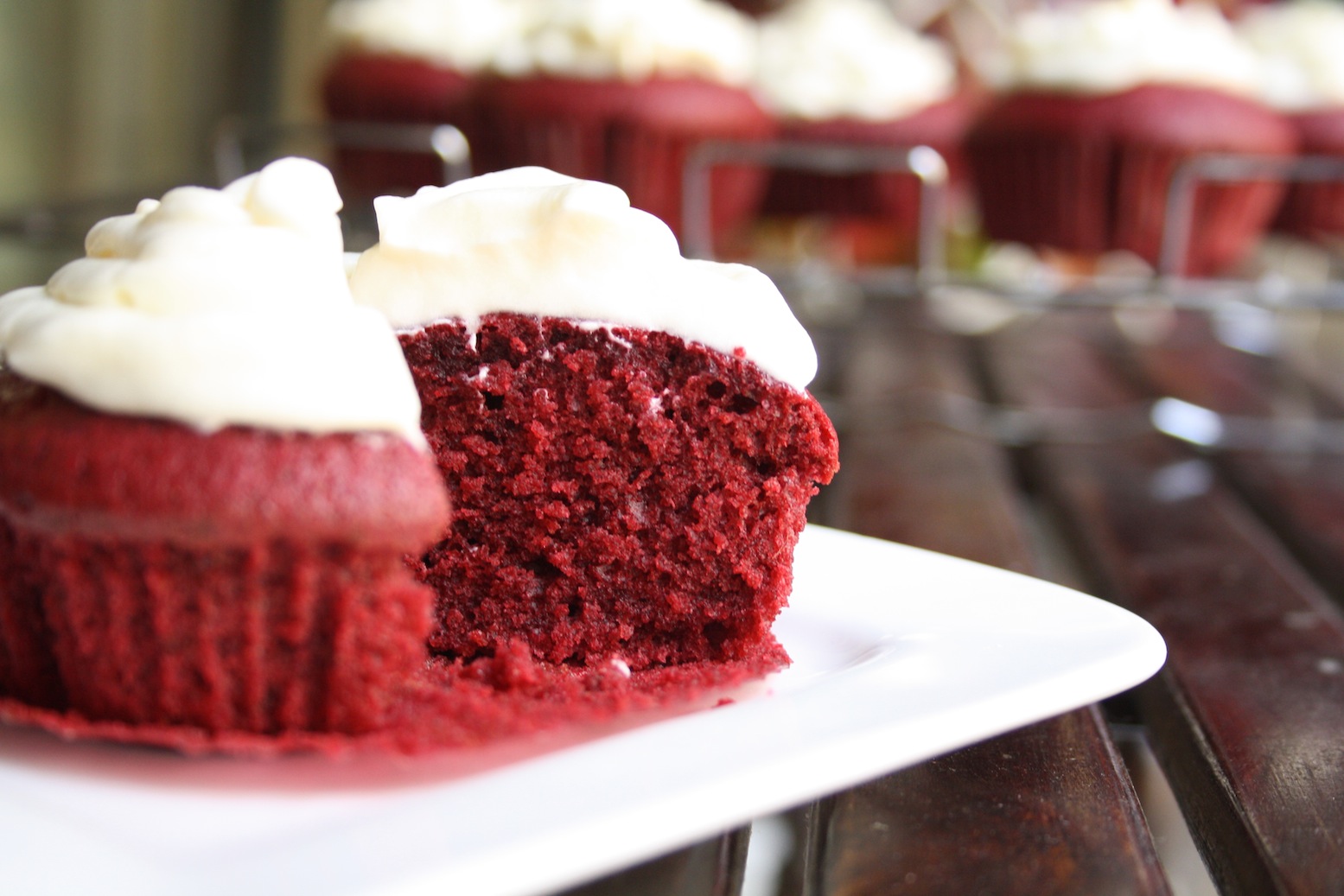 Funny story. My slipper fell off the mini balcony that I normally climb into to take these photos 😀
Turns out, vinegar is what helps the food colour work and give the cupcakes that wonderful hue. I was also a bit more generous with the colour this time. I don't plan to make these every day, so the colour can't do much harm. This Martha Stewart recipe I used has just a tiny bit of cocoa for flavour, so you don't wind up with a brown batter than refuses to turn red.
Though she recommends cake flour (regular flour with 2 tablespoons substituted with cornflour for every 1 cup of flour), I used regular flour. For the buttermilk, I used a yoghurt and milk combination. This useful blog had a couple of good substitute options.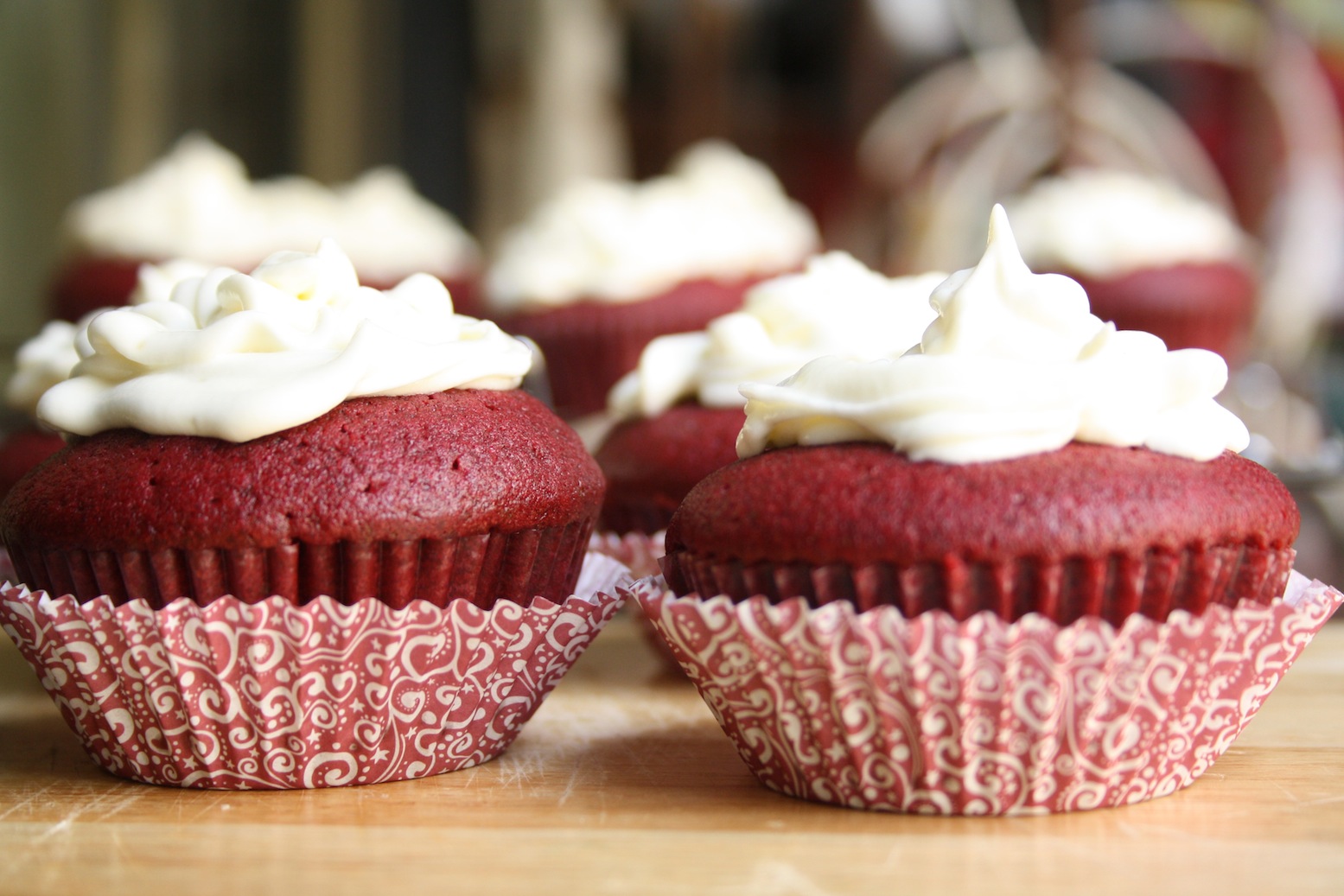 Other than that, no major tweaks to the recipe and I was way happier with the cupcakes this time around. The texture was better, the frosting was better. It was just velvety tangy goodness 🙂 Soft and moist and though I still haven't managed to find the right piping tip, I decided not slather on the frosting with a knife and used the next best tip I had. Not bad, huh?
I had friends over from our hostel days for a pizza party and they declared it was the best red velvet they'd ever eaten. *blush*
My pretty little cupcake liners were pretty much reduced to being regular liners while baking. So I had to slide on some fresh ones 🙂
I LOVE these chalkboard coasters! Birthday gift from the husband 🙂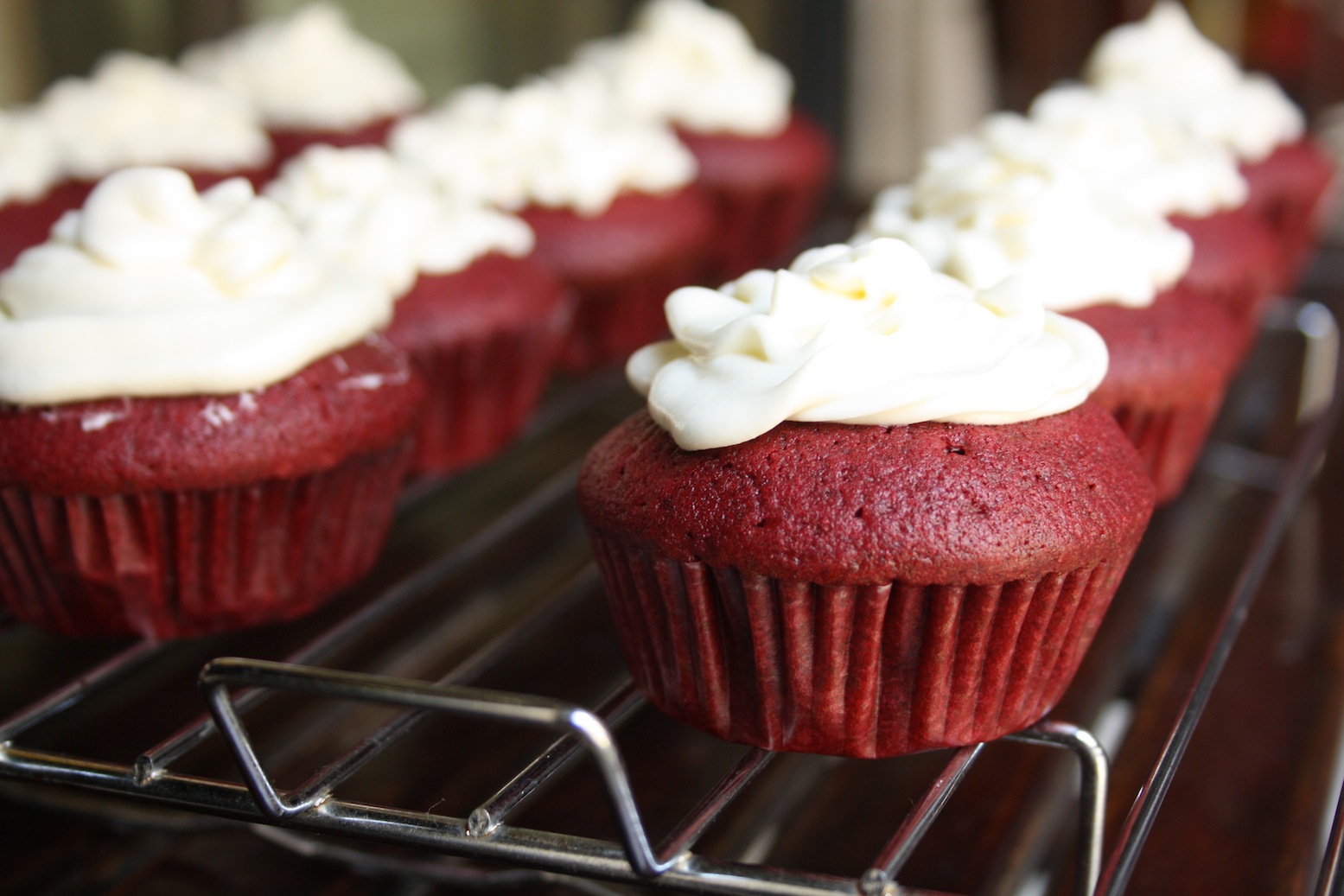 I halved the recipe and got exactly 12 cupcakes. Here are the proportions I used.
What you'll need:
1 and 1/4 cups flour
1 tbsp cocoa powder
1/2 tsp salt
3/4 cup castor sugar
3/4 cup vegetable oil
1 large egg, room temperature
3 tsps liquid red food colour (I find the gel kind too expensive, and the liquid works as well, though you need to add more)
1/2 tsp vanilla essence
1/2 cup buttermilk or a 30:70 proportion of milk to plain yoghurt
3/4 tsp baking soda
1 tsp white vinegar
What to do:
1. Preheat your oven to 175 C.
2. Sift the flour, cocoa and salt and set aside.
3. With an electric mixer on medium-high speed, whisk together sugar and oil until combined.
4. Add eggs and beat until incorporated. Mix in food color and vanilla.
5. Fold in the flour mixture and buttermilk alternately. I find folding easier and less messy than using a mixer at this stage. Once all the flour and buttermilk was in, I used the mixer for about 10 seconds just to bring it all together.
6. In a small bowl, stir together the baking soda and vinegar. It will foam and the vinegar-y smell will remind you of a chemistry lab. Quite cool 🙂
7. Add this to the batter and beat for 10 seconds on medium speed.
8. Pour into 12 muffin moulds, almost full to the top.
9. Bake for 20 minutes, rotating the tray halfway so you don't have too much heat on just a few of the cupcakes. Check to see with a toothpick, if they are done.
10. While the cupcakes are cooling, make the frosting.
I used my own estimates to do this: 2 tbsps unsalted butter, 150 gms cream cheese, 3 tbsps powdered sugar, 1/2 tsp vanilla.
Beat the sugar and cream cheese till it's smooth and creamy, then add the sugar and vanilla. Adjust the sweetness as you like.
Frost and eat!