You know what's awesome? When healthy food doesn't taste of cardboard. When you can eat it without feeling guilty or deprived. And when you can make it with ingredients that'll usually be in your kitchen and don't have 20-syllable long names.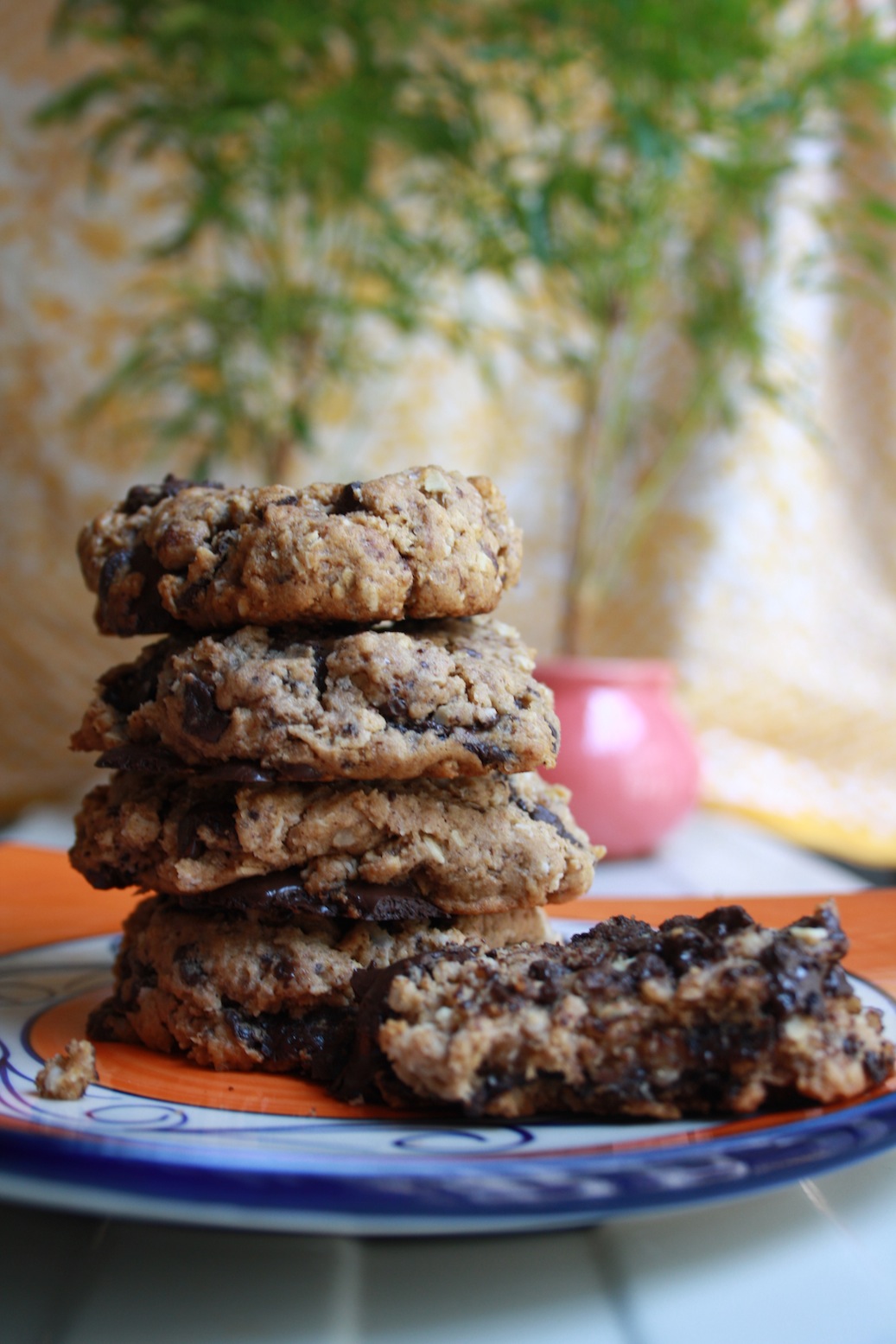 I'm so glad I ran out of regular flour this weekend because these wholewheat flour cookies are unbelievable. The first batch is practically gone and I'm already thinking of baking another!
One of my favourite blogs out there (and there are millions to choose from) is Sally's Baking Addiction which is where I got this recipe. If you are a baker, or you like good writing or great pictures or all of these, don't miss this blog. I've made her Nutella Stuffed Cinnamon Muffins too and they were amazing 🙂
I had to adapt Sally's recipe though because she substituted applesauce for butter and while it makes the cookies even healthier, you don't get it readymade in India. It's not apple season, so I really couldn't go about making my own either. So 1/4th cup of butter is about the only not-healthy part of these cookies. But it's like 4 tablespoons, so I figured, that's hardly anything to feel guilty about!
I'm not a big fan of raisins so decided to just substitute the original Raisinets in the cookies with dark chocolate chunks. Mmmm.
I also used honey instead of molasses which makes the cookies a bit lighter than they would be otherwise but that's hardly a problem when you taste them 🙂
So. There's wholewheat flour, oats, yoghurt, honey and brown sugar. All good for you.
And dark chocolate. Which is of course, good for the heart.
Ahem.
The flavour of these cookies is incredible. The cinnamon in them gave off this apple-pie like aroma, the oats add fabulous texture and there's oozy, gooey chocolate everywhere. And while I've experimented with wholewheat flour before, it's never worked as well as it did this time.
They don't taste at all healthy. If I didn't know what was going into them, I would have assumed they were cookies made with regular flour, lots of butter and lots of sugar. Thick, soft, chewy and soooooo good!
Guilt-free binging 🙂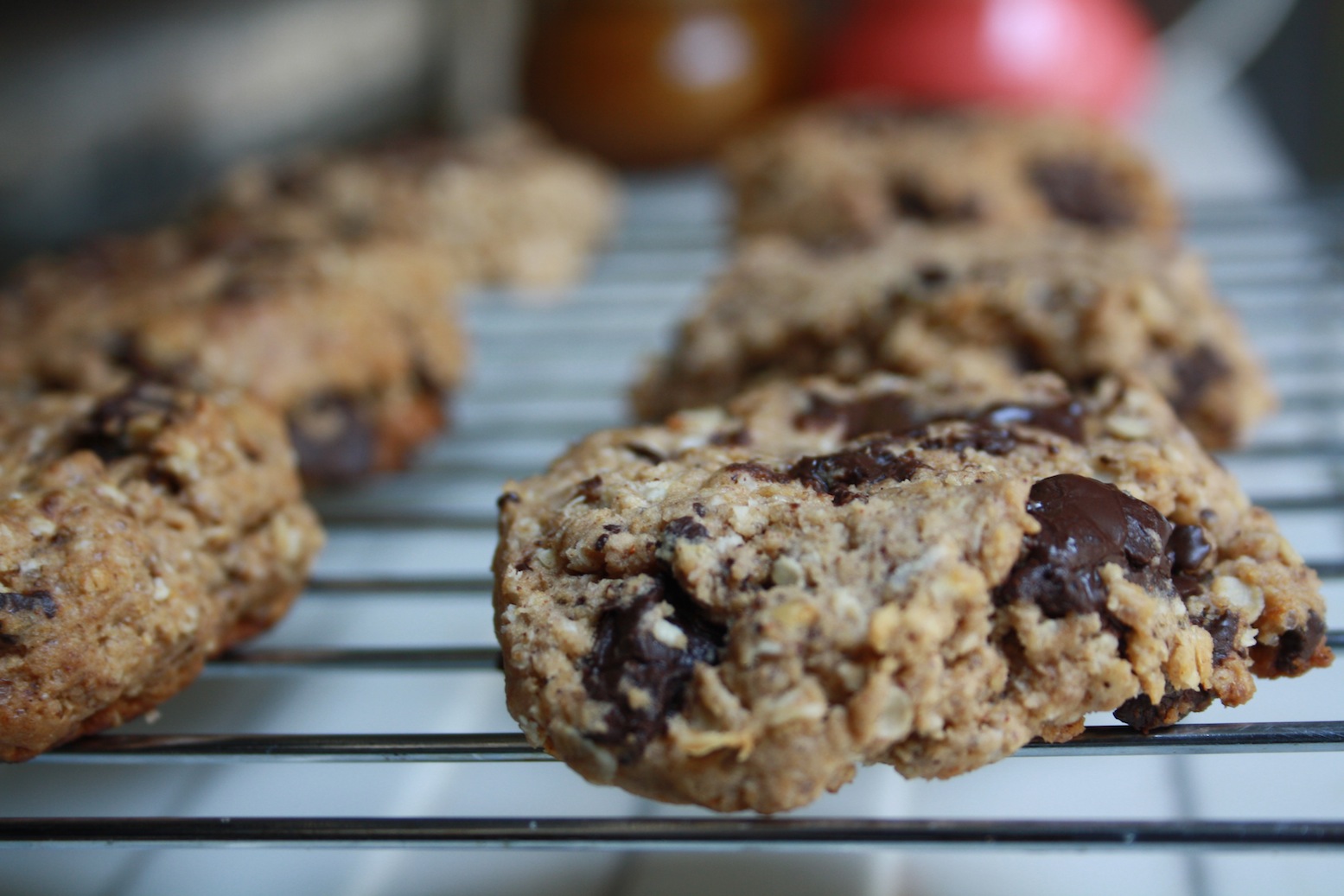 The dough is thick and sticky and can be rolled easily into nice little rounds for easy baking. They don't spread very much I noticed, so mould them almost completely into the size you'd like before putting them in the oven. I didn't do this initially, but realised halfway through baking that they were a bit misshapen, so I patted them into circles and then sent them back in.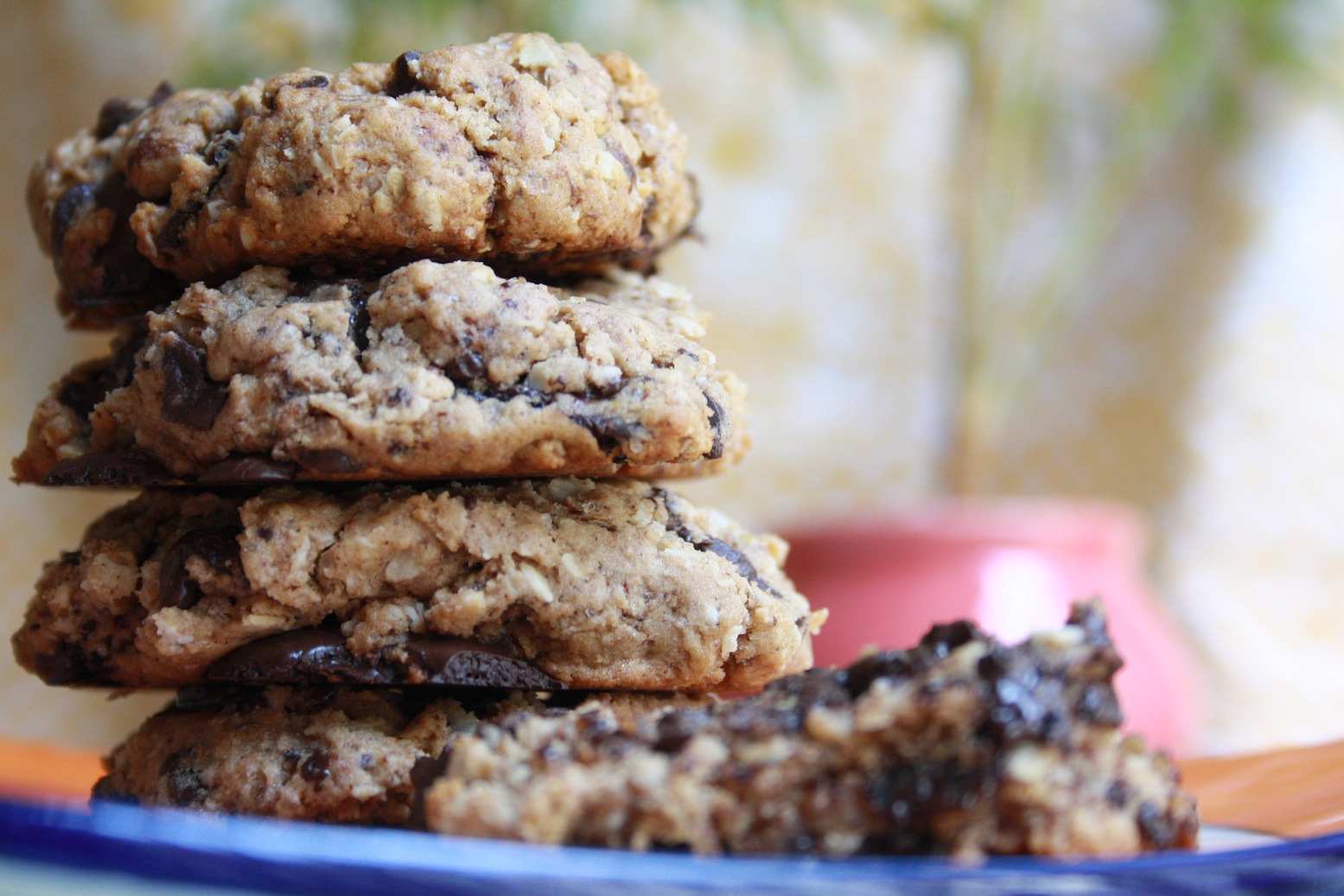 They are quick to make (all by hand, no mixer needed), quick to bake and even quicker to vanish! Try this for the next time you're craving dessert but don't want to deal with the aftermath 🙂
What you'll need:
1 cup wholewheat flour
1/2 cup oats (regular porridge oats are fine) 
1/2 tsp baking soda
1 tsp cinnamon
1/2 tsp salt (omit if using salted butter)
1/4 cup yogurt/curd
1/4 cup soft, unsalted butter
1 tsp vanilla essence
2 tbsps honey
1/4 cup brown sugar
125 grams dark chocolate, chopped into small pieces or 1 cup chocolate chips
What to do:
1. Preheat the oven to 175 C and lightly grease a baking tray.
2. Sift the flour in a large bowl and then add the oats, cinnamon, salt, baking soda and mix them all together.
3. In a smaller bowl, mix the yoghurt, butter and vanilla. My butter was still a little cold so I had some trouble mixing it till it was smooth but it sorted itself out after step 4.
4. Add the sugar and honey and mix till the sugar is well incorporated. My mixture looked curdled at this stage, it seems to happen each time I use yoghurt and butter together so don't worry if it happens to you too. It's not really curdled and will get completely mixed in when you add the flour.
5. Make a well in the center of the flour mixture, pour the wet ingredients in and mix till no flour can be seen but don't over-mix
6. Fold in the chocolate chunks/chips. I had to work a bit hard to make sure no chunks of chocolate or dough were lying loose.
7. Gather a tablespoon full of dough for each cookie, shape it roughly into a round and pat lightly on the top after placing it on the baking tray.
8. Bake for 10-15 minutes. After 10, they'll be done but but will remain soft till they cool down. I wanted a bit of browning on the tops, so I baked mine for about 13 minutes. Watch the cookies carefully after the first 10 minutes, because they taste best chewy, not crispy.
9. Allow them to cool before either transferring them to a wire rack or eating them straight 🙂