When I first started off with this baking thing, my brownies turned out cakey. Not bad to taste, but not fudgy and chewy like a brownie should be, you know?
And that just wasn't acceptable. Brownies should be moist and fudgy, fudgy, fudgy. A really good brownie doesn't need vanilla ice-cream or chocolate sauce or whipped cream on top. It should be unbelievably good just by itself.
And.
I did it. I made that brownie.
Or Martha Stewart did. And I cannot thank her enough for leading me to this fabulous recipe and showing me the light.
They turned out just amazing. I'm trying very hard to be modest here but it's just not happening. They looked like they do in the picture on her website!! How often does that happen? *insert excited squeal here*
We did the whole 'climb into the balcony and shoot pictures' thing like we did for the Microwave Chocolate-Chunk Cookie with the husband clicking away and me choosing the neatest brownies and forming brownie towers. Like so.
The other thing I really had to get right with brownies was the crust. That thin, light-brown, flaky crust that forms on top. I had no idea how to guarantee it till I came across this valuable tip. Beat the eggs and sugar like your life depends on it and before you add anything else to the mixture. I beat for about 4 minutes which is what the recipe said and it worked like a charm. Nice wafer-like crust to complement the chewyness.
These brownies also rose quite a bit which is good, because I like them to be thick, though I did get a little alarmed thinking "oh my god, they're going to be CAKEY!!"
But they weren't! 😀
You must, must make these. This is one of the most popular recipes on this blog, for good reason because they're no fail brownies! I've updated the recipe with a couple of modifications and I'd love to know what you think 🙂
Update, July 2017: Add 1/2 cup chocolate chips to the batter for extra ooey gooey brownies!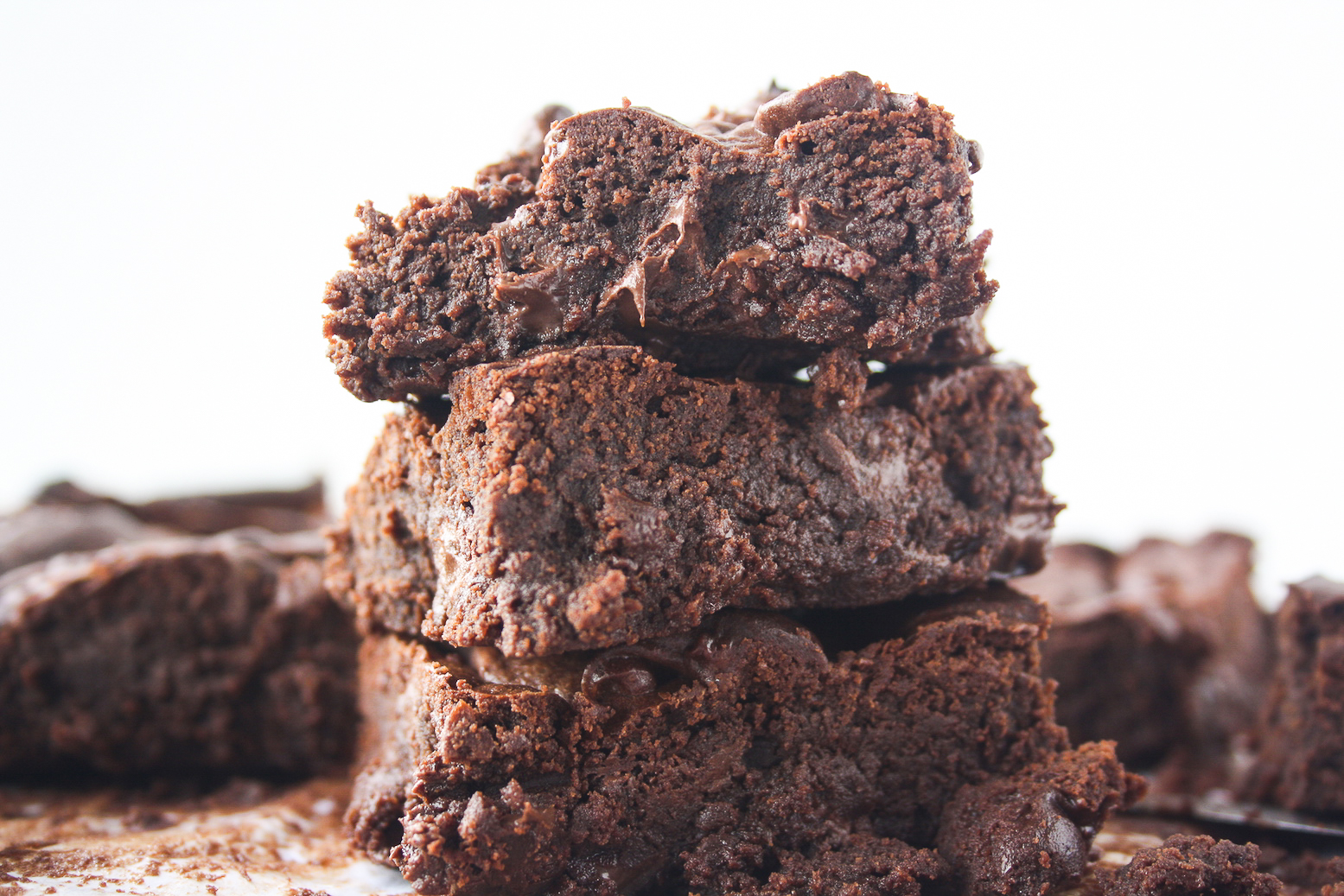 Seriously Fudgy Chocolate Brownies
Rich, fudgy brownies with that perfect flakey crust!
Author:
The Desserted Girl
Ingredients
6 tbsps butter, cubed and at room temperature (85 gms)
170 gms chopped dark chocolate, at room temperature
¼ cup cocoa powder
½ cup all-purpose flour*
¼ tsp salt if using unsalted butter
¾ cup caster sugar
2 eggs
1 and ½ tsps vanilla extract
Instructions
Preheat the oven to 175 C. Grease an 8" square pan or shallow 9x5 pan and set aside.

In a bowl placed over a pot of simmering water, melt the butter, chocolate and cocoa until you have a smooth mixture (see notes). Let this cool while you get the rest of the batter ready.

Sift the flour and salt, if using, in a bowl and set aside.

Beat the eggs, sugar and vanilla in a large bowl till pale, about 4 minutes. This is where you're ensuring a crust forms, so beat away! An electric mixer will get the best results.

Add the cooled chocolate mixture to the egg mixture and beat again till combined.

Finally add the flour mixture and stir until well combined.

Pour into the prepared dish, smoothen the top and bake for about 20 to 25 minutes till a toothpick poked in the center comes out with only a few moist crumbs.

Notes
*For brownies that have a little bit of 'lift', add ¼ tsp baking powder to the flour. I've tried this recipe with and without, and honestly love them both ways, but feel free to do either 🙂

*The egg is what contributes to the flakey crust so I can't suggest a substitution but the web is filled with vegan recipes if you want to give those a shot 🙂

*Make sure you don't overheat the chocolate. I've landed up with a too-thick batter which results in brownies with lumpy tops, usually because I left the chocolate on the heat too long. If the chocolate is almost melted through, but has some larger chunks still left, take it off the heat and stir vigorously. It will melt completely in the heat of the bowl itself.